Kayaking: the best way to
discover the Minorcan coast
Kayaking has a far longer history than you might think. Today a water sport, it originated among the indigenous people of the Arctic regions of North America and Siberia, who are more commonly known as Eskimos. Kayaks were originally one-man boats used for hunting and fishing, which were built from wood, so it comes as no surprise to learn that the word 'kayak' means 'piece of wood'. But don't panic! We aren't going to give you a masterclass in the history of the kayak and you won't have to navigate the freezing waters of the Arctic either: read on to find out how to enjoy this exciting sport in Minorca, an island that couldn't be more different from Greenland.
What does this sport have to offer that you can't get out of travelling by car to the best coves on the island? In short, kayaking gives you the freedom to explore and enjoy the island's coastline and admire its wealth of details at your own pace, with family, friends or even by yourself, while doing some sport at the same time.
Below are some of the best kayak excursions to be found in the north and south of Minorca. Are you brave enough?
Kayak excursions in northern Minorca (and where to hire equipment)
Long routes from Cala Viola and Fornells bay
The most northern route on the island starts from Cala Viola de Ponent and heads west, crossing the natural port of Sa Nitja and ending in Cala Pregonda, one of the most unique coves in Minorca due to its reddish sand and crystal-clear waters. The various stages of this route add up to 16.2 km so it's more suitable for adults than for children.
Another route that leaves from Cala Viola finishes in Cala Tirant. Heading north, you first reach Cabo de Cavallería where you can admire the lighthouse and impressive cliffs. You then leave this northernmost point on the island and head south, passing Arenal de s'Olla beach before reaching the end of the route. It's a fairly long, about a 20-km round trip, which takes roughly 4.5 hours.
In Fornells, half an hour by car from Cala Viola, you can find three kayak hire companies which have double and single kayaks available for rent plus all the equipment you might need to practice this sport. These companies also organise guided excursions so that the experience runs as smoothly as possible. If you fancy, you can do a route around Fornells bay, exploring all its hidden corners and unspoilt beaches on an 11-km excursion (a 3-hour round trip).
Discovering s'Albufera des Grau Natural Park from Na Macaret
The Na Macaret-El Arenal de Mongofre route is especially interesting and its main attraction is navigating the north coast of the s'Albufera Natural Park. The coastline here is extremely jagged, primarily due to the tramuntana wind that mainly affects the Balearic Islands and Catalonia. Underwater reefs are a particular highlight so don't forget your snorkelling gear when you head this way. The itinerary also leads to Arenal de Mongofre, a beach that is virtually only accessible by sea. The round trip is under 9 kilometres and it takes about 2.5 hours.
Katakayak Addaia (Local 2 Puerto de Addaia) is just 10 minutes by car from the departure point and it hires out kayak equipment in high season.
Where to go kayaking in southern Minorca
Cala Galdana-Cala Mitjana, one of the most spectacular routes in the south
Cala Galdana is one of the largest and most family-friendly coves in Minorca and is the departure point for a route that takes in secluded coves, sheer cliffs and strange rocky formations such as Pont de n'Ali. The journey is around 5 km long and shouldn't take longer than 2 hours. However, make sure you keep an eye on the weather forecast because the southern winds can be very strong in this area and there isn't anywhere to take shelter. But don't worry—companies such as Menorca Estació Náutica organise excursions right from Cala Galdana.
A route of contrasts from Sant Tomàs to Cala Escorxada
This itinerary reveals a landscape full of contrasts, from the even coastline typical to the south to areas of stunning white cliffs. Your destination is Cala Escorxada, an unspoilt beach which is hard to access by other means. If you're interested in doing this route, bear in mind that it will take about 2.5 hours. You can hire equipment from DMS Sports&Kayak (Urbanización Santo Tomás, Parcela H-2) on Sant Tomàs beach itself.
Cala en Porter-Cales Coves: the route of the caves
This route is a real adventure. You leave from one of the most developed urban areas to head deep into several caves set among limestone cliffs. Again, remember to check marine forecasts because it's impossible to exit some of the caves at high tide or in rough seas. At the end of the route is Cales Coves, a charming, tightly closed cove that is a popular anchoring spot for boats. This route is one of the easiest at under 5 km in length but it's also one of the most beautiful. MenorcAventura Boats & Kayaks (Platja de Cala en Porter, 22) can provide you with everything you need to set off on this tour of Minorca's caves.
If you think that exploring the island by sea looks like great fun, don't forget to try surfing, scuba diving or a boat trip.
Related
plans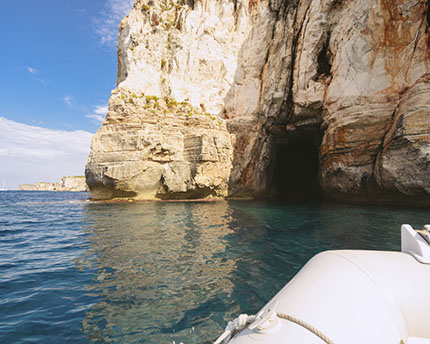 Sports and Adventure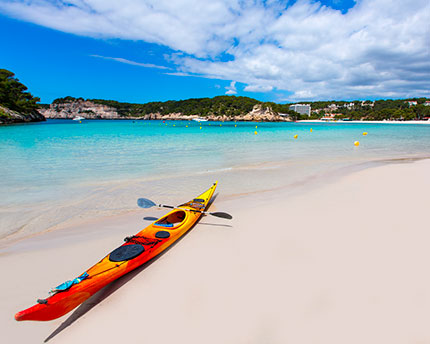 Sea and Beaches