Mount Toubkal,
the highest peak in Morocco
Toubkal National Park, in Morocco's Atlas Mountains, is home to the highest and most impressive peak in the country and all of North Africa. With an altitude of 4,167 m, Mount Toubkal and looks down majestically from on high and climbing to its peak is a truly fascinating sporting experience. If you'd like to enjoy wonderful views of nature, discover Berber culture and Morocco's undiscovered side, make sure you visit one of the most enigmatic places in the country's natural environment. Below you'll find all the information and recommendations you need for your adventure to be a success.
Mount Toubkal: the summit of Morocco
Mount Toubkal is in Toubkal National Park, which lies in the impressive mountain chain known as the Atlas Mountains. It sits between the Niss and Ourika river valleys and is a natural paradise populated by hundreds of animal and plant species. If you like the mountains, ascending to the highest peak in Morocco will be an unforgettable experience and it's a fascinating place that will be etched on your memory forever. You'll pass through Morocco's wildest landscapes, visit its lushest and greenest valleys, and discover enchanting villages inhabited by North African Berbers.
Trails to ascend the mountain and points of interest
You can choose between two trails when you set off to climb Mount Toubkal, the highest mountain in Morocco. The trail that is normally recommended is on the north face and it leaves from a village called Imlil, 67 km from Marrakesh. You'll start your ascent from the village at an altitude of 1,740 m and cover 14 km along the trail to reach the summit at an altitude of 4,167 m.
Free cancellation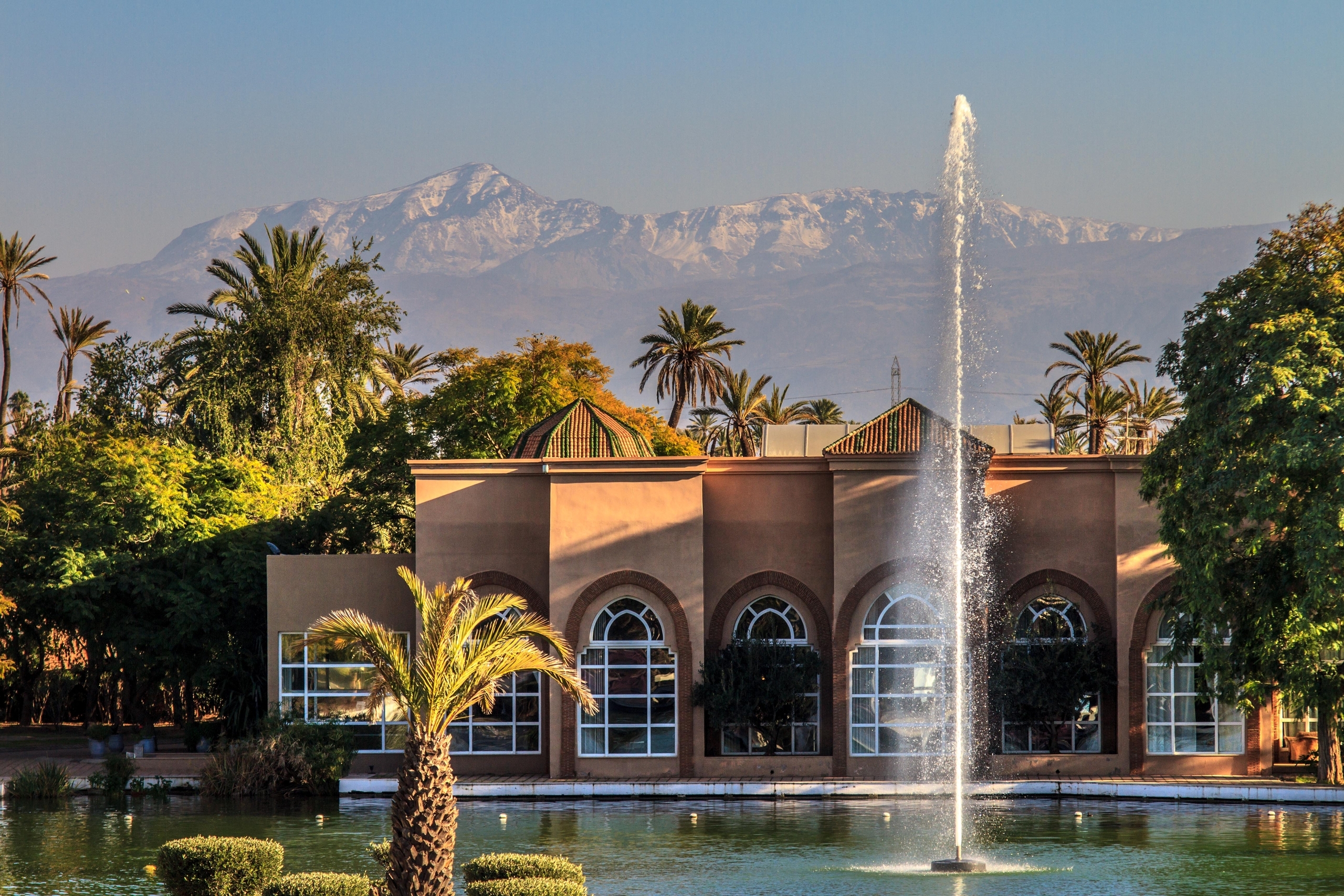 If you're a real adventurer and like extreme experiences, there is another trail on the south face, known as the "classic trail" or "Lake D'Ifni Trail", which starts in the Valley of Imenane at a small village called Iheliene. This ascent is designed for professionals, and you'll leave the village and head for Lake D'Ifni (2,319 m), and continue to the Tizi´n Ouanomoums Pass (3,662 m) before reaching the peak at 4,167 m.
Ascending to the peak of Mount Toubkal generally takes about three days. On the first day you could climb from Imlil to the Toubkal Refuge, which takes approximately 5 hours of hiking. On the second day, you could travel from the refuge to the peak (6-7 hours to and from the refuge) and on the third day, descend back to Imlil from the refuge (4-5 hours).
Other, easier trails to climb Mount Toubkal also exist that aim to let hikers enjoy being in nature and discover the Atlas Mountains without necessarily having to reach the peak. You can go hiking along easy trails that are suitable for everyone and take you to Berber villages in the high Atlas Mountains that are popular with tourists, right in Toubkal National Park.
Safety advice for ascending Mount Toubkal
The first thing to bear in mind before ascending Mount Toubkal is whether or not you suffer from altitude sickness. Apart from that, the trails are well signposted and aren't particularly difficult if you're used to hiking in the high mountains. Always take a coat because it's cold in the higher areas, a torch, plenty of water and altitude sickness pills, if necessary. It's also important to make a formal booking for the mountain refuge in advance so you'll definitely have a spot.
The best time to undertake this adventure is between April/May and the start of autumn. It goes without saying that it's strongly ill-advised in winter. If you decide to go in the early months of spring, bear in mind that you may be faced with thawing snowfields if the winter has been harsh, so make sure you have the right equipment for these conditions and don't forget your ice axe. It's also a good idea to have health insurance because, in the event of an accident when ascending Mount Toubkal, it's better to have support if you need medical assistance.
Frequently Asked Questions
¿Dónde se encuentra el Monte Toubkal?
El Parque Nacional de Toubkal se encuentra situado en las montañas del Atlas de Marruecos, siendo este Monte el más alto de la cordillera y de todo Marruecos.
¿Cómo se puede llegar al Monte Toubkal?
Autobús y taxi. La ruta más recomendable es la que comienza en el pequeño pueblo de Imlil. Desde Marrakech hasta aquí, hay 67 kilómetros. En Marrakech se puede coger un autobús hasta Tahanouh y, una vez allí, seguir en taxi los últimos 17 kilómetros hasta Imlil.
Transfer desde el aeropuerto. Existen alojamientos en Imlil que ofrecen transporte desde el aeropuerto de Marrakech. Eso sí, renunciarías a dar una vuelta por la ciudad.
¿Qué altitud tiene el Monte Toubkal?
El Monte Toubkal es el pico más alto de todo Marruecos, con una altura de 4.167 metros.
¿Qué rutas son más recomendables para ascender el Monte Toubkal?
Para encarar el ascenso al Monte Toubkal hay 2 rutas: La más recomendable es la de la cara norte, que parte de un poblado llamado Imlil. Desde este punto, iniciaremos la ascensión desde una altura de 1.740 metros y haciendo 14 kilómetros, en total, para llegar a la cumbre. Si eres más aventurero, en la cara sur existe otra ruta, conocida como "ruta clásica o "del Sendero del Lago D'Ifni", que se inicia en el valle de Imenane, desde donde se inicia un ascenso pensado para profesionales
Related
plans