The top
water parks of Almeria
There are many ways of enjoying the warmth of the sun while on holiday and heading to a water park is a perfect example. Read on to discover two of Almeria's top water parks! 
Almeria boasts one of the most spectacular coasts and beaches in Cabo de Gata  but that is not the only place where you can enjoy fun in the sun. 
Come discover Mario Park and Aquavera during your holiday! These two water parks are only open from mid-June to mid-September. Mario Park is located west of the city of Almeria, while Aquavera is located north just before Murcia.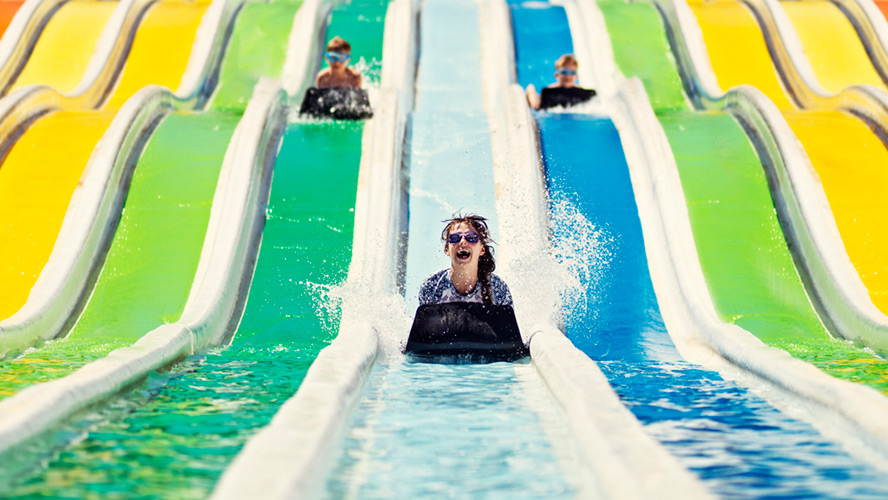 Mario Park
Mario Park is the most popular water park in Almeria for the vast water facilities. It is located in Roquetas de Mar, close to Playa de las Salinas.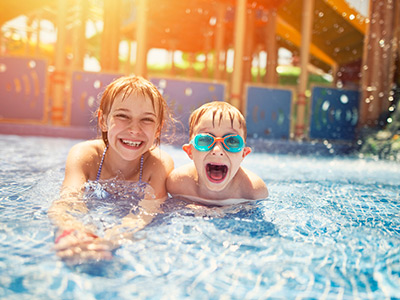 The water park has amazing water rides for all type of age groups. One of most thrilling rides is the Super Tornado – the tallest slide in Europe, where people fly down a giant, 16-metre long slide on an inflatable doughnut as they spin 360°. The adrenaline rush will have you clambering back up for more. 
There are also other rides such as Turbulence and Multipista where you fly down in tandem with others. Kamikaze is heart-stopping ride that has you reaching the bottom in a flat second. If these don't have you squealing at the top of your lungs, head to the Black Hole. This closed-tube slide will have you zooming towards the light at the end of the tunnel – absolutely teeth-clenching. 
Once you've had your dose of adrenaline, cool off at one of the park's pools. Lago Azul boasts a wonderful swim-up bar where you can cool down in the pool as you sip your favourite drink. If you need something even mellower, the Jacuzzis should do the trick. 
Once you're ready for some more action, head to the wave pool where you'll ride waves over one metre high. Whatever you choose to do at Mario Park, you are in for a good time. 
Restaurants at Mario Park
The water park offers several types of restaurants serving up all types of food, including pizza, crepes and ice cream. If you still have time, you can pay a visit to the Costa de Almería Aquarium. 
Aquavera water park
Aquavera water park is located in on the northern edge of Almeria in town of Vera. It's about an hour drive from the city of Almeria. This water park opened its doors in 1999 and is one of the top tourist attractions in the region. It is open from the end of May to early September.  
Aquavera is similar to Mario Park with rides for both children and adults. Kamikaze and Aquódromo are your traditional slides and are open to all; the twisters Río Aventura and Zig Zag will have you turning and turning! The ultimate thrill ride is the Black Hole: the 500-metre long, closed water slide propels you through utter darkness where all you can do is hang on for dear life until you land in the pool! 
Aquavera also boasts a large pool and a wave pool. Aqualandia was designed especially for children and will keep them busy with kiddie-waterfalls and slides. 
Daredevils can head to Tsunami for the ultimate ride. The slide has a 13-metre drop which you can ride on your own, in tandem or in threes – this is the absolute adrenaline rush!
Restaurants in Aquavera
Aquavera has an ample selection of eateries offering all types of food, including hamburgers, sandwiches, pizzas and even a three-course meal. There is something for everyone, even if you want to just have a drink or a shake on the chill-out terrace.
These two parks are a great option if you are looking for some fun under the sun, especially if you are on holiday with children in Almeria. If you need more ideas to make your holiday a complete success, we've got your back with our travel guide to Almeria.
Information of interest
How to reach Mario Park:
By car: Take a 20-minute drive on the A-7 from the city of Almeria. The water park is located between Roquetas de Mar and Aguadulce, just 800 m from Playa de las Salinas

By bus: The bus line that runs between Aguadulce and Roquetas del Mar makes a stop only when the park is open during the summer months.
How to reach Aquavera:
By car: Take a 90-km drive along the A-7 towards Vera. The water park is located just 500 m from the beach of Vera.

By bus: There are buses that leave from Vera and Mojácar Beach and make a stop at the water park
Related
plans