Partying in Gijón:
an epicentre of pubs and bars
The maritime waterfront of the city of Gijón, one of the most important trading seaports of Atlantic Europe, sits on the shores of the Cantabrian Sea with a distinguished medieval air. Popularly known as the Capital of the Green Coast, Gijón is an open and vibrant city. Home to over 270,000 people, the 2,500-year old city knows how to keep its inhabitants (and out-of-towners) entertained till the wee hours of the morning.  There's something for everyone: from traditional cider houses and pubs to swanky bars and clubs. What better to way to discover the city than under the watchful eye of the moon?
There are three main party areas in Gijón and all three are equally happening. There is the historical neighbourhood of Cimadevilla, perched high up on the peninsula of Santa Catalina; the marina; and the neighbourhood of Fomento. Even though they are located a stone's throw away from each other, they each have their own distinctive personality and musical offering. Traditional tapas bars are scattered throughout the city and make the ideal starting point – sit back and sip on some delicious cider and savour local dishes before taking the night on. The Asturian capital is also home to some of the best Cantabrian festivals. Come enjoy live music under the stars!
Read on to discover some of Gijón's top bars – especially, if you are travelling to Asturias with friends.
Cimadevilla: the nascence of Gijón and of any night out
No matter what your ideal night out is, Cimadevilla is a must for anyone visiting Gijón. In fact, this charming, former fishermen's quarter is the oldest part of town and dates back to the initial founding of Gijón. Its age-old buildings rise out of the broad peninsula of Santa Catalina and it is flanked by the 17th-century Old Port and Santa Catalina Headland, where you can discover the ruins of an ancient Roman settlement. You'll find plenty of chigres (traditional Asturian cider houses), pubs and clubs lining the steep and craggy pedestrian streets, ready to set the stage for a fun night out on the town.
Free cancellation
Not sure where to start in Cimadevilla? Follow the locals' lead and head to the emblematic Plaza del Lavaderu. Bustling with people – young and old – at all hours of the day, the square is lined with terraces where you can enjoy Asturian tapas, dishes and an expertly-poured glass of cider. El Lavaderu and Sidrería Casa Rober are two restaurants that won't disappoint. Don't be surprised to see people improvising and using the stone stairs and walls as seating when the terraces are teeming with patrons – an absolutely electrifying atmosphere!
Another option is Plaza del Ayuntamiento, located in the immediate vicinity of the Roman bath ruins of Campo Valdés. Brimming with cider houses and bars, such as El Centenario, Bar 470 and El Siete, you'll have your choice of places to eat and drink.
Located just 200 m away in the direction of Playa de San Lorenzo, sits the beachside café-bar Naútico.  Come enjoy your first round of refreshing cocktails as you soak up the seafaring spirit of Gijón.
The Gijón Marina: beachside clubbing
From Cimadevilla, walk down cuesta del Cholo to quickly reach the Gijón Marina where you'll find popular nightclubs. The marina caters to a more exclusive clientele so the nightclubs are more spacious than the bars up in Cimadevilla and play more mainstream music. Head to Ocean and grab a table on their stylish terrace overlooking the sea. Their elaborate cocktail menu and fusion food dishes embody to perfection contemporary living.
If you still want to discover the nightlife the marina has to offer but are looking for something less grandiose, Café Trisquel won't disappoint. Located on the left side of the port, this more laidback pub is a great place to sip on a beer as you listen to folk music.
Fomento: an authentic neighbourhood with Latin flavour
Fomento is another not-to-be-missed nightlife hotspot in Gijón and is a mere 20 m away from the sea. Much of the action takes place on Marqués de San Esteban, a street that runs parallel to the marina and is locally known as 'the street of the arches'. Although still part of the old town, Fomento sways to Latin beats and exudes sultry Latin flavour. Pub Bananas and Pub La Habana are two prime examples that will have you dancing the night away.
If Latin vibes aren't your idea of fun, Fomento offers an array of eccentric bars. This includes the Blow-up and its diehard 60s playlist and; the Asian-style Buddha Gijón, with its 60s and 70s beats, to name just but a few. You might even run into a Spanish TV star or two.
Fomento will also satisfy your palate if hunger sets in. Try Dosmasuno Gastro's crowd pleasing patatas bravas on Calle del Carmen or Cava Baja's cachopo and variety of Asturian cheeses on Calle de Cervantes.
Diehard partyers will meet their match in the bars located on Marqués de San Esteban and its neighbouring streets. Pubs and bars are open to 6 a.m. on weekends and is an attractive location to organise a bachelor or hen party. This area also houses the famous Letronas of Gijón, the red sculpted letters. Make it your designated meeting point in the event your group splits up.
Other places to party in Gijón
Pop and electronic music may dominate the night scene, but there are other not-so-conventional bars to check out, such as La Vida Alegre. This quiet bar by day turns boisterous come night-time. Located near the Plaza Carmen, they serve original sandwiches and quality wine, and offer live music. Check out their Sunday early afternoon jazz sessions if you're looking for a mellow Sunday plan.
La Mina is a pub located just outside Fomento and pays tribute to the top hits of heavy metal, rock and indie music as they serve patrons very reasonably priced drinks. The crowd is young and has serious passion for music.
Sala Albéniz is another place worth a visit. Housed in the old Teatro Albéniz building, it stays open till 7.30 a.m. on weekends and sometimes hosts concerts.
Related
plans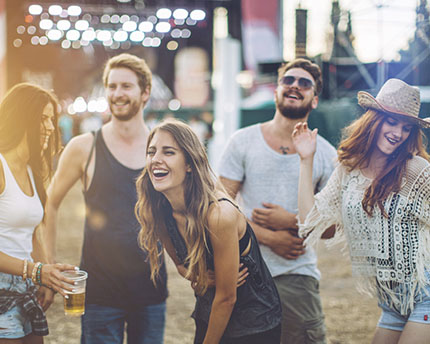 Leisure and Entertainment