Nightlife in Oviedo:
drinks, fiesta and fun
Who said discovering a city had to be a daytime thing? Night time is just as interesting and entertaining! This bustling university town has an awesome selection of places to go out with friends: pubs, bars, clubs, live music venues and, of course, delicious eateries serving up pinchos and tapas that will keep you going all night long!
At sundown, the quiet-by-day streets of the city centre are suddenly overtaken with joyful crowds: terraces burst with patrons and the bars, sidrerías (cider houses), and small pubs are filled with the never-ending cheerful sound of clinking glasses and plates. Though these places are not open till late – for Spanish standards, anyway – there are countless places where you can keep the party going.
Pubs and bars with a student vibe
Come 7 p.m. on Fridays and Saturdays, calle Rosal takes centre stage of the Oviedo nightlife. The first crowds are a testament of the city's youthful spirit, but as the night settles in, the average age goes up. Come midnight, there is mixture of people of all ages taking over the city, ready to take the night on.
The city's hottest club is Salsipuedes, also locally referred to as "Salsi". Located at the very heart of Oviedo, this old, three-storey building features four different dance rooms and a gorgeous terrace. If you like to move to Latin beats, head straight to the second floor where you'll dance till you drop.
Free cancellation
Some will want to call it a night at 4 a.m., but if you still want to keep going La Regenta is the place to be. This after-hours venue serves up some of the best Spanish music of all times. Admission is free and you can even play table football.
Plaza del Paraguas and the surrounding area have some of the liveliest bars of the city. Why not kick off your night at El Meraki? Sip on the some freshly poured cider and delicious local dishes and tapas as you get ready for a night on the town. Then, pop on over to Arde París for some classic rock music and drinks. This tiny venue is located on calle Postigo Alto and is nicknamed the 'Bermuda Triangle' because anyone who comes down this street gets carried away by the night. There is also the indie-pop rock bar Radio right across from Arde Paris. It is not unusual to find people flowing out of both venues onto the street. Sol y Sombra is an underground pub located in Plaza del Sol, especially popular on Thursday nights.
Calle Mon de Oviedo nightlife
'El Antigua' is the most popular area to go out in in Oviedo. You'll find some of the best venues in the city in this part of the old town. Between the cathedral and Parque Campillín, you'll discover more than 20 bars, pubs and clubs lining the maze of cobblestoned streets, and catering to all tastes of music – Latin, rock, punk, heavy metal and electronic. Fall in stride with the crowds combing the streets of Corrada del Obispo, calle Jesús, calle Sol and calle Caspio, looking for nothing else but good, old-fashioned fun.
Most of venues open at midnight (we are in Spain) and close at 5 a.m. Oviedo really does have iconic bars and we wouldn't be able to end this section without mentioning Diario Roma, with its great selection of beers and rock music; or Funky Room and its epic rap and hip-hop parties.
The wine route
Calle Manuel Pedregal, Calle Campoamor and Avenida Galicia make up a network of streets lined with bars with terraces just begging you to sit down. What better way to end your day or start your night than with a smooth glass of wine? You'll get to sip on some of Spain's most delightful terroirs, which are, of course served with a savoury tapa. I mean, who hasn't been told they shouldn't drink on an empty stomach? If you are in the neighbourhood early Sunday afternoons, come by for an aperitif – vermouth is what locals will be having.
The Cider Boulevard
This area is unquestionably the most famous area in Oviedo for a night out on the town. Calle Gascona was dubbed the 'Cider Boulevard' because it is home to some of the best sidrerías, or cider houses, in the city. You'll see patrons chinking glasses of cider as they sit back in the terraces before and during a meal. It makes an excellent start to any evening, or afternoon for that fact. The sidrerías serve up delectable traditional Asturian cuisine, so why not order a delicious plate of cheese and charcuterie to accompany your drinks? Or, maybe something a little heartier, such as cachopo or fabada? Either way, you'll leave satisfied!
Live music venues
Catching up with friends over a drink while you listen to live music is probably one of the most pleasurable ways of enjoying an evening out. The centre of Oviedo offers a selection of venues where you can do exactly that.
La Salvaje is another favourite among locals. It features two retro-themed rooms and hosts several types of events, such as DJs, live music, open mic nights, concerts and comedy shows. If you are rock and roll fan, be sure to visit Rocket Rock'n'Roll Bar. You can choose from a selection of craft beers and snacks as you watch a live concert. They also organise contests and draws. However, if you are in the mood for some live blues and jazz, the NYC-themed Puro Danny's Jazz is where you need to be.
Related
plans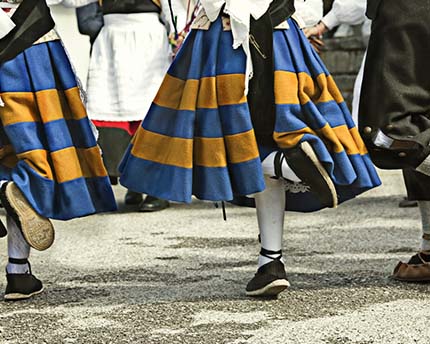 Leisure and Entertainment