Tapas in Barcelona:
the Mediterranean in bite-size
From the popular patatas bravas and the bombas, to grilled prawns or the fancy creations that are served in the newest bars, get to know Barcelona through its tapas. That's saying something for a city that traditionally has more of a taste for long meals complete with dessert than it does for bar talk.
But the resurgence of the habit of drinking vermouth, an aperitif that's experiencing a renaissance in the city's bars, means that tapas are taking off again too. This is a trend that's spreading throughout the city's neighbourhoods, with some of its most successful meccas being located in La Barceloneta and El Born.
The best tapas in Barcelona
The Barcelona's signature tapa is patatas bravas (roasted potatoes with a spicy sauce), the ones served here being different from the Madrilenian ones. In fact, the sauce recipe here has evolved as different bars have got creative, but it's always based on generous dash of spice, and the combination of the tomato-based sauce and aioli.
As well as patatas bravas, there are lots of other traditional tapas options in Barcelona's bars. These are a few of them:
Bomba: This is a kind of croquette made of mashed potato, usually filled with mince and drizzled with a sauce. They're best freshly fried, when the egg and breadcrumb coating is still crunchy.
Calamares a la romana: This tapa takes full advantage of the freshness of the calamari thanks to the city's proximity to the Mediterranean. The key to a good batter is that it's only made from flour.
Ensaladilla rusa potato salad: The local version is made of boiled and smashed potatoes, bits of carrot, peas, tuna and/or prawns and a good mayonnaise sauce. The fact it's chilled makes it the most popular tapa in the summertime.
Grilled prawns: The aroma of these prawns is unmistakable, and they're set off with a pinch of salt.
Pa amb tomàquet: More than just a simple tapa, bread and tomato is the beginning of any meal in Barcelona, and in Catalonia as a whole. The key is to rub the bread with garlic and, of course, it's vital that the tomatoes have a strong flavour.
Olives: In Barcelona, olives aren't just the go-to option of an unimaginative waiter or chef. In fact, the city's taste for quality pickled products is admirable.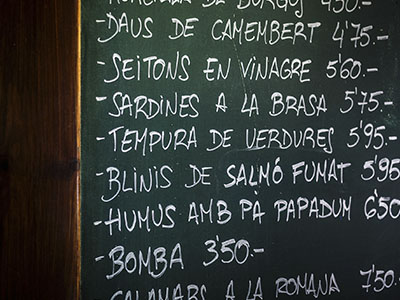 Tapas in la Barceloneta and el Born
The majority of the tapas bars are concentrated in the centre of Barcelona, nice and close to the Mediterranean. The sea provides the best bars with abundant, tasty produce.
One of the most popular tapas areas is La Barceloneta, the old fishing village that has become a hub of bars, restaurants and terraces. Some of the most classic spots include Can Maño (Baluard, 12), with their fried fish; Bar Electricitat (Sant Carles, 15), which has a nostalgic tavern-like atmosphere, and La Cova Fumada (Baluard, 56), whose marble tables with forged iron legs are the platforms for tapas to be eaten with a spoon, like stewed chickpeas and cap i pota (tripe).
You've also got La Bombeta (La Maquinista, 3) where, as you might have guessed, the potato 'bombs' are the star of the show. More modern spots include l'Ostia (Plaça de la Barceloneta, 1), where you should try the calamari and anchovies, and Caballa Canalla (Plaça Poeta Bosca, 1), a gastro bar with marinated olives and pickled anchovies that come highly recommended.
The medieval neighbourhood of El Born is another area that's good for tapas, and one of the most popular spots for a night out, especially amongst international tourists. Here you can find lots of places that combine bar food and a more formal sit-down restaurant vibe, for lunches or dinners. For example, try Morelia (Plaça Comercial, 7), an Argentinian restaurant with a whole tapas menu. Don't miss out on the cuttlefish or the grilled prawns. There's also Tapeo (Montcada, 22), which is pretty much what it says on the tin. Don't miss the calamares a la catalana, calamari stuffed with their own stir-fry mixture.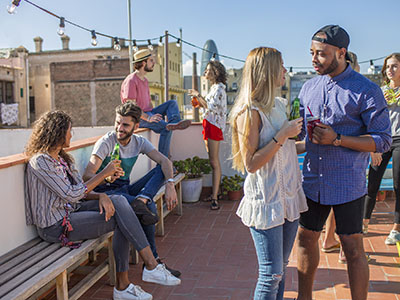 Euskal Etxea Taberna (Placeta de Montcada, 1) is the typical Basque pintxos bar, but with truly Mediterranean flavours and ingredients mixing things up. Of course, you have to stop off at El Xampanet (Montcada, 22) which is always packed, and is where they serve simple but really authentic tapas along with a glass of cava or vermouth.
Moving on to Poble-sec and Mandri
Poble-sec is another of Barcelona's most popular neighbourhoods and is home to a few legendary bars. Quimet & Quimet (Poeta Cabanyes, 25), is a small spot with over 500 labels of wine on offer and enticing tapas like the pâté montadito [mini sandwich] with mushrooms.
As well as the classics, in recent years more creative places have been opening up, such as Mano Rota (Creu dels Molers, 4), where they serve a tempting fusion of international ingredients. But it is true that the prices are a little steep. Casa Xica (Franca Xica, 20) is somewhere else where they play with the fusion of flavours and they have an interesting menu of organic wines.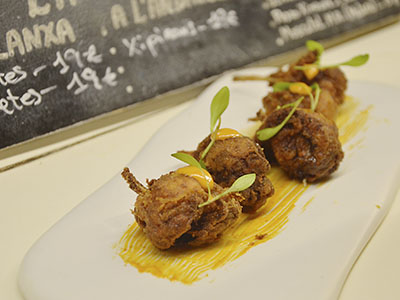 Turning our attention to new places to head for tapas, Carrer Mandri, situated in the area of Sarrià-Sant Gervasi, stands out. There were already some great bars here, like Escocés (Mandri, 23), with its warm wood panelling and its payès toast topped with Iberian cold meats. However,  recently other trendy bars have grown up just next door, like Lío de 4 (Mandri, 22), where they meld Mediterranean ingredients and oriental techniques, or Chico Bar (Mandri, 29-31, local 1), a spot with interior design as modern as its tapas.
More tapas bars
On top of the bars we've mentioned, the rest of Barcelona is covered in tapas bars that are just as worth visiting. Some of them include:
Bodega 1900 (Lleida, 5): This is the (so-called) tapas bar section of the haute cuisine restaurant El Barri, founded by Albert Adrià and the Iglesias brothers.
El 58 (Rambla del Poblenou, 58): A young crowd and creative tapas, like the lobster skewer with sweet chilli.
Ten's (Rec, 79): Another creative spot (the menu created by the TV chef Jordi Cruz), with options such as calamari with citronella aioli.
La Esquinica (Passeig de Fabra i Puig, 296): a classic taverna, in the Aragonese style, where you'll have to wait patiently. Classic tapas, well made.
Gata Mala (Rabassa, 37): This is one of the top bars in Gràcia, an area in which more and more tapas bars are popping up.
Related
plans