Cádiz with friends:
beaches and guaranteed fun
A trip to Cádiz with friends is something you have to do at least once in your lifetime because it's the perfect place for spending long days on the beach together, doing water sports and enjoying lots and lots of night-time fun. Tarifa, Conil, Barbate, Vejer or Chiclana; each town has its own charm and attracts a particular crowd because if there's one great thing about Cádiz, it's that it has something for everyone.
The best beaches in Cádiz to visit during the day with friends
If you're travelling to Cádiz with friends, don't forget to check the weather forecast. Cádiz's beaches are often affected by one of two winds: the westerly poniente and the easterly levante. When the levante is blowing it can be hard to relax on the beach because the wind whips up the sand and it can really sting. It's not a problem though: you can either stay in the water, head to a beach bar or spend time on a beach that is sheltered from the wind.
Everyone knows that after a big night out, it's virtually impossible to make any group member volunteer to get up early, beach umbrella at the ready, to bag a place on the front line of the beach. Luckily, that's not a problem here: the beaches in Cádiz are so long that you'll always manage to find a spot no matter what time you arrive. So grab your bag, cool-box and snacks because here are three fantastic beaches where you can happily spend all day.
Bolonia beach in Tarifa
To start, we'd like to recommend a relaxing trip: a day on wonderful, unspoilt Bolonia beach. You can climb the sand dune, visit the Roman ruins of Baelo Claudia or just have a refreshing drink on the seashore or in one of the nearby bars. You won't find many services here precisely because it's a wild beach, but it's the ideal spot to charge your batteries and take a nap before carrying on with the hectic business of holidaying with friends.
La Barrosa beach in Chiclana
Perfect for doing sports, La Barrosa is also one of the longest and best-known beaches in Cádiz. And it's famous for good reason: at over 5 km long and 70 m wide it has sand and sea aplenty, but it's also a great location for enjoying the best of Cádiz's cuisine along its beachfront promenade.
La Victoria beach in Cádiz
It's no surprise to learn that La Victoria was the first beach in Spain to be awarded the "Q" seal for Tourism Quality because it's considered to be one of the best beaches in Europe. La Victoria beach is one of the liveliest in the capital of the province; it's always busy with groups of friends and families who set up camp with everything they could possibly need and don't pack up and leave until night falls. Although it's smaller, it's also worth exploring La Caleta beach to experience somewhere totally typical to the region; La Caleta is also one of the best-loved beaches by locals.
Water sports to do with friends
Perhaps you're travelling to Cádiz with friends to take part in a shared passion: sports. A paradise for surfers and surfing in all its many varieties, you can also go kayaking, jet skiing, sailing and scuba diving, among other water sports.
One of the best things about the easterly wind is that you can take full advantage of its powerful gusts to propel you across the water. That's why Cádiz is so famous for sports like windsurfing, which involves surfing the waves on a board with a sail, kitesurfing (using a kite to pull your surfboard across the water), and flyboarding. This latest variant sees riders standing on a board that is propelled by jets of water and flying through the air at heights of over 8 metres.
Almost all the beaches in Cádiz have centres where you can sign up for courses to learn these sports, or places that have boards and equipment for hire for those with prior experience. For example, you could try the famous surf schools on the beaches of El Palmar, in Vejer de la Frontera, La Cortadura in Cádiz, or La Yerbabuena and Caños de Meca in Barbate.
And, of course, make sure you visit Valdevaqueros and Los Lances beaches in Tarifa or Valdelagrana in El Puerto de Santa María; each one is a kitesurfer's paradise and their skies are now famous for being filled with colourful kites.
Beach bars, chill out and movie-style sunsets
Maybe it's the last rays of sunshine glimmering on the shore, the views of beaches that run on forever into the distance, or the softness of the warm golden sand, but watching a sunset from any beach in Cádiz is a sight that quickens the senses. Below are four of the best places to watch the sun go down if you're travelling to Cádiz with friends. Be sure to check them out!
El Tumbao (Tarifa)
The great atmosphere at El Tumbao on Valdevaqueros beach in Tarifa is sure to take you by surprise; here you'll discover masses of people stretched out on the grass and enjoying the view out to sea as colourful kitesurfing kites soar through the air above their heads. It's the perfect bar if you're looking for a chilled place to have a drink with a crowd because if you visit El Tumbao between April and October it's always packed with people. And remember: don't leave without trying their hamburgers, the house speciality.
El Dorado in El Palmar (Vejer de la Frontera)
El Palmar is one of the places tourists and locals love to visit as the sun goes down. It's easy to find—just follow the sound of drumming made by groups of friends sitting in circles on the sand. At El Dorado, El Palmar's beach club par excellence, you can enjoy a refreshing cocktail with light snacks to the sounds of chill out music or live bands.
Sajorami Beach in Caños de Meca (Barbate)
Sajorami Beach is a bar and restaurant on Zahora beach, next to Caños de Meca; it also has accommodation options and spending the night here is the perfect way to end a day of sun and sea. With live music every afternoon and a DJ set when night falls, there's a very good chance your day at the beach will run on into the small hours.
Chiringuito Atenas Playa (Chiclana)
This wooden beach bar is on La Barrosa beach in Chiclana and comes to life in the evenings. It's ideal for sipping an aperitif and gazing at the extraordinary colours of the sunset. There are three different areas so there's something for everyone: a restaurant for long meals with plenty of chat, a chill out zone to relax on the sand and an area with sunloungers and Balinese beds for exclusive gatherings of friends.
Pubs and nightclubs in Cádiz to visit with friends
So you've visited beaches, maybe done some sport, seen a sunset over the Atlantic Ocean and after all that, if you've still got the energy for it, plenty of fun awaits anyone who wants to go out partying in Cádiz.
The historic centre of almost every town in Cádiz has pubs where you can have your first drinks to kick off the night: La Luna in Conil de la Frontera, Habana Café in Cádiz, La Ruina in Tarifa, or Discoteca Los Ángeles in Chiclana.
If you prefer large nightclubs, here are some of the best: Café del Mar (Tarifa) has three floors and a rooftop terrace with the best atmosphere and coolest music; Mamajuana is right on La Barrosa beach and DJs get the place jumping every night until the early hours; while El Cortijo (on El Palmar beach, in Vejer) takes the party outdoors and doesn't close until 6:00 AM. Travelling to Cádiz with friends is guaranteed fun all around the clock.
Related
plans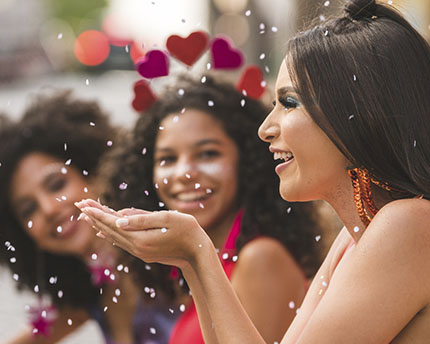 Leisure and Entertainment