Conde Duque Cultural Centre,
packed with alternative activities
The Conde Duque Cultural Centre is located right in the heart of Madrid and this multidisciplinary space holds a special place in the hearts of local residents. The centre houses a series of institutions related to history, culture and the arts. Among its facilities you'll find the Archivo de la Villa, four libraries, the city newspaper library and the Museum of Contemporary Art. However, the most popular attractions of all are its themed days, concerts, temporary exhibitions and summer cinema. Despite the large scale of the centre, which is organised around three interior courtyards, it's the sort of place that encourages introspection. Make sure to visit this building near the Palacio de Liria and see how it inspires you.
A historic building
One of the most fascinating aspects about Madrid is the second life enjoyed by many of its historic buildings. The fact that their doors are open to the public and such good use is made of their space is a great luxury that is not as common as you might think. In the case of the Conde Duque Cultural Centre, its history can be traced back to 1717 when King Philip V ordered the Marquis de Vadillo, the royal-appointed mayor of Madrid, to build new barracks, large enough to house the Royal Guard. Architect Pedro de Ribera was commissioned to carry out the project and he decided that it would be best to divide the building into three sections, each with its own courtyard. The ground floor was designed to be used as stables and the upper floors were for sleeping. The eye-catching Baroque entrance was certainly worthy of such an illustrious place.
Three Royal Guard Corps were housed in the barracks (Spanish, Dutch and Italian) totalling 600 men. Unfortunately, time wasn't kind to the building and it was on the brink of being demolished after two fires before it was saved for public use. The works to repurpose the building began in 1981 and ever since its condition has slowly but surely been improved and strengthened. Between 2006 and 2011 its 55,000 square metres were refurbished, reinforcing the structure, creating communication spaces and restoring the façades to their former glory.
Since then, the Conde Duque Cultural Centre has been one of the largest cultural and artistic centres in Madrid. Its rooms are split between institutional use, as mentioned above, and those aimed at people's enjoyment.
Culture comes first
This space converts culture into art and it was established on solid foundations that aim to help visitors understand the present through knowledge about the past. The great advantage it enjoys as an institution is the sustainability of its services. The Conde Duque Cultural Centre is, alongside Matadero and CentroCentro, an essential stop when visiting the Spanish capital. It has four strategic cultural lines under which it aims to conserve historic culture, defend its teaching and learning, and encourage community bonds and gender equality.
But don't forget, this centre knows how to have fun too! It programmes a wide range of concerts, festivals and even screens open air films.
Spaces in the Conde Duque Cultural Centre
These old military barracks hold many secrets and boast spaces that were created to meet specific needs, including:
Auditorium. This space is mainly used for music and aims to become a leading concert space in the capital. It is over 1,000 m2 in size and can seat 260 people. Some of these seats have been adapted for wheelchair users and their companions. Its capacity can also be expanded by including the choir to seat 70 more spectators.
Sala de Bóvedas. The Sala de Bóvedas or Vaulted Hall has five solid vaulted ceilings, hence its name, and can be directly accessed from Callejón de las Negras. It has over 500 m2 of usable floor area and a capacity of 168 people. This space was previously the stables and is now used for diverse shows in areas such as theatre, fashion, performance and dance.
Rehearsal rooms. These beautiful, modern halls are available for use by Madrid creatives. They consist of two enormous spaces, one for dance and the other for theatre, where artists can rehearse in comfort with access to dressing rooms.
Exhibition rooms. The Conde Duque Cultural Centre has two main halls dedicated to art and both are found on the ground floor of the Patio Sur [South Courtyard]. They can be used to hold large-scale exhibitions due to their spaciousness and versatility.
Events hall. This hall has a capacity of 270 people and runs a varied programme of events. It's located above the main entrance hall and is used for highly popular conferences, workshops and presentations.
Theatre. Despite being a generous 2,093 m2 in size, the theatre was designed to make spectators feel the closeness and warmth of performances.
Public services
The Conde Duque Cultural Centre runs an extensive programme of leisure activities where fun goes hand in hand with learning, plus it also has a series of fascinating services for Madrid residents. This historic building in the Universidad neighbourhood is home to:
Archivo de Villa. This centre preserves all the historic documents from the City Hall, surrounding villages and private collections and the material fills around 18 km of shelves.
'MemoriadeMadrid' Digital Library. The library aims to spread knowledge about cultural, historical and document-based heritage using the Internet.
City Historical Library. Conserves a wide bibliographic heritage with around 220,000 volumes of manuscripts written between the fifteenth and twenty-first centuries.
Biblioteca Musical Víctor Espinós. Music library that aims to spread knowledge about music and encourage musical education. It opened in 1932 by lending out musical instruments.
Conde Duque Public Library. Belongs to the network of city public libraries and its collections and services are available for use by the general public. It has 200 reading seats.
City Newspaper Library. Founded in 1916, it was the first library created for periodical publications in Spain. It's an essential space for history and press enthusiasts and anyone interested in historical memory.
Museo de Arte Contemporáneo. The Museum of Contemporary Art has two permanent rooms that house the project: El Museo portátil [The Portable Museum], El Despacho de Ramón Gómez de la Serna [The Study of Ramón Gómez de la Serna] and El orden de la colección [The Order of the Collection].
As you can see, the Conde Duque Cultural Centre fulfils a fascinating role as an institution that supports culture, also functioning as a leisure space that can be enjoyed by Madrid residents and visitors of all ages.
Information of interest
How to arrive
By Metro: Ventura Rodríguez, Plaza de España, San Bernardo and Noviciado stations.
By bus: Routes 8, 1, 2, 44, 74, 133 and 749. Minibus: M-2.
Related
plans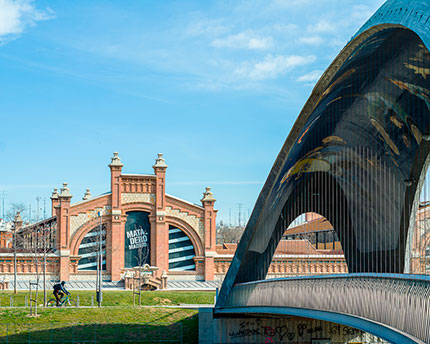 Museums and Art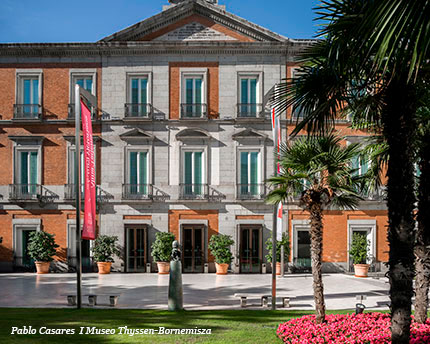 Museums and Art