The Museo del Ferrocarril Railway Museum,
a romantic day out among trains
Both children and adults get excited about trains and the Museo del Ferrocarril [Railway Museum] is a great attraction that is sure to delight visitors of all ages. Its location couldn't be more perfect—the museum is housed in the old Delicias train station in a central neighbourhood of Madrid. The railway station design is very much of its age; it was constructed in 1880, a period when industrial architecture was flourishing.
A visit to the Railway Museum is thoroughly educational because you'll learn first-hand about the history of the railways from the past to the present day. This popular Madrid museum has firm values based on transferring this information, continued research into railways and a culture of service.
A visit to the Railway Museum
As we'll discuss in greater detail below, the Railway Museum is also home to the Mercado de Motores, but don't worry if your weekend visit doesn't coincide with this monthly flea market because you certainly won't get bored. If we were to recommend that you start your visit by heading to the permanent exhibitions you probably wouldn't take our advice—rushing off to explore the main hall is just too tempting. Here you'll find several locomotives and passenger carriages. Take a walk along the platforms and admire every detail of these hundred-year-old machines. You're allowed to get on some of them; one even has a café where you can enjoy something to eat or a coffee while seated in an antique carriage.
Wandering among the trains gives you the chance to enjoy their industrial design and also to appreciate how this means of communication evolved over time. You'll see how steam power was replaced by diesel and electricity during the hundred-year history of trains in Spain. After learning all about it, you can visit the neighbouring halls where the permanent displays are organised by theme. You'll be amazed by an exhibition of old clocks that were used in stations, the model trains (a big favourite of children) and the different elements used in a railway infrastructure. 6,300 objects are on display and many were private donations.
The museum's origin
Although there are various spaces covering different themes, it's always interesting to find out the history behind a museum and how it was created. In this case, similarly to other railway museums across Europe, the project was inspired by the centenaries of various railway lines. It all began in England where the centenary of the line from Stockton to Darlington was celebrated in 1925; five years later it was the turn of the Liverpool-Manchester line. Spain had to wait until 1948 to honour the Barcelona-Mataró line. Like other great events, these anniversaries were commemorated with exhibitions that displayed key historic items related to the railway lines. One thing led to another—pieces were exhibited to celebrate the Barcelona-Mataró line and this set the idea of creating a permanent exhibition space in motion and the collection eventually became Spain's Railway Museum.
However, enthusiasm alone wasn't enough; it was important to find the perfect home for the new museum. In the meantime, the centenaries of other important railways lines such as Madrid-Irún and Madrid-Zaragoza were also celebrated. The Palacio de Fernán Núñez was used as a provisional location for the first Railway Museum and models, engravings and railway paraphernalia were exhibited here. It was housed at the palace from 1967 until 1980 when Delicias station was declared an Artistic-Historic Monument and trains and objects began to be moved to the museum's new home.
A historic station
Delicias station was built to be the departure point for the railway line between Madrid and Ciudad Real. It was used from 1880 up until 1969 when it was finally closed, first to passenger trains and later to goods trains. An interesting fact is that King Alfonso XII and María Cristina, the Spanish monarchs on the throne at the time, attended the opening ceremony for the railway station.
Weekends at the Railway Museum with children
The Railway Museum also organises activities for little ones and families, and its weekend programme has been designed to bring the world of trains closer to visitors. Activities includes workshops, film screenings and theatrical plays. Children between 4 and 12 years of age can even celebrate their birthday at the museum and parties include a guided visit and workshop.
Other popular activities include the Collectors' Fair, where sellers from all over Spain come to sell antique toys, or the Mercado de Modelismo, a model building market where enthusiasts and veterans have the chance to swap ideas and hear advice about railway collecting and model building in general.
The Mercado de Motores
On the second weekend of each month the Railway Museum transforms into a huge market, just like the vintage flea markets that are popular in cities such as London. The Mercado de Motores is run for two days in Delicias station and members of the public can stroll among design, gourmet food, furniture and fashion stalls. Buy whatever takes your whim, enjoy live music, eat at one of the open air food trucks and have fun taking part in various activities.
The Museo de Ciencia y Tecnología [Science and Technology Museum] is next to the Railway Museum and it's a great opportunity to discover its collection of over 500 exhibits while you're in the area. This museum aims to re-establish, conserve and inform people about the history of science through scientific and technological heritage.
Information of interest
How to get to the Museo del Ferrocarril
By Metro: Line 3, Delicias station.
By train: Line C1 and C10, Delicias station.
By bus: Routes 8, 19, 45, 47, 59, 85 and 86.
By bicycle: BiciMad station on Paseo de las Delicias, 92-94.
Related
plans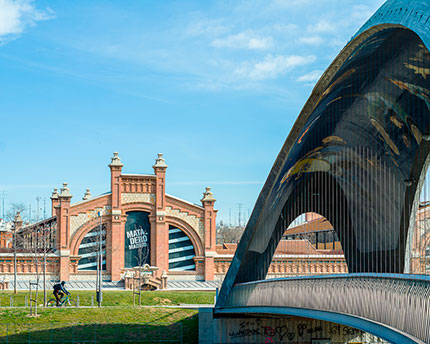 Museums and Art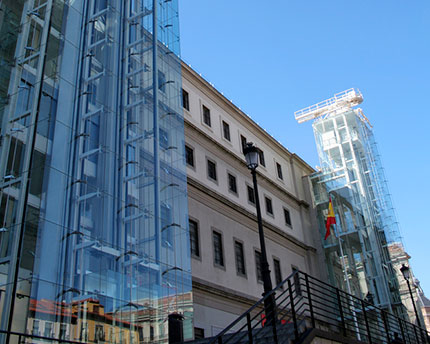 Museums and Art