Madrid's Círculo de Bellas Artes:
art, in style
A magnificent building situated on the historic Calle Alcalá, a beautiful café, a roof terrace with a view and a private cultural space are the main selling points of Madrid's Círculo de Bellas Artes. This prestigious institution was created more than a century ago, in April 1880, by a small group of artists. Heading up this organisation, at the beginning, were figures as important and well-known as Carlos Arniches and Jacinto Benavente. Ramón María del Valle-Inclán walked these halls, while a young Picasso knuckled down in his painting classes. When you take a walk around the interior of this prestigious cultural centre, you need to be aware of the importance of its history, and how privileged we are to be able to enjoy a space that is part of the history of Spanish art.
A magnificent 'jewellery box'
You'll be admiring the Círculo de Bellas Artes before you even walk through the doors, as the beauty of the building that houses it is overwhelming. It was declared to be an artistic-historic monument in 1981 and is protected as an Asset of Cultural Interest.
To begin with, the institution's headquarters were on Calle Barquillo and, after working their way through eight more, they decided to buy a plot to construct the ultimate building. The creator of the current edifice was the architect Antonio Palacios, a big name in Madrid, who also designed the Palacio de Cibeles, the Instituto Cervantes, the logos for Madrid's metro and the first suburban stations. King Alfonso XIII attended the official opening of the Círculo de Bellas Artes. On that Monday, 8 November 1926, the first exhibition was held in the Sala Goya [Goya Room], dedicated to the works of Ignacio Zuloaga.
This building, so eye-catching in its day for its Baroque and Modernist touches, has been modified and adapted to the needs arising over time. A curious fact about it is that its design was inspired by New York's skyscrapers, with each floor being smaller than the one below. You might also be interested to know that one room was intended for gambling, as a way of paying off the debt incurred during the construction process. It has seven floors, and the main floor is where you'll find the ballroom, which has attractive Corinthian columns and a central cupola.
At its height, the Círculo de Bellas Artes even had a swimming pool and hairdressers, amongst other services for its members. Its accounts might not have always been what you could call healthy, but crises have always been overcome, and today it's financed by membership fees, operating an exhibition space, and renting out rooms for events.
A mine of culture
The Círculo de Bellas Artes has a collection made up of more than 1,200 pieces, including paintings, sculptures, pottery, engravings and drawings. No less important is its library, composed of more than 40,000 volumes, both literature and non-fiction works related to history and art. This is open all day, but access is restricted to members. On the other hand, anyone who visits the building can enjoy the exhibitions, shows, theatre, the restaurant-café La Pecera, and the roof terrace. Two important events held here are the Carnival parties, some of the most popular in the capital, and the reading of Don Quixote on World Book Day (23 April). If your trip falls on those dates, don't miss them.
Different exhibitions are held in this multi-disciplinary centre all year round, covering different time periods and artistic disciplines. There is also normally an exhibition from the prestigious photography festival PHotoESPAÑA. The theatre is one of its other main draws as it puts on plays by famous Spanish and international playwrights.
The roof terrace at the Círculo de Bellas Artes
One of the most popular spots in Madrid, when the sun puts in an appearance, is the Círculo's roof terrace, which calls itself a 'gastro-cultural space'. It's in demand thanks to its incredible views of the capital, and the care with which they serve their breakfasts, aperitifs, lunches and afternoon teas. It's at its best at night, with live music and signature cocktails setting the mood. But as if that weren't enough, it's important to mention that this 50-metre terrace is graced by a striking statue of Minerva, known as Athena in Greek mythology. It's the work of Juan Luis Vasallo, is more than six metres tall, and weighs about three thousand kilos. This goddess, who represents wisdom, has been the symbol of the Círculo since it was founded.
The Casa Europa
Although the Círculo de Bellas Artes has always been one of the capital's intellectual centres, a while ago it became a new discussion forum for the European cause, and acts as the Casa Europa, or Europe House, in Madrid. Its role is to function as a space for reflection on European civil society. Its aim is to question and debate the foundations on which Europe is built, and establish whether the expectations established by the political sphere are being met. Numerous public personalities have already pledged their support for this cause.
Visiting the Círculo de Bellas Artes
Thanks to its central location, you're bound to pass this building at some point. Take advantage to go in and have a coffee in the beautiful café, visit one of the exhibitions and go up to the roof terrace to see the views. Ask if there are any talks, films or shows on, and stick around in this historical institution for as long as you can. If you're planning on staying in the capital for a while, we recommend that you sign up to one of the artistic workshops that they organise. They're taught by excellent artists, who you'll learn from almost unconsciously.
Information of interest
How to arrive
By metro: Line 2, stations: Sevilla or Banco de España.
By bus: Routes that stop nearby:  1, 2, 5, 9, 14, 15, 20, 27, 45, 46, 51, 52, 53, 74, 146, 147 and 150
Related
plans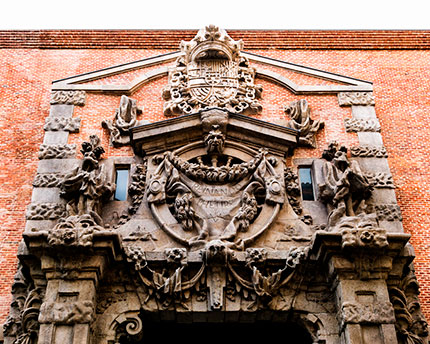 Places of Interest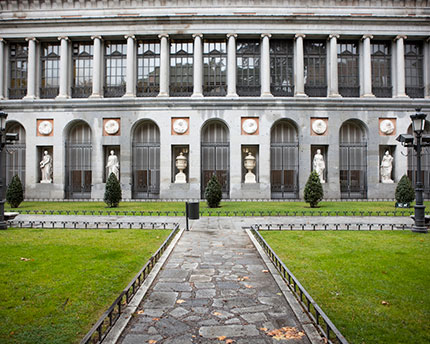 Museums and Art