Cocido madrileño:
Madrid's most typical dish
Cocido madrileño is one of those traditional dishes that at some point made the leap to the city's restaurants to become a star of the local cuisine. Of course, if you take into account its flavour and presence, it's not hard to explain why it's so popular in both people's homes and some of the best kitchens in Madrid.
The first thing you need to know is that it's not actually one dish but rather three dishes that are eaten in steps (vuelcos). You start with the soup, which is the broth that was used to stew all the other ingredients in the dish. Then you eat the chickpeas and vegetables, and finally the meat.
How and where cocido was born
The origins of cocido madrileño aren't fully known, just like other stews that are made across Spain, such as montañés and maragato from the León province, andaluz from Andalusia or even the Catalan escudella.
It can almost certainly be directly linked to a Castile stew known as olla podrida that has been popular since the Middle Ages when it included legumes and different types of meat that were cooked for hours.
But even before olla podrida the nation's recipe book included other dishes that are closely related to cocido. Adalfina hebrea, for example, was commonly eaten by Spanish Jews before they were expelled during the time of Isabella and Ferdinand, the Catholic Monarchs (fifteenth century). And couscous dishes, typical to countries in North Africa, were cooked across al-Andalus.
What's certain is that in the nineteenth century cocido, a popular working-class dish, was taken up by Madrid's restaurants. It became part of the diet of the bourgeoisie who were wealthy enough to eat out at least once a week.
By the twentieth century this progression culminated with the stew being included on the menu of prestigious restaurant Llardy (Carrera de San Jerónimo, 8), a genuine temple to European haute cuisine in Madrid.
The best cocido in Madrid
These days so many excellent restaurants in the city have cocido as the star dish on their menus it's a tall order to decide who has the best cocido in Madrid. This symbolic award is usually given to Llardy, mentioned above, and Charolés.
However, starting a few years back, the Club de Amigos del Cocido [Friends of the Cocido Club] began to award this honour year after year to La Cruz Blanca de Vallecas (Carlos Martín Álvarez, 58). A truly surprising decision, bearing in mind that the establishment in question is a franchise of a well-known brand, and also because it's located in one of the most working-class neighbourhoods of the city. At first glance it all seems a long way from the haute cuisine concept.
But there is a strong and convincing argument for the club's choice. The cocido at La Cruz Blanca is cooked for almost 15 hours: after being stewed, the ingredients are vacuum-packed so that the chickpeas absorb as much flavour as possible. Then they are left to rest overnight and during the morning before they are served for lunch.
It's a hugely successful formula and the waiting list is months long, even for the daily set menu. In fact, you can frequently spot famous celebrities from Spain's cultural, social and political life among its tables. And the cocido that is prepared here is a genuine delight.
Other places where you can enjoy cocido
Charolés, one of the restaurants mentioned earlier, is actually located in El Escorial (Floridablanca, 24) rather than Madrid itself. It's certainly worth travelling to this nearby town to enjoy their stew and visit the famous monastery. But if you don't fancy leaving the capital to enjoy a great cocido madrileño, there are plenty of other options. Here are details of a few:
Casa Carola (Padilla, 54): The bar area aside, the dining room only serves a fixed price cocido menu that also includes a starter, bread, dessert, coffee and a shot of liqueur. It's open every day from September to June.
Taberna La Daniela (General Pardiñas, 21): This is the original La Daniela; the formula was so successful that three other establishments have opened across the capital in recent years. Their star dish is the cocido and here it's the real deal, served in three steps. The menu at La Daniela also includes other classic dishes of Madrid and Spanish cuisine.
La Bola (La Bola, 5): Probably the most traditional of the Madrid cocidos. It's stewed in a clay pot and cooked over a wood fire for hours, then served at the table in the individual containers that were used to cook the ingredients. This establishment is always packed, even though the premises have been expanded several times.
Los Galayos (Botoneras, 5): A classic among the city's classics. Here cocido is served in two steps: soup and chickpeas with meat. The second dish is served in a clay casserole dish.
Malacatín (Ruda, 5): Many people consider this to be the best cocido in Madrid (you were warned that it's a tightly contested award). The key here lies in the ingredients: Castile garbanzos, pig's trotters and top quality blood sausage, among others.
How to cook a good cocido
There are two secrets to cooking a good cocido: high quality ingredients and lots of patience. In terms of ingredients, there are as many variations as there are chefs. And before you start it's important to know that a traditional cocido requires at least two hours' cooking time, apart from making the soup.
The main ingredients in a cocido madrileño are:
Chickpeas
Potatoes
Cabbage
Carrots
Turnip
Onion
Beef shank
White pancetta
Chicken
A piece of Serrano ham
Chorizo
Blood sausage
Beef marrowbone
You'll also need to add the pelota or relleno, a type of meatball made with egg, breadcrumbs, chopped garlic, parsley, olive oil and salt. The second step consisting of the chickpeas and vegetables is usually dressed with extra virgin olive oil. The soup is often served with Basque chili peppers and other pickles to aid digestion.
Related
plans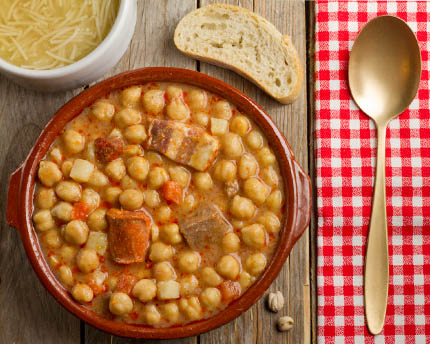 Food and Drinks