Scuba diving in Minorca,
a unique experience in the Mediterranean
Scuba diving in Minorca is an unforgettable experience thanks to a seabed with a wealth of flora and fauna and even some hidden treasures. Experts and beginners alike will be astonished by the underwater world waiting to be discovered as they scuba dive through the unknown, far from the eyes of mere mortals who can only look on from the sea shore.
Calm, crystal-clear waters that average between 22 and 28 ºC in summer are sure to entice you to discover the delights of scuba diving in Minorca. In fact, this activity is suitable for both thrill-seekers and families with children.
Scuba diving in Minorca: where to begin
Breathing underwater and experiencing the feeling of weightlessness as you admire the majestic sea world is something well worth remembering. Scuba diving in Minorca means diving in a natural paradise filled with history and marine treasures. However, it's important to clarify a few points before you zip up your wetsuit.
Scuba diving courses in Minorca
To scuba dive in the waters around the island you need to have completed some training that proves that you have the necessary knowledge to go diving. For example, PADI courses (Professional Association of Diving Instructors) are designed to certify the level of each diver—this is extremely important because Spanish legislation requires you to have a licence if you want to go scuba diving.
Scuba diving centres in Minorca
The best way to find out about scuba diving options in Minorca is to talk to the experts. Scuba diving centres in Minorca offer all kinds of underwater experiences and can also help you complete a diving course. Boat trips, first scuba diving experiences, dives, snorkelling in Minorca… You decide!
Where to go scuba diving in Minorca
Scuba diving in Minorca is the perfect activity for everyone. There's a reason why the shallow waters around the island's coast and its many reefs which are waiting to be explored are so popular. However, Minorca's seabed also boasts caves, grottoes and shipwrecks that are a huge attraction for more experienced divers.
Diving by the reefs
One of the most popular activities organised by diving centres in Minorca are diving trips, especially dives that give you the chance to discover the natural reefs along the coastline. The Aire Island is one of the most fascinating locations for snorkelling in Minorca and diving in spots such as Cagaires, Punta del Bisbe and En Cargol is also an excellent option.
Shipwrecks in Minorca
Scuba diving in Minorca also opens the door to history because the island's seabed is home to important underwater archaeological remains. However, finding them is a challenge reserved for more experienced divers because many are located at great depth. For example, the wreck of the Santa Clara is about 47 kilometres out to sea opposite Punta de s'Algar, the Ocean Diver is opposite Son Bou beach and the Malakoff lies in the deep waters off Cala Galdana.
Underwater caves
If you love snapping eye-catching photos, nothing can beat diving through the island's many underwater corridors, grottoes and caves. Cap d'en Font in the south of the island is an essential stop for underwater photography fans. It's remarkably beautiful and its caves, such as La Catedral, Orge and Pou de sa Lluna, are a feast for the senses.
North Minorca Marine Reserve
The North Minorca Marine Reserve spreads out from Fornells bay to Cap Gros. This area has been protected for two decades and is a scuba diver's paradise. In addition to conserving the greatest amount and widest variety of Minorcan marine fauna, it also has various caves which can be visited on the many dives to explore the setting of the reserve.
Other options: snorkelling, kayaking, surfing and more
If the idea of enjoying the Mediterranean from under the sea doesn't appeal, there are plenty of alternatives to scuba diving in Minorca. In fact, many diving centres in Minorca offer other, slightly less adventurous, water-based activities to tempt tourists.
Kayak excursions
It's undeniable that Minorca is one of the prettiest islands in the Balearics. Quieter than neighbouring Majorca and Ibiza, Minorca is famous for its long beaches and numerous coves that could have been plucked out of paradise. Although many visitors decide to visit these coves in a hire car, navigating the island by kayaking around Minorca is one of the most interesting ways to discover its most surprising corners.
Surfing in Minorca
Scuba diving in Minorca is a hugely popular activity but did you know that this is also the perfect place for surfing? It might not be the first thing that grabs your attention on the island but the fact that it isn't listed on Spain's official surfing circuits lends it a unique charm. Punta Prima, Binigaus, Son Bou and Cala'n Bosch beaches are some of the best surfing spots in the south of the island. If you head to the north, be sure to check out Cala Tortuga, Calders, Cala Tirant and Cala Carbó.
Boat trips
Whether you're planning to go scuba diving or just want to discover the island in a different way, a boat trip is always a great choice. Recommendations include sailing either to the north or to the south of the island, visiting both, or leaping into the sea to go snorkelling in Minorca, which is a highly tempting alternative to scuba diving. This experience gives you the chance to explore and appreciate caves and bays which would otherwise be hard to visit.
Ready to discover the delights of Minorca's seabed and everything you can find at the bottom of the sea?
Related
plans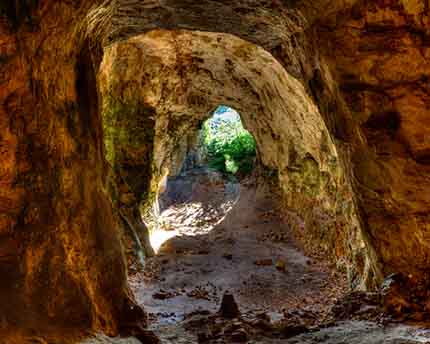 Places of Interest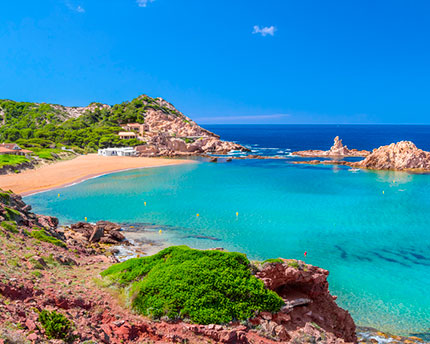 Sea and Beaches