Clubs and bars for
a night out in Seville
Sevillians love meeting their friends and kicking the night off in the historic centre. In the neighbourhood of La Alfalfa, you'll find a student scene at bars like La Rebotica (Calle Pérez Galdós, 11) famous for its mojitos, or Sopa de Ganso (Calle Pérez Galdós, 8). At Cervecería Internacional (Calle Gamazo, 3) beer lovers will find up to 15 European beers on tap, as well as 350 brands of bottled beer from all over the world. And if you're looking for something truly out of the ordinary, Garlochí (Calle Boteros, 26) will make you think you're in a church, thanks to its decoration and atmosphere. It's more than a bit irreverent, serving the 'blood of Christ', with walls covered in religious images and ornaments dotted around the place.
Bars in Seville on the banks of the Guadalquivir
By the Guadalquivir there's a selection of terraces and bars where Sevillians head to enjoy the open air, revelling in the balmy temperatures of the Andalusian capital.
Terraza Sojo: Right next to the Triana bridge, Terraza Sojo in the Mercado Lonja del Barranco, has made a name for itself thanks to its cocktails and gin and tonics, with chill out and flamenco fusion music playing in the background.
Calle Arjona, 24
Muelle Nueva York: If you prefer mojitos or caipirinhas, you can grab one by the river at the Muelle Nueva York. Set between the bridges of San Telmo and Los Remedios, its name is inspired by the boats that used to leave this exact spot and set course for the United States. It has attractive lighting at night and an open-air stage with seating.
Next to this you'll find the Terraza Manhattan, known for its amazing views and guest DJs. Everything you need for a fantastic night out.
Paseo de las Delicias, no number.
Líbano: Those with itchy feet will find the most up-to-date music right here. They put on themed nights and draw a young crowd. This Sevillian bar can be found in the Jardín de las Delicias and its decoration is something special.
Paseo de las Delicias, 151.
Chile Bar: On the same side of the river you'll find Chile Bar, a glassed-in terrace looking over the Guadalquivir that opens in winter too, and is a roaring success.
Paseo de las Delicias, no number.
Puerto de Cuba: On the other side of the river is this terrace with impressive views towards the Tower of Gold (internal link). This is a spot with a terrace overlooking the Guadalquivir that, thanks to the greenery that adorns it, will make you think you're in the Caribbean. Here, you can book in advance to guarantee you a spot, as it tends to fill up. This is the perfect place to sip a drink whilst enjoying live music.
Calle Betis, no number.
Seville's biggest clubs
The night gets started in Seville's bars, but there comes a moment when the party moves to the clubs, and you can follow it if you feel like dancing all night long.
Antique Theatro. Located in the Olympic Pavilion of Expo '92, this is one of Seville's best-known clubs, although it's a bit of a distance from the city centre. More than 1,200 m2 are distributed over two floors with a VIP area and parking. It's a visual spectacle, with LED screens, video mapping and an amazing lighting and sound system.  In summer they open up Rosso by Antique, a terrace of more than 1,000 m2 with a modernist design that creates a unique space dreamed up by Juanjo Vega. It stays cool on summer nights thanks to the aquarium containing 10,000 litres of water.
Calle Matemáticos Rey Pastor y Castro, no number.
Abril Sevilla. Everyone knows that April is Seville's best month for partying, and this club wants to keep the spirit of April in Seville alive all year round. It's got three floors, each of which has a bar, and is always pumping out the latest music. This club has a futuristic design mimicking the New York clubs of the 90s, with furniture specifically designed for the space. The sound, lights and décor are all bang on trend, making this club quite the experience.
Calle Luis Montoto, 118.
Tokyo. Right in the heart of Seville, where you would have once found the famous club Catedral, you'll now find a hub of alternative music. Tokyo is famous for its shows and spectacles, although you'll generally hear electronic and house music here. The giant mirror balls hanging from the ceiling give it plenty of personality and make the club sparkle, infecting everyone with the party atmosphere.
Cuesta del Rosario, 12.
Uthopia. This club, located in the old Córdoba station, has three floors that each offer a very different experience: Paris, India and London. 400 m2 of its 1,600 m2 floor space are taken up by a first-floor terrace, which is the club's smoking area. It organises themed nights and has a shisha bar. You'll find it in the Plaza de Armas shopping centre, and it has a private car park.
Alfonso. Right in the middle of the María Luisa Park (internal link), this club is one of the city's unmissable night spots, with an open-air dance floor, mainstream music, and a young crowd. It's got a small covered area with a bar, a chill-out zone, and areas you can reserve in advance.
Paseo de las Delicias, 13.
Sevillian nights have got something magical about them, and it's up to you where to dance them away. And if you're heading home at dawn then don't forget to stop off for churros at the Quiosco de la Macarena.
Related
plans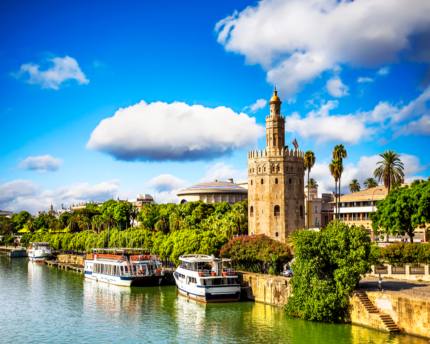 Places of Interest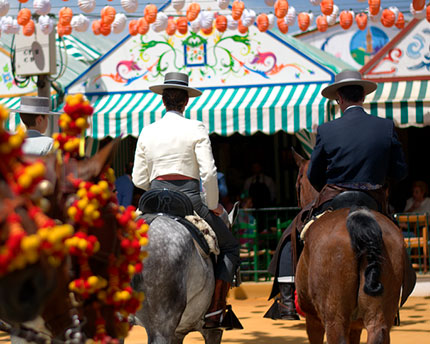 Leisure and Entertainment