The Riviera Maya with kids:
beach, nature, and fun
Traveling to the Rivera Maya with children means building a sandcastle on one of the best beaches in the world. Or playing to be an explorer discovering the wonders of the ancient Maya World. Or diving in crystal clear waters or entering the jungle to discover the incredible tropical nature of the Mexican Caribbean. Or having fun like never before in any of its fun amusement parks. Or enjoying hotels and resorts designed so that each member of the family has the best time ever. In short, a perfect vacation for young and old.
Nature, adventure, culture, art, history, food, shopping, entertainment… Cancun and the Riviera Maya make up one of the most complete tourist multi-destination in the world. Of course, that includes countless possibilities for families with children. In the hotel, on excursions, restaurants, theme parks, etc., every detail is designed so that you and your children (nephews, grandchildren, godchildren) live a truly incredible experience.
Tips for traveling to Riviera Maya with children
The Mexican Caribbean is a well-established tourist destination, a place that receives millions of visitors every year. Of course, it has all the services and infrastructures necessary for you and yours to live a wonderful vacation. However, it is worth taking into account some details that can help you avoid any nasty surprises.
First of all, remember to always keep all your documents up to date: official IDs, passports, visas, hotel reservations, plane tickets, letters, special permits for minors… And besides the original documents, it's always better to have copies, both physical and virtual (in your e-mail or in the cloud), in case there are any setbacks.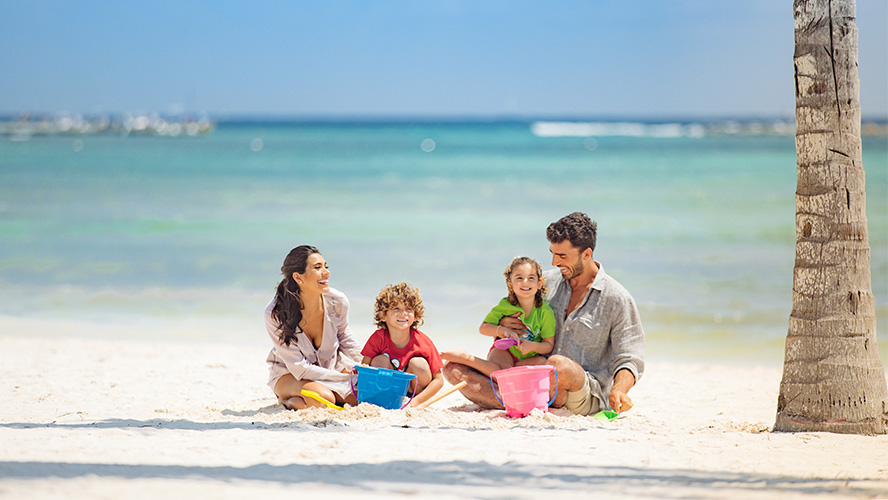 Another thing that you can't forget is that the Riviera Maya is a tropical area. Therefore, it's essential to be careful with the sun, heat, dehydration, and more than one bug. So take care of your little ones with a good sunscreen (preferably biodegradable), a cap, or a hat. Also, wear a swimming shirt with UV protection (they will spend hours in the pool and on the beach) and sunglasses. And don't forget the insect repellent. You would also want to take advantage of any shade (or bring your own parasol)! If, in addition, you pamper them with an aftersun at the end of the day, much better.
In line with the above, the sun must be taken into account when packing. Bring them light clothes to withstand the heat, but cover them well from the intense sun rays to avoid burns and sunstroke. Remember that even if it's a cloudy day, the tropical sun hits hard. Clouds don't block UV rays; they just filter them, and sometimes not even that. Complement your luggage with the appropriate footwear (flip flops, tennis shoes, water shoes…), always considering the type of activities you have scheduled. You can even bring them a light sweater; sometimes, air conditioners are way too strong.
Also, make sure you have a bag or backpack in which you can carry everything you need for your excursions: change of clothes, sunscreen, repellent, and plenty of water. Being well-hydrated is super important, especially for the little ones.
A tip: Throughout the Riviera Maya, you have more than enough pharmacies and medical services, but if your son or daughter takes any prescription meds, it's always better to bring them over, in sufficient quantity, from home. Or, at least, don't forget a prescription indicating the active substance because your medicine may have a different name (brand) in Mexico.
Family resorts in Cancun and Riviera Maya
On your trip to Riviera Maya with children, choosing the hotel is very important. So, make sure you find the option that offers you the best proposals to enjoy an unforgettable vacation with your whole family.
And one of the best alternatives is, for sure, the Barcelo Maya Grand Resort, a fantastic resort made up of 6 All-inclusive hotels right in the heart of the Riviera Maya. This incredible complex offers you the Barcy Kids Club, a fun activity program for children from 4 to 12 years old. The Barcy Water Park, a fantastic children's water park with castles, slides, and waterfalls in the pool. The Pirates Island Water Park, with the most stunning attractions for all ages. The Ventura Fly and Ride adventure park, with zip lines, suspension bridges, and different types of vehicles. And, of course, all kinds of sports and leisure activities, from miniature golf and a bowling alley to non-motorized water sports (kayaks, water tricycles, snorkeling equipment…), tennis, paddle tennis, and basketball courts, among many other options.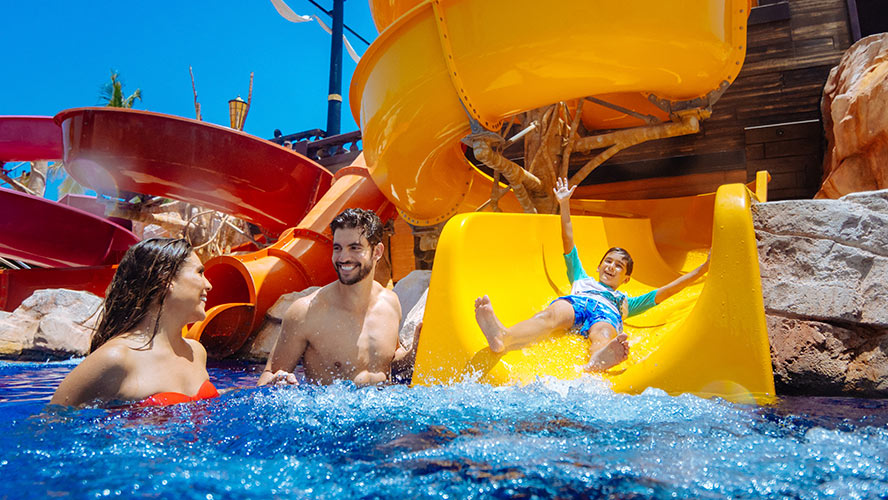 Another perfect option to enjoy with the family is the Occidental at Xcaret Destination. Besides its own facilities and services (swimming pools, private cove with soft white sand, Kids Club, miniature golf…),  this spectacular 5-star All-Inclusive hotel offers unlimited access to the Xcaret eco-park by reserving the Unlimited Xcaret Xperience package and to the Xplor adventure park, with the Unlimited Xplor Xperience package.
Playa del Carmen is one of the most attractive destinations in the Riviera Maya. You can enjoy all its charm with your family at Allegro Playacar, a fantastic 4-star All-inclusive hotel located on one of the best beaches in the area. In addition to its two magnificent pools, your little ones can enjoy the entertainment program at the Kids Club, the tennis and basketball courts, and the different water activities, among many other possibilities.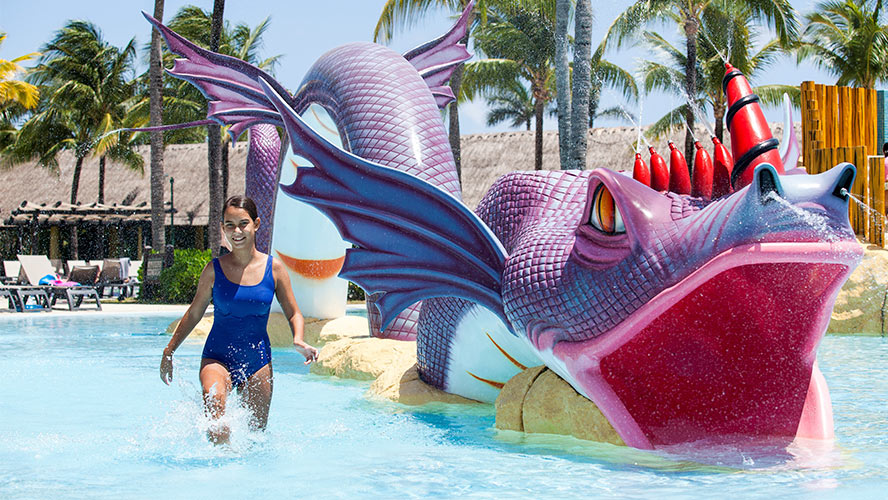 You can also discover with your family one of the jewels of the Mexican Caribbean, the wonderful island of Cozumel. Stay at Occidental Cozumel (5*) or at Allegro Cozumel (4*), two All-inclusive alternatives in one destination that has so much to offer. Both hotels are located in front of the Palancar reef, one of the top-5 diving destinations in the world, and integrated into a beautiful natural environment. They also offer you a kids club and a special pool for children, and different sports activities (on land and water). Everything you need to live the vacation that you have imagined!
And if you rather stay right in the heart of Cancun's Hotel Zone, Occidental Tucancun and Occidental Costa Cancun are your best choice. Both properties allow you to enjoy the great possibilities that the city has to offer, as well as their own proposals designed so that your little ones (and you) have an incredible vacation. Both hotels are All-inclusive and have a complete program of daytime activities and evening shows. Also, swimming pools for the whole family, the fun Flip Club children's club, and, of course, a privileged location on the beachfront to enjoy the sand, the sea, and all kinds of water activities.
Adventure days: things to do with children in Riviera Maya
One thing that makes the Riviera Maya the perfect destination for traveling with children is that the list of activities you can do is practically endless. In other words: enjoy the countless excursions, and neither you nor your children will be bored for a single minute. Here we leave you just a brief sample of everything that awaits you:
1. Xcaret
More than 50 attractions surrounded by jungle, underground rivers, and the Caribbean Sea make this unique park one of the most visited places in Mexico. Kids (and parents) will have a great time swimming in its underground rivers. Or enjoying its incredible shows. Or getting to know the rich flora and fauna of the place. Or getting to know all of the charms of Mexico's culture. In addition, for children under 12 years old, Xcaret has a Children's World, a particular area full of activities and surprises.
2. Xel-Há
Framed by a vast natural cove that was an important seaport in pre-Columbian times, this popular nature park is one of the best options to spend an unforgettable day with the family. Snorkel in its crystal clear waters. Discover the outstanding local flora and fauna, and show the kids the importance of environmental conservation. Enjoy the incredible view from its Mirador Lighthouse, and slide down its 100 feet high waterslide. These are just a few of the many options that await you in this fun destination. Moreover, as Xel-Ha is an All-inclusive park, you can enjoy unlimited food and drinks, among many other possibilities.
3. Xplor
If your family is a fan of adrenaline and strong emotions, this is the place you have to visit. Also, under the All-Inclusive concept, this fun park offers you six adventure activities, as well as unlimited food and drinks. First, explore impressive underground rivers and flooded caverns full of fantastic rock formations. Next, fly above the jungle in two zip-line circuits (including the highest in the Riviera May) that add up to almost 2.5 miles in length, going through waterfalls and caves to end up splashing in a cenote. Finally, discover the exuberant Maya jungle driving a fun amphibious vehicle. Fun to the max!
4. Everyone to the beach!
If you decide to spend your vacations in Cancun and the Riviera Maya, it's because you like the beach. Quite obvious. The Mexican Caribbean is a true beach paradise. But the best of all is that within the nearly 620 miles of coastline that the state of Quintana Roo has, plenty of beaches are simply perfect for the youngest of the house. Places like North Beach, in Isla Mujeres, or Las Perlas Beach, Langosta Beach and Gaviota Azul Beach, in Cancun; as Puerto Morelos Beach, Punta Esmeralda, Playacar, Xpu-Ha, Santa Fe and Paraíso, in Riviera Maya, among many others, offer you their white sand and super calm and crystalline waters for your children to have a great time.
5. Un viaje en el tiempo
The Riviera Maya is one of the best places to go on vacation with children in Mexico. And this is so not only because of its incredible beaches but because the entire area offers you an authentic journey back in time to discover the wonders of the Maya World. Visit with your family the most important archaeological sites, such as Chichen Itza, Tulum and Coba, and discover their enormous cultural, historical, and architectural wealth. At these ancient Maya cities, you can let your little ones feel like authentic explorers and adventurous archaeologists among their huge pyramids surrounded by virgin jungle!
Related
plans