Travelling to Agadir
with children
Children are always at the heart of a family holiday. So, if you've decided to book a holiday in Agadir with your kids, it's time to make a note of all the activities this wonderful city by the Atlantic has to offer. We'll help you plan a visit to Morocco's leading seaside town so that the holiday creates everlasting memories for your children.
How about starting the adventure by going for a walk through central Agadir to discover places that will transport you to the Arabian Nights and other Oriental legends? Your children will be impressed by experience because the landscape you'll see couldn't be more exotic. Tell them about the amazing sights they'll see in the city's main souk, Souk El Had, and take them to the Central Market to discover local produce and the spices that play such a key role in Moroccan food.
Agadir has many attractions that are suitable for children so let us help you plan your family holiday with some kid-friendly activities that ensure you all enjoy this buzzing city on the shores on the Atlantic Ocean. Here are just a few suggestions:
Agadir Kasbah
You could start your itinerary with children at Agadir's old Kasbah; only ruins remain, but it's a historic space that fires the imagination. It's at the top of a hill where you'll see vast letters that spell out "God, country and king". You'll have impressive views of the city from here, and can explain to your children that the area was built in the 16th century but was razed to the ground by an earthquake in 1960. All that remains of the old Kasbah are part of the walls.
Explore Souk El Had
How about heading to Souk El Had to discover exotic objects in this large and popular Moroccan market? You'll find a bit of everything here: gifts, hand-crafted goods, T-shirts, lamps, rugs, shoes, tools… Why not try a sandwich and freshly-squeezed orange juice at one of the street stands? You can tell your children about local food as you pass stands selling vegetables, fruit and other fresh produce used in Moroccan cuisine. They'll be fascinated by people's way of dressing, especially the women's colourful hijabs and decorated hands.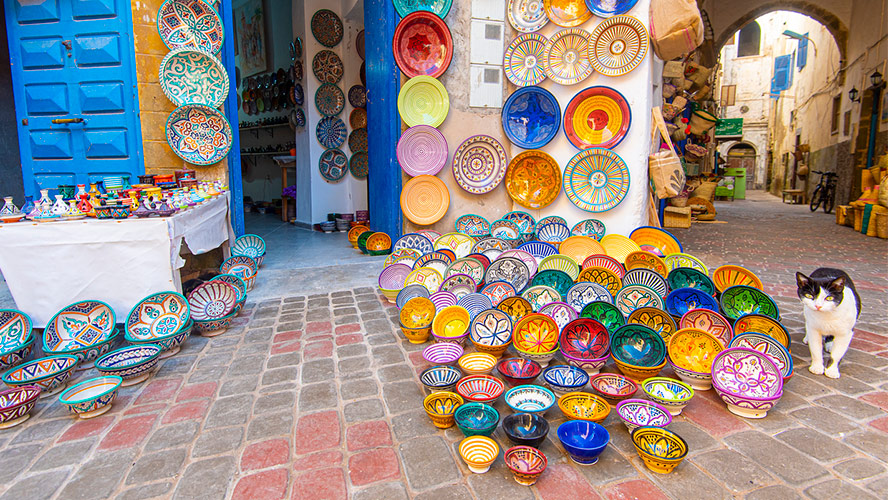 Enjoy the Olhao Garden
Also known as the Portuguese Garden, the Olhao Garden is probably the most beautiful in Agadir. Its impressive design was inspired by Amazigh buildings and it has lovely green avenues and plenty of fountains and water features that give it a refreshing atmosphere. Your children will be amazed – and it'll also give them a break from the hustle and bustle of the city. Another option is to visit the Ibn Zaidoun Garden, which is next to the synagogue and Agadir's main mosque. It's a wonderfully fresh spot with attractive children's playgrounds.
Walking along the beach
Agadir has the longest and most spectacular beaches in Morocco and they're perfect for sunbathing and relaxing. If you don't have time to take a dip, enjoying a nice walk along the sand with the kids is highly recommended and something they will definitely love. Agadir's city beach alone stretches on for 12 km.
Discover Paradise Valley
You'll have to leave the city to enjoy this wonderful nature reserve which is full of rivers, palm trees and rocks. It's just 20 km from Agadir and is famous for its crystal-clear freshwater pools that are filled by three waterfalls. A natural marvel that is sure to delight younger family members.
Eating at a typical Moroccan restaurant
Children will love trying typical Moroccan soup, couscous and traditional sweet pastries. If they aren't used to eating food made with spices, it's best to let the waiting staff know. Agadir has scores of great restaurants, so here are just a few: Bab Agadir, Babakoul, Le Mauresque, Le Jardin d'Eau, Rotisserie Ennahda, Mimi La Brochette, La Villa Blance, K-moon, O Playa and Rafiq.
Tips and recommendations
Agadir is a great city to visit with children. The city centre is easy to move around and people are very friendly. If you need help at any point, don't hesitate to ask someone to give you a hand – Moroccans are very welcoming, especially if children are involved. With regard to safety, you'll find some taxis don't have rear seatbelts or car seats for children, so you'll have to order a special vehicle if necessary. You should take bottled water with you, and make sure to wash fruit and vegetables well to avoid a bout of gastroenteritis. Try to avoid eating at street stalls except if they offer cooked food.
Where to stay in Agadir
The best places to stay in Agadir have a Spanish flavour. We recommend the Allegro Agadir because it's excellent value for money; it's in the heart of the city, next to Agadir's wonderful sandy beach. This four-star hotel is surrounded by gardens and is just moments away from an area with restaurants, beach clubs, cafés and shops. It has 321 fully furnished rooms and is the best choice for enjoying a holiday in Agadir, whether you're travelling as a couple, with friends or as a family. And good news for surfing fans – Tamraght and Taghazout beaches are also close by. The hotel has a large outdoor pool and leisure activities, plus a main, buffet-style restaurant and two snack bars.
Frequently Asked Questions
What are the best activities to do in Agadir with children?
You can't miss visiting the Kasbah, exploring Souk El Had, enjoying the Olhao Garden and going for a walk on Agadir's magnificent, long beach.
What are the best excursions to do with children in Agadir?
An unmissable excursion is just 20 km from Agadir: Paradise Valley nature reserve, which is full of rivers, pools, waterfalls, palm trees and rocks.
Which is the best time of year to travel to Agadir with children?
Any time of year is good to travel to Agadir with children but spring and autumn are best because the temperatures are more pleasant.
Related
plans