El Raval, a buzzing,
multicultural neighbourhood
Mention El Raval to older generations in Barcelona and they will think of a run-down, insalubrious area. However, nothing could be further from the truth. What is true is that the shrewd idea of establishing the Museu d'Art Contemporani (MACBA) and the Centre de Cultura Contemporània de Barcelona (CCCB) here sowed the seeds for a revolution. It was the spark that transformed the old "Chinatown", an area once notorious for prostitution and dive bars, into one of the most interesting neighbourhoods in Barcelona in terms of culture and leisure.
Today, El Raval is a multicultural, multi-ethnic neighbourhood (it is estimated that more than half the population originates from other countries around the world) that welcomes art and the avant-garde of any kind.
What to see in El Raval
It is worth starting off by taking a stroll through El Raval neighbourhood. Head down any of the streets that run off La Rambla and wander past the façades of its unassuming buildings, which are now increasingly in demand as homes for young professionals and art-lovers in general. Later, it is a good idea to visit some of its main attractions:
Museu d'Art Contemporani de Barcelona (MACBA): this modern art gallery exhibits works from the second-half of the twentieth century onwards by Spanish and international artists. The sections on Abstract Art and Pop Art are particularly impressive.
Centre de Cultura Contemporània de Barcelona (CCCB): an arts centre that aims to foster creativity by embracing its widest forms of expression. Its programme is packed with exhibitions, conferences, film screenings, debates, festivals, etc.
Rambla del Raval: the main thoroughfare in the neighbourhood and a popular meeting point for local residents and visitors to the area. This boulevard is the result of a 1955 urban redevelopment plan that aimed to create an open space in El Raval between Carrer de Sant Pau and Carrer de l'Hospital.
Botero's Cat: undoubtedly the most photographed feature of Rambla de Raval. This bronze sculpture by the Colombian artist Fernando Botero has stood on the boulevard since 2003.
Palau Güell: one Antoni Gaudí's less obvious works. In fact, you almost have to hunt it out. Businessman Eugeni Güell commissioned the brilliant architect to design this building, which opened in 1890.
Saint Eulalia fountain: located in Plaça del Pedró, it is thought to be one of the oldest monuments in the city (1670).
Shopping in Carrer dels Tallers and Carrer de la Riera: perfect for alternative shopping, these streets are lined with vintage stores and shops selling clothes that will appeal to members of every kind of urban tribe.
An emblematic hotel: Barceló Raval
In addition to the sights described above, one of the buildings that best represents the new way of life in this neighbourhood is the Hotel Barceló Raval. Its vast cylindrical metal structure soars above the other buildings in the area. The project was designed by Balearic studio CMV Architects.
It opened in 2008 and instantly became a flagship building for El Raval because of its striking architecture, and also thanks to its highly-trained staff who provide excellent advice to guests about the best places to visit nearby and across Barcelona.
The hotel also has a roof terrace with magnificent 360° views of the city that can also be enjoyed from the roof-top swimming pool. Hotel Barceló Raval is a great destination for an afternoon or evening cocktail and often has sessions by famous DJs.
Although visitors are drawn to the roof terrace, they also flock to the ground floor of the hotel where you will find the reception, restaurant and B lounge bar. The latter is extremely popular with both hotel guests and new arrivals to the neighbourhood.
Sant Antoni market
You could say that El Raval has two markets. The first is La Boqueria, although its main entrance is located on La Rambla. The second is Sant Antoni market, created as part of an urban development project by Ildefons Cerdà i Sunyer in the middle of the nineteenth century. Sant Antoni is one of the most important markets in the city and actually contains three markets in one.
Fresh food: while many of the traditional stands still remain, there are an increasing number of gourmet products on sale that can be sampled at bar counters and little stalls.
Els Encants de Sant Antoni: a kind of makeshift shopping centre where you can buy anything from fashion items and accessories to homeware, jewellery and watches, fabric, haberdashery products and perfume.
Books: this market appears every Sunday and sells new and second-hand books, postcards, stamps, magazines, stickers, videogames, films, etc.
Restaurants and bars in El Raval
Don't miss the chance to stop for tapas, lunch or dinner in one of El Raval's many bars or restaurants during your visit to the neighbourhood. Some of the best options are:
Dos Palillos (Elisabets, 9): Albert Raurich, a chef from the El Bulli school, prepares a daring menu of oriental cuisine at a long bar counter for just 12 diners.
La Monroe (Plaça Salvador Seguí, 1): the bar of the Filmoteca de Catalunya film archive. Unsurprisingly, there are numerous references to the world of cinema in its décor and it is often busy at lunchtime thanks to its reasonable menu of the day. It is also a popular spot later on when it is time for a vermouth or other aperitif with a plate of tapas.
Gats (Xuclà, 7): once the good weather has arrived, find yourself a space on one of the loveliest terraces in the neighbourhood. Perfect at any time of day, it is open from breakfast to dinner, and naturally for tapas too.
Casa Leopoldo (Sant Rafael, 24): a revival of one of Barcelona's classic, almost legendary, restaurants. Barcelona's typical food is served here; special mention should be made of the oxtail stew.
Information of interest
How to arrive
On foot: El Raval is located between La Rambla, Gran Via de les Corts Catalanes and Barcelona port.
By metro: Urgell and Rocafort stations (line 1), Liceu, Drassanes and Poble-sec (line 3) and Paral·lel (lines 2 and 3).
By train: lines L6 and L7, Catalunya station.
By bus: routes 59, 120, V11, V13, and H14.
Related
plans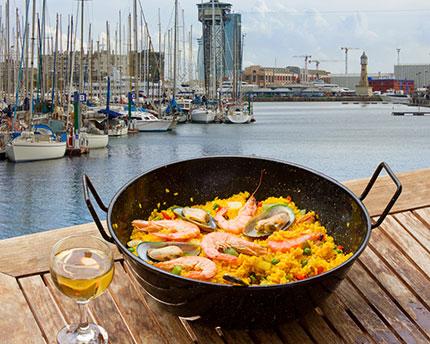 Food and Drinks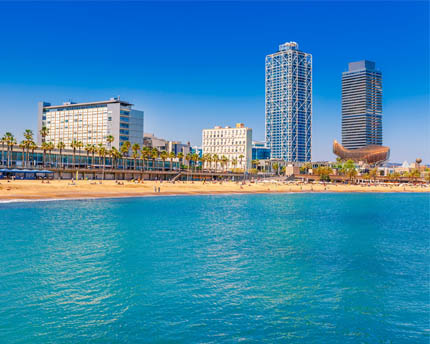 Routes and Walks