A romantic break in Cádiz,
a province for falling in love
These days couples prefer to give each other experiences. This trend has developed over the past few years and has now overtaken gifts such as matching knitted jerseys (often spotted in American Christmas movies) and sexy underwear. Sharing a day or weekend doing activities with that special someone is a great opportunity to break up the tedium and rekindle the flames of passion. Also, remember the saying: "Big things come in small packages"? Attention to detail wins every time.
Don't worry if you aren't a romantic on the level of The Notebook or Titanic, below you'll find some incredible ideas for enjoying a wonderful romantic break in Cádiz.
Fall in love in the Cádiz mountains
Just imagine getting up in the morning and being surrounded by nature, with mountain views, fresh air and the sound of bird song on the breeze. How about a glass of wine by the fire, or a relaxing bath in the jacuzzi? There is a wide selection of rural accommodation in the mountains, but if you prefer there are also some truly magnificent hotels where you can spoil yourselves. Health resorts and spa circuits are also a great choice for relaxing and leaving your stress far behind.
However, if you like adventure and doing something different, we would recommend a horseback trail ride through the Cádiz mountains. There are several companies that specialise in this type of excursion; they provide all the equipment necessary and guide you on a journey through nature.
Restaurants for a romantic dinner in Cádiz
A romantic candle-lit dinner always hits the spot. Background music, excellent service, delicious cuisine from Cádiz and a relaxed atmosphere as you enjoy a dinner with your partner make for an experience so romantic it could be taken straight out of a film. Below are some great suggestions in Cádiz province:
La Casa del Califa (in Vejer), with Arab décor and different spaces, each with its own ambience. It's located in an old sixteenth-century granary that has been converted into a hotel-restaurant with several different areas. The restaurant serves delicious Moroccan and Lebanese-style food.
Quilla, a kiosk-bar with a terrace right on La Caleta beach affording impressive sea views. From the outside, the bar looks like the hull of a boat and it serves Andalusian tapas with a modern twist. It also holds cultural events such as art exhibitions and concerts.
Código de Barra is a place with a modern atmosphere, great fresh produce and original, Mediterranean-inspired dishes. If you have room for dessert, make sure you try the chocolate roto.
La Candela is a cosy establishment with unusual decoration and a menu featuring plenty of tasty tapas. It has a small dining room, but you can also sit at the casual bar. Service is fast and attentive. It also exhibits art works for sale.
The night of your dreams
Enjoying a romantic hotel as a couple is an unforgettable experience. You can order breakfast in bed, enjoy a stylish room and rest while you're treated like a king or queen. If you're visiting the province or planning a romantic break, a good recommendation is the Barceló Sancti Petri hotel, located on the front line of La Barrosa beach (Chiclana). All rooms have balconies with sea views. It boasts jaw-dropping facilities: 5 swimming pools, 3 restaurants and 4 bars. Perfect for switching off with your partner.
Experiences for a different romantic break
Leaving the typical plans to one side, there are endless activities and experiences to enjoy as a couple. Here are some that we like the most:
Hot-air balloon ride: Discover Cádiz from the air and enjoy mind-blowing views. Lots of companies offer

rides with breakfast included (trips typically leave at dawn). The balloons usually depart from Arcos de la Frontera—but if you're scared of heights, keep on reading…

Sailing trip: Glide across the peaceful waters of Cádiz bay on a 2-hour boat ride. Enjoy the calm, the movement of the waves rocking the boat and, of course, an impressive sunset from the sea. However, if you tend to get sea-sick, another great option is watching the sun go down from La Caleta beach; the colours are beautiful and the atmosphere is deeply romantic.
Sancti Petri castle: An ancient temple converted into a defensive castle located on Sancti Petri island, which can be reached by boat or kayak. The views from the castle will take your breath away and it also hosts all kinds of activities: exhibitions, astronomy workshops, concerts, cocktails… Fabulous plans to enjoy as a couple.
Arab baths: The Hammam Andalusí (in Jerez de la Frontera) is housed in an old palatial house in the centre of the city and is decorated with tiles and stucco. A visit is like travelling back to the past, to the magic of al-Andalus. They also offer massages and even photo sessions.
With so many ideas to choose between, you'll have enough plans to fill several weekends, so book the option you like the most and surprise your partner because… Love is in the air!
Related
plans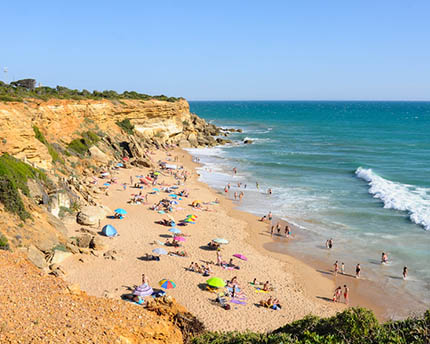 Sea and Beaches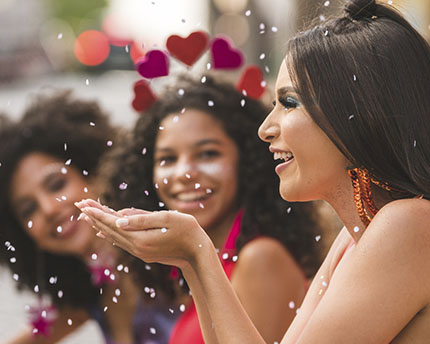 Leisure and Entertainment