Typical Fuerteventura cuisine:
savour the island's culinary delights
In order to understand the essence of the typical Fuerteventura cuisine, you need to go back to the times of the island's first inhabitants. The Canary Islands' indigenous inhabitants bequeathed to the island a great charter of flavours which, over time, have evolved into Fuerteventura's characteristic gastronomic identity. Fuerteventuran cooking retains the original natural and simple methods of preparation, imbued with intense flavours that make a lasting impression.
Eating is one of life's pleasures, and on this paradise island of endless beaches and constant breezes, it is very much so. Fish is one of the main raw ingredients in so many of the island's dishes, as is gofio [a toasted grain flour], papas arrugadas or arrugás [wrinkled potatoes], goat meat and of course Majorero cheese. Typical Fuerteventura cuisine opens the door to a very different culinary experience, a treat for the senses that is sure to impress.
The basic elements of Fuerteventuran cuisine: gofio, papas arrugás and sancocho
Fish is one of the island's favourite raw ingredients, obviously because of its close connection with the ocean. The Fuerteventurans have their own recipes and star dishes. Parrot fish, for example, is among the most popular, especially when stewed, although it is not at all uncommon to find delicious fish casseroles based on gofio, limpets, mussels, brown snails and other small molluscs in Fuerteventura's finest restaurants.
The highlight of the typical Fuerteventura cuisine is, unquestionably, sancocho [stew] which (strictly speaking) is a dish served during Holy Week. Wreckfish or cured sea bass is normally the main ingredient in this dish which is served accompanied by potatoes, sweet potatoes, sliced gofio, and mojo [traditional Canary Island sauce].
Fish and seafood provide much of the basis of the typical Fuerteventura cuisine, but they are not the only speciality. In fact, goat meat is one of the essentials of the local cuisine. For years, these animals have roamed freely over the island's desert-like landscape, and as a result ingredients derived from rearing them have a significant presence in Fuerteventura's culinary tradition.
Fuerteventuran goats abound in the least inhabited areas of the island, and so it comes as no surprise to encounter them as you pass through inland villages. One dish based on goat meat that you really must try is puchero majorero, an extremely tasty local stew. If you'd prefer something lighter, you could opt instead for roast or fried goat meat.
If there's one food that you simply must try, it is gofio. This typical food is part of the legacy of the Canary Island indigenous inhabitants. It is a toasted wheat or millet flour to which a pinch of salt is added, and is the most common recipe in the island's recipe book. Although it can be consumed with milk, or made into a dough or added to puddings, one of the most popular recipes for its use is known as gofio escaldado [stock mixed with gofio to form a thick paste, which is added to stews].
As an intrinsic element of Fuerteventura's cuisine, it may be served as an aperitif or as a filling and warming dish. The best method is to add the gofio to a fish stew and then stir until a thick soup or purée is obtained, which tastes truly delicious.
If you've already embarked on the task of deciding where to eat in Fuerteventura, you will know that in any traditional restaurant, papas arrugadas are never off the menu. These potatoes are one of the classic ingredients of Canary Island—and therefore of Fuerteventuran—cuisine.
To acquire their strange appearance, the 'wrinkled potatoes' are well salted as they are cooked. Tradition requires them to be eaten hot and accompanied by the popular mojo verde [green mojo] or mojo picón [spicy mojo].
Majorero cheese: one of Fuerteventura's treasures
There is a vast choice when it comes to deciding what to eat in Fuerteventura, but if you're looking for a genuinely local product, you cannot leave the island without trying Majorero cheese. The origins of this cheese date back over two thousand years, when the Guanches [original inhabitants] discovered in it a genuine treasure.
The traditional recipe—a blend of Fuerteventuran goat's milk and up to 15% sheep's milk (when it is to be allowed to mature)—was the reason that in 1996 it was selected as the top Canary Island cheese with a designation of origin. In addition, it was the first cheese in Spain to be granted protected status.
One of its distinguishing features is the imprint on the sides of the cheese of the palm tree leaves used to mould the rind. Its appearance can vary depending on how its surface has been treated, although most commonly it is rubbed with paprika, olive oil or gofio. With a mild taste (when it is fresh) or a more intense, somewhat piquant flavour (if it has been cured), Majorero cheese is one of the stars of Fuerteventura's culinary offering.
Currently, production is concentrated within the municipalities of Antigua, Betancuria, La Oliva, Pájara, Puerto del Rosario, and Tuineje—although you can try it in any number of restaurants across the island.
What else to eat in Fuerteventura
The island's flavours trip lightly from the sea to the mountains, stopping to soak up the blessings offered by the land and by the vast ocean. But beyond the papas arrugadas, the delicious roast goat meat and the stews, it is essential to leave room for the puddings. And the finishing touch to the range of Fuerteventura's local dishes is added, naturally, by little treats that taste of heaven.
Fachenda [a dessert made with eggs, milk, almonds and sugar], leche machanga [a kind of custard], fritters made with Majorero cheese… there are many to choose from, but one of the superstars is frangollo. Its main ingredient is coarsely ground millet flour, which differs from gofio in that it is not toasted. Traditionally, frangollo is made by adding to this base: goat's milk, sugar, raisins, egg yolks, and lemon zest. A typical dessert not to be missed.
Related
plans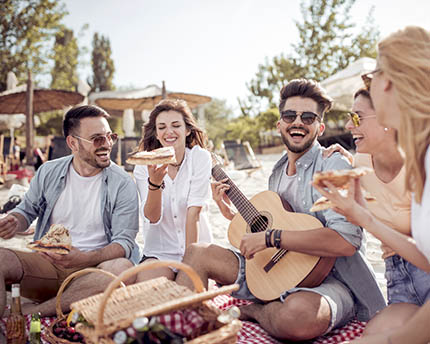 Leisure and Entertainment