Doramas Rural Park:
a laurel forest kingdom
Doramas Rural Park in northern Gran Canaria  extends across the municipalities of Arucas, Firgas, Moya, Santamaría de Guía, Teror and Valleseco. It is one of the prettiest natural spaces on the island and a place of immense ecological worth. There are a number of ravines in the park, including Azuaje and Moya, and the abundance of water in the area means that the vegetation is lush and dense. Indeed, it is no surprise that this place used to be known as the 'Doramas jungle'.
There are a number of other rather unique areas within Doramas Rural Park. For example, Azuaje Special Natural Reserve (Reserva Especial Natural de Azuaje), which extends into both Firgas and Moya municipalities. The vegetation there is particularly thick with laurel, faya and tree heath, an ecosystem that is incredibly rich in flora and fauna and that has all but disappeared. Laurel is also abundant in the smaller Los Tilos de Moya Special Natural Reserve (Reserva Natural Especial de Los Tilos de Moya). When you visit, you will be surrounded by a multitude of endemic plants and animals, some of which are even at risk of extinction. The same is true of Barranco Oscuro Integral Natural Reserve (Reserva Natural Integral del Barranco Oscuro). Again, there are numerous unique species for you to observe and enjoy.
Doramas Rural Park: a hiker's paradise
Anyone who loves nature and hiking will have visited or heard about Doramas Rural Park. It is a perfect spot for enjoying the open air. The park also plays an essential role in replenishing Gran Canaria's groundwater, particularly on the highest points that are commonly blanketed with fog. The relief is rather uneven with plenty of changes in altitude and spectacular ravines and volcanic cones.
Doramas Park takes its name from a late 15th-century Canarian warrior. He was admired for his bravery but was defeated by Spanish conqueror Pedro de Vera and died in Las Lomas de Arucas. The area is adored by both locals and visitors and it is a perfect place to spend the day.
A pleasant and curiously typical corner of Gran Canaria
One interesting place to visit in Doramas Park is the Pueblo Canario or Canarian village. This rather curious corner of the park is actually a recreation of a typical Canary Islands square and contains a number of different styles of architecture, wooden balconies and whitewashed walls. One of the island's most important figures from the world of art is also remembered in Néstor Museum.
If you are keen on flora, then you will love visiting Doramas Park. There are over 400 species of plants, thirty of which are endemic to Gran Canaria and three of which grow exclusively on the island. Amongst other species, you will spot dragon, ficus and palm trees. Additionally, there are forty-nine documented species of vertebrates such as woodpeckers, long-eared owls and buzzards, all of which are endemic to the island. Don't miss the reptiles such as the Gran Canaria lizard and skink.
Ponds, fountains, statues…it's all there in Doramas.
The public entrance to Doramas Natural Park is adorned with a sculpture that represents the rebel natives who plummeted down a ravine as they fled a fate of slavery. Inside, you will come across ponds, fountains and some interesting statues. Of course, there have also been a number of man-made changes to the park and there are a number of homes and terraced areas of land.
Osorio estate and viewpoint, a 19th-century home and currently a learning centre and workshop, is also in Doramas Rurual Park. The estate is very large and the altitude across it varies. It is used for farming (both crops and animals) although there is also a lovely forest, including part of the old Doramas laurel forest, and new species of trees that were brought to the area in the 19th century (chestnuts, cork oaks, elms, Old World sycamores, oaks, araucaria and so on).
A recreation area in Doramas park
Osorio estate has been Cabildo (Island Council of Gran Canaria) property since the 1980s. It contains a woodland nursery that specialises in reproducing species of laurel trees and a sawmill where they make the most of the wood collected during forestry work. There is also a recreation area and a network of hiking routes.
Since Doramas Rural Park is mainly mountains, it's ideal for walking, mountain climbing and cycling. There are many tracks that take you to all the emblematic spots so, if you love nature, you'll love Doramas.
Information of interest
Oficina de turismo de Moya:
C/ Juan Delgado, 6. Parque Pico Lomito. Teléfono 928 612 348
Oficina de Turismo de Teror:
C/ Obispo Marquina, 7. Teléfono 928 613 609
Related
plans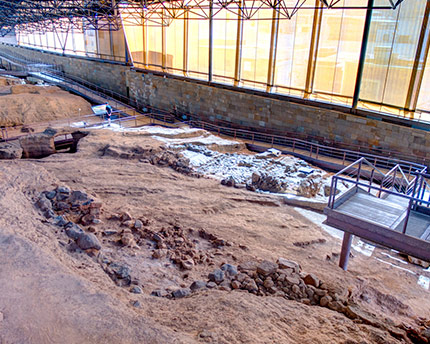 Museums and Art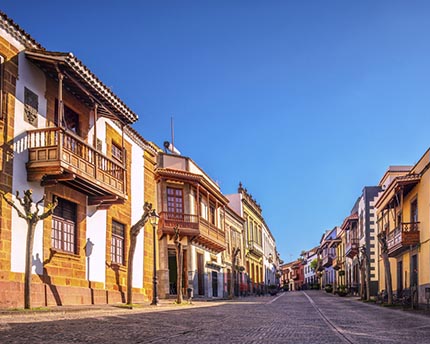 Places of Interest