Shopping in Granada:
Required stops
Granada is a city to be experienced with all the senses. You can immerse yourself in the Nasrid culture that was present for so many years and is now exuded by the city centre streets and monuments. You can also explore the city at night and enjoy all the alternatives it has to offer, or go on a culinary tour to savour traditional Andalusian cuisine and the best local tapas. In addition to this, Granada has strong traditions in terms of handicrafts, markets, regional products and shopping malls.
It's always good to bring back something from the places you visited and had a wonderful time, and Granada happens to be filled with fantastic experiences to be enjoyed. The city centre is an important shopping district where international brands and the most exclusive labels have decided to establish a presence. There are also local businesses, such as clothing shops that residents adore.
Additionally, Granada's street markets are a great way to discover local artisanal products that are bursting with culture and tradition. A souvenir or two will definitely go home with you.
Nevada Shopping
You can easily spend an afternoon making your way through this shopping mall, which is one of the largest in the city. Aside from all the shops we know and love, it also has special activities for everyone.
It is located in the Armilla district on Avenida de las Palmeras 75. Unlike other businesses, the shops in this mall are open from 10:00 AM to 10:00 PM, but you can stay in the restaurant area until 12:30 AM on weekdays and 1:00 AM on Fridays and Saturdays.
Accessories, shoes, sports, electronics, photography, homewares, men's and women's fashion, toys, leisure items, cosmetics and a wide array of restaurants can be found at Nevada Shopping, one of the best malls in Granada.
Be sure to check out the events calendar periodically because the monthly activities include children's workshops, family yoga, theatre and more. This is a fantastic option for an afternoon of shopping in Granada.
Alcaicería
Shifting gears completely, we delve into Granada's artisanal goods. Located near the cathedral, Alcaicería is a market with its own history and a place in which to purchase handmade products. Dating back to the Muslim conquest of Granada, Moorish handicrafts were sold at this market that was extremely popular for a number of years. With the arrival of the Catholic Monarchs, it became royal property and at one point had up to 200 shops.
For many years it was a typical Nasrid district of narrow streets filled with businesses, akin to a traditional bazaar. It currently covers the area from Plaza de Bib-Rambla (along Calle Reyes Católicos) to the cathedral and the Royal Chapel.
What can be found here? Fajalauza pottery, wooden inlay or marquetry, jarapas, lamps reminiscent of Moorish times and more.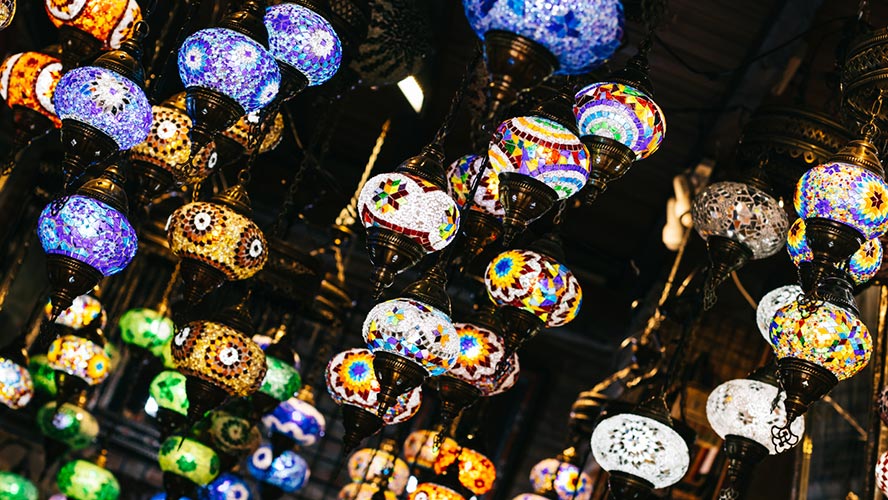 Calle Zacatín
Another haven of Nasrid tradition is located in the heart of Granada. Calle Zacatín runs parallel to Alcaicería and in Arabic it means 'clothing market'. Originally established as a meeting point for shoemakers, tailors, silversmiths, etc., you can still picture that atmosphere in the small handicraft and souvenir shops.
Today, modern stores and handicraft shops coexist on this street as an example of how tradition and modern life come together to create a unique setting that can only be found in Granada.
Traditional items from Granada
As we have mentioned a number of times, Nasrid handicrafts go hand in hand with Granada. The city centre is filled with small shops (Alcaicería and Calle Zacatín) from which to purchase souvenirs with the Muslim influences that continue to exist in this part of Spain.
You must first discover wooden inlay or marquetry. This ancient technique is used to decorate wooden furniture, trunks, boxes and more. It consists of applying small geometric pieces of mother of pearl, silver, ivory and other materials to create decorative mosaics.
There is evidence that this technique was used as far back as the Mesopotamian Empire, passing through the Ming Dynasty in China and the Roman Empire during the Hellenistic period. These creations were some of the most sought-after luxury items for the new wealthy classes of the aforementioned eras.
Another great souvenir from Granada is Fajalauza pottery, one of the most renowned local handicrafts with a strong Arab influence. As a perfect example of Moorish-origin earthenware, it is defined by the blue and green hues. This style is used for tiles, alcuzas (oil cruets), pitchers, platters, vases, etc., and any piece made in the traditional manner is a great souvenir for the home.
If you love music, then Granada's heritage also has something for you. A handmade guitar is a unique item that can be found in the city. There are approximately 27 luthiers whom you can turn to for this instrument with close ties to Granada's flamenco history.
Alpujarra is also home to expert artisans, but in this case they make jarapas. In ancient times, this part of Granada was filled with looms, and the tradition lives on. Jarapas are available in different sizes, colours and materials to decorate the floors of your home according to Nasrid customs.
Lastly, for people who prefer tasty souvenirs, the best option is to purchase some piononos, traditional sweets from the Santa Fe region.
When visiting Granada, be sure to experience it in every way possible and bring home a piece of its Nasrid and flamenco history with you.
Related
plans