Lanzarote,
an island where leisure and an active lifestyle are the highlight
You should always make the most of your holidays by enjoying all the things that you miss on a daily basis. Going on outings and doing dozens of activities make you just as happy as relaxing using wellbeing techniques or eating good food. At the Barceló Lanzarote Active Resort, you can combine all the options by pampering yourself, doing all types of sports, eating delicious nutritious food and exploring the island. The advantage of this four-star hotel in Costa Teguise is that its facilities go an extra mile in personal workouts without forgetting that leisure and entertainment are also the main component of your holiday.
Since resting is essential, the rooms at the Barceló Lanzarote Active Resort have been designed so that you can find the right one for you, whatever your priority.  Among its 659 rooms (Double, Junior Suite and Family Rooms), there is the Double Hipoxia Room, which simulates an altitude of 4,000 metres, and the Deluxe Sports Room, which has a workout area. There are also other facilities to meet the needs of sports professionals and amateurs: a cycling centre, an Olympic-size swimming pool and a magnificent fitness suite. The excellent location in Costa Teguise makes this resort perfect for golf and water sports since it is near the Ancla cove beach and other beaches.
Eating on a whim
The food offering at the Barceló Lanzarote Active Resort is so varied that you will not be bored. Around the Plaza, the hotel's central area, you will find three attractive areas that provide different specialities. The Asian restaurant KOI has an open kitchen, a sushi bar, and drinks such as sake and Japanese beer on its menu; it clearly has all the ingredients to make you travel to the other side of the world. You can also eat its dishes either indoor or outdoor. If you prefer Italian, you can visit the Trattoria La Dolce Vita, which has an open plan kitchen, a wood-fired oven for pizzas, a comprehensive salad bar, varied pasta dishes… a paradise for all families. And if you prefer more informal, or with an American or sports touch, you can visit the Champs Sports Bar, with draught beer, fast food and large tables for groups. With its takeaway service, you can take your food to the beach or to your room if you wish.
Apart from these restaurants, there are other places where you can eat, have a snack or order a cocktail. The Pool Bar Marella has informal dishes suitable for all families; the Buffet Nimbra has capacity for 450 diners and an open kitchen; the Lobby Bar provides a café and cocktail service; and the Breathe Healthy Bar is the ideal place for athletes since it provides food with a high nutritional component (located near the fitness area).
Fun for young and old
At the Barceló Lanzarote Active Resort, leisure and entertainment have been designed for guests of all ages. Families, groups of friends, couples and singles will find activities and fun throughout most of the day. By simply walking along the Plaza, you will be able to wander around its bazaars or enjoy the performances on its 15-m2 stage. The musical setting is designed for you to stop and enjoy the shows.
Since music cannot be everything, there are also other very attractive plans for children such as a minipark next to the main stage and an indoor Crazy Mini Golf for families, with 9 holes and 95 m2. There are also special areas for children and teenagers such as One, an area with sofas, pouffes, video games and plugs for mobiles; Splash Park, a water games area designed as an octopus; and  Barcy Club, which encourages doing sports activities. Like at other Barceló hotels, there is a Happy Minds entertainment programme aimed at developing the children's various skills.
Inmersión en la cultura local
Special mention must be made to the experiences designed to connect you with the local culture of the Canary Islands. You can attend workshops on Canarian mojo sauce, Canarian wrestling, Canarian hats and palm heart weaving; you can learn the sorondongo, rancho and diablete dances; you can find out about Canarian fashion and designers; and you can practise the island sports such as Canarian bowls, Canarian plough lifting, shepherds' pole vaulting, and Canarian handball.
There are also areas for adults such as billiards, bookcases, large screen televisions, nightclubs and a fun programme that changes periodically which includes classes and workshops where you can do tastings, Pilates, yoga, mandalas, basketwork, art, etc. It never gets boring.
Sports enthusiasts
Apart from the leisure and the relaxation in the spa, the hotel gives you the opportunity to continue with your daily active routines or start new ones. At the Barceló Lanzarote Active Resort, you will find an extensive array of disciplines for all ages and experiences, both indoor and outdoor activities, which can be done in groups or with personal trainers. There is also a sports manager who provides advice to guests about their activity menu and workouts during their stay at both the resort and in the destination.
Its 485-m2 fitness suite lacks nothing since it has resistance machines, elipticals, rowing machines, weights, cardio areas, outdoor crossfit areas, targeted fitness activities, etc. The resort also has a track surrounding it where you can do different running routes, with several areas where you can warm up and stretch.
At the Barceló Active Resort, there is a time and place for everything: you can be fit and play sports, eat healthily, have fun with the entertainment programme and enjoy relaxing moments.
Free cancellation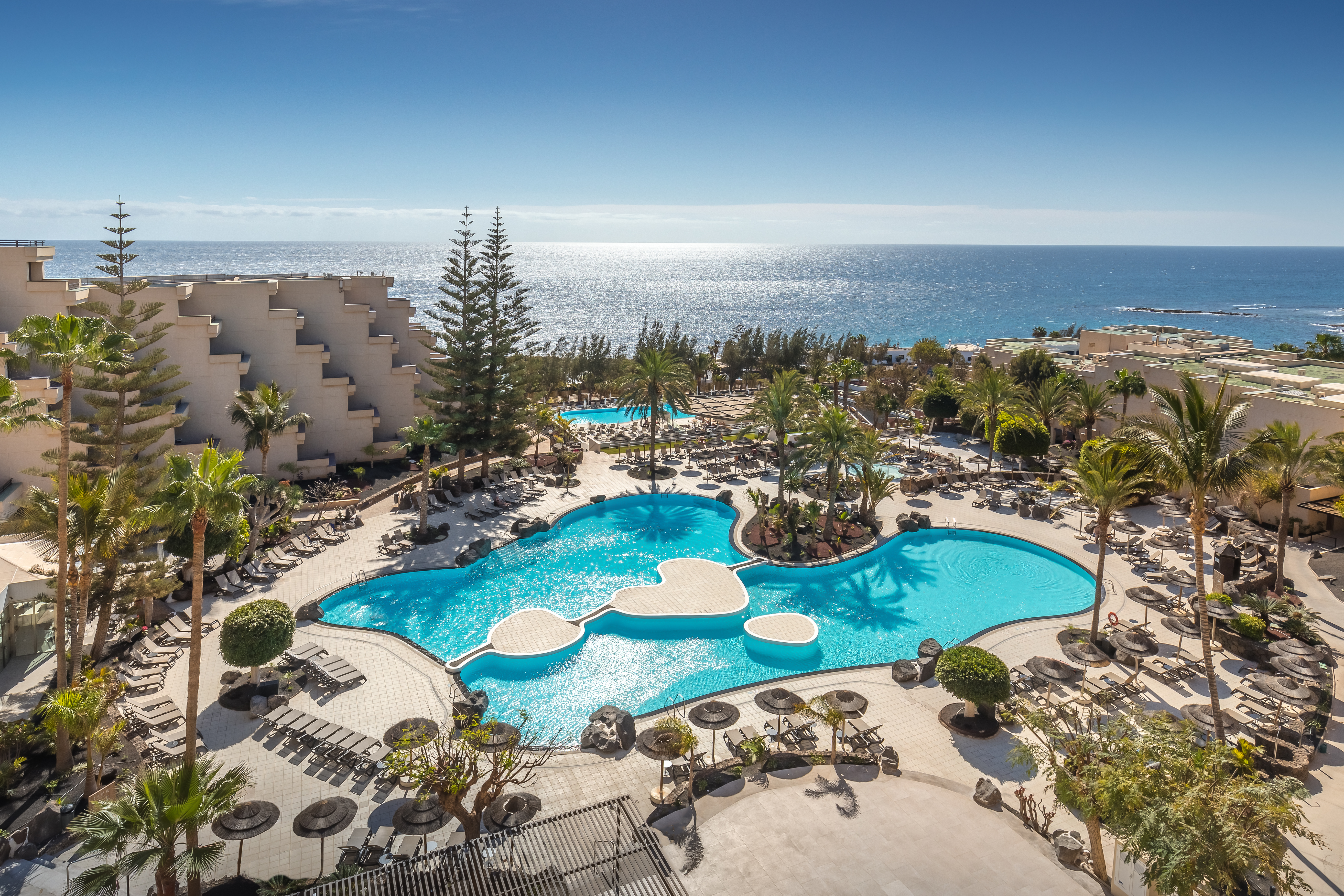 Related
plans