What to see in the province of Murcia:
its towns, cities, coast and countryside.
Murcia means history, cultural heritage, natural scenery, coast and unique beaches. This small region in south-eastern Spain is open to the world, with an incomparable range of places of interest to visitors. In this article, we tell you what to see in the province of Murcia: 20 essential sights you mustn't miss on your trip.
The prettiest towns in Murcia
We will start our guide to the attractions of the province of Murcia by looking at its towns and cities. So take note of these!
The provincial capital: the city of Murcia
The appeal of the city of Murcia lies in the ambience of its streets, its cathedral, and its historic quarter. With its compact size and its points of interest very close to one another, Murcia is the ideal city to explore on foot.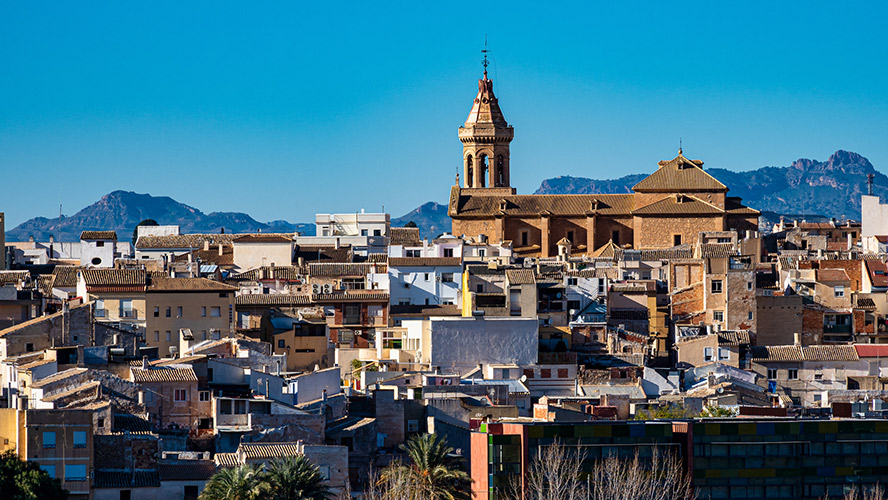 Cartagena
Cartagena is one of Spain's oldest cities with a history dating back over 2,500 years, whose legacy we can now enjoy in its Roman Theatre, Forum and several museums. In addition to all this, the city has an important naval history and a historic quarter dotted with Modernist buildings.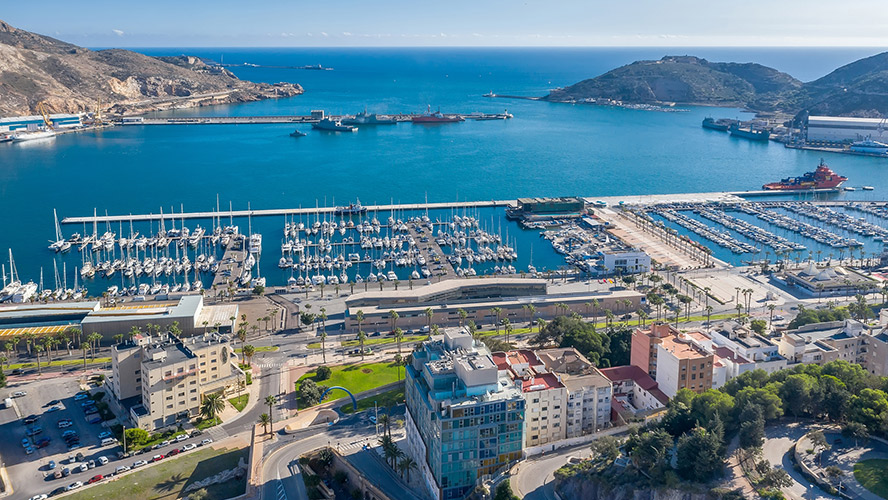 Caravaca de la Cruz
In Caravaca de la Cruz, you will find the famous sanctuary, the Santuario de la Veracruz, nestled inside a castle; it is a place of pilgrimage for thousands of people every year as one of the world's five holy cities. This town also has an interesting historic quarter.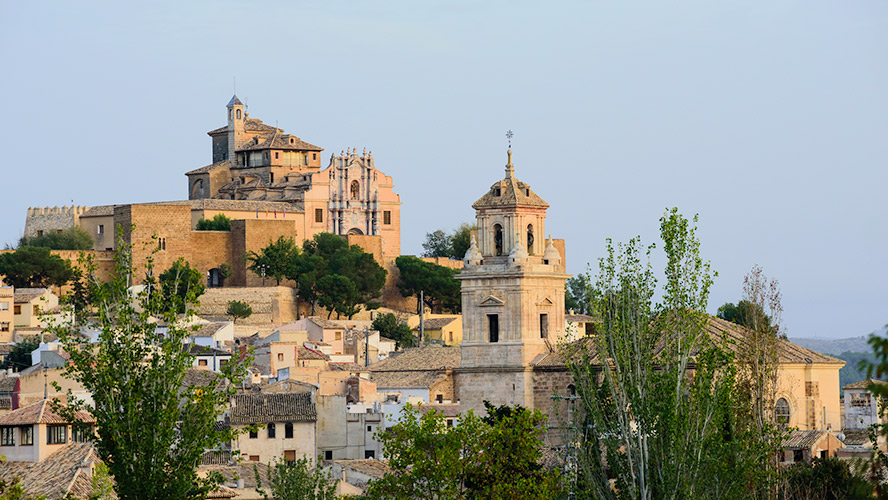 Calasparra
Grottoes, rivers, canyons, sanctuaries, and very famous rice. Calasparra is an impressive inland town offering a host of interesting attractions. Two of these are the Cueva del Puerto [Cave of the Port], with almost five kilometres of galleries, and the Sanctuary of the Virgen de la Esperanza, erected in a grotto carved into the rock.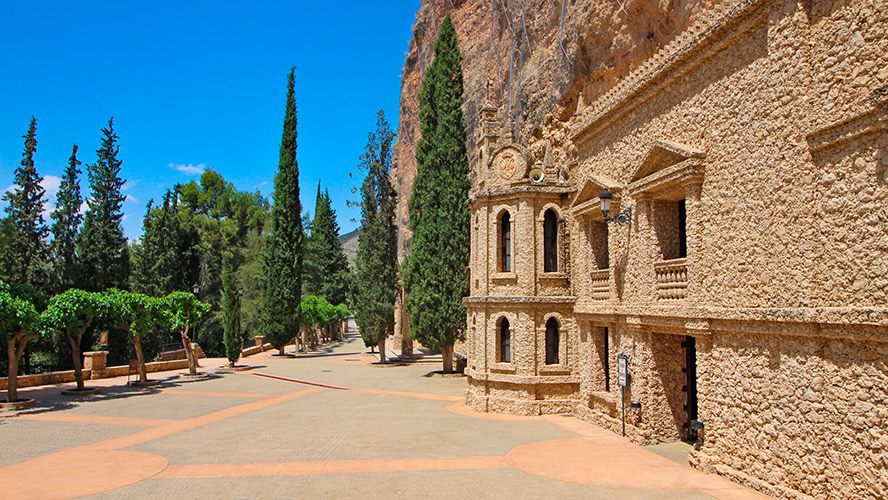 Aledo
Tiny Aledo is one of Murcia's prettiest towns. This village is perched on top of a hill in the Sierra Espuña; its typical keep stands out on the skyline above the mountain. Despite Aledo's small size, it has a significant historical heritage.

Lorca
Lorca is another of Murcia's prettiest towns, thanks to its old quarter which has been declared a Site of Historic and Artistic Interest, and to its castle, designated a National Monument. The streets of Lorca are home to an important collection of Renaissance and Baroque buildings, a reflection of the town's glorious past.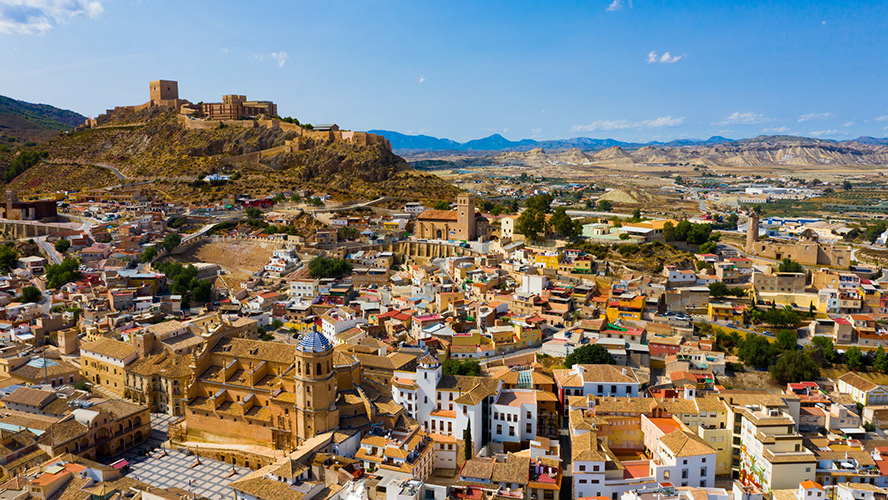 Mula
Another town with an abundance of monuments is Mula, and its little look-out castle perched on the top of a hill with the historic quarter at its feet. Its centre is scattered with mansions and monuments, and it has been declared a Site of Historic and Artistic Interest.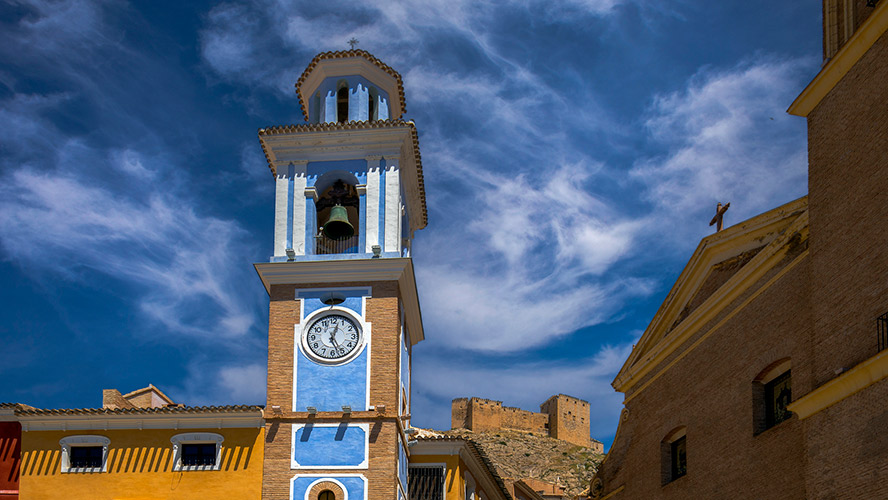 Yecla
In the heart of inland Murcia lies Yecla, a town famous for its wines and furniture, and home to significant pre-historic, Roman and Moorish archaeological sites, as well as several fascinating museums, such as the Holy Week Museum and the El Greco Replicas Museum.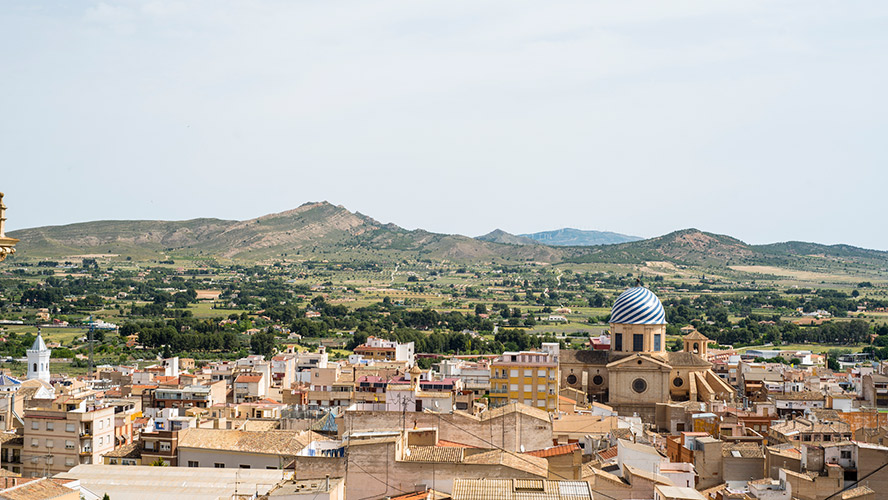 Murcia's natural landscapes
What natural spaces can we visit in the province of Murcia? Take note of the following suggestions for seeing Murcia's natural scenery on your next trip.
Cliffs of Calblanque
The Calblanque Natural Park, between Cartagena and the cape of Palos, is a magnificent coastal natural park formed by cliffs and beaches far from other areas of the coast that have been over-exploited by tourism. We recommend you visit the Calblanque coast and spend some time enjoying the beach, as well as taking one of the area's hiking trails.
Barrancos de Gebas
At the foot of the Espuña mountain range lie Los Barrancos de Gebas [the Gebas Gorge], a striking, semi-desert landscape in which the shapes formed by the calcite stone and clay blend with the arid aesthetic of the "badlands". In Los Barrancos de Gebas, you will find a range of hiking trails to enable you to explore this almost lunar landscape.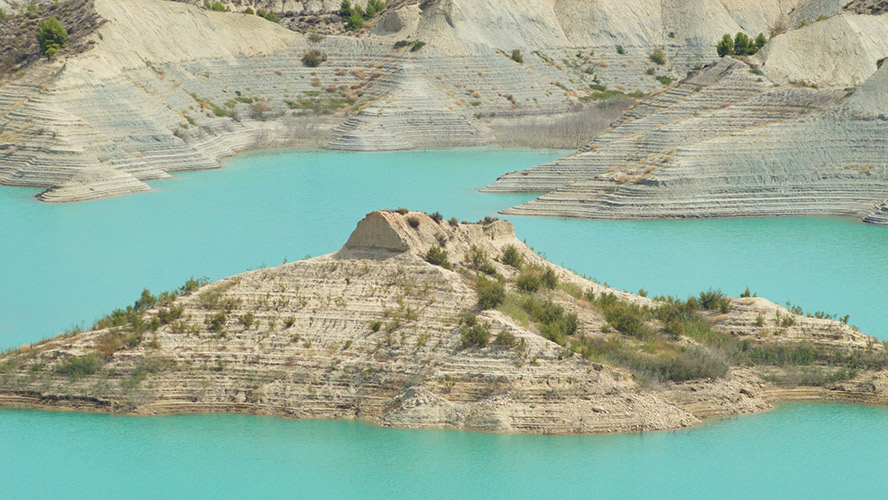 Gredas de Bolnuevo
Along the coast of Mazarrón lies another strange landscape, which has been declared a Site of Natural Interest and which has been nicknamed the "Enchanted City". This is Las Gredas de Bolnuevo: clay formations which have been transformed into odd shapes by erosion.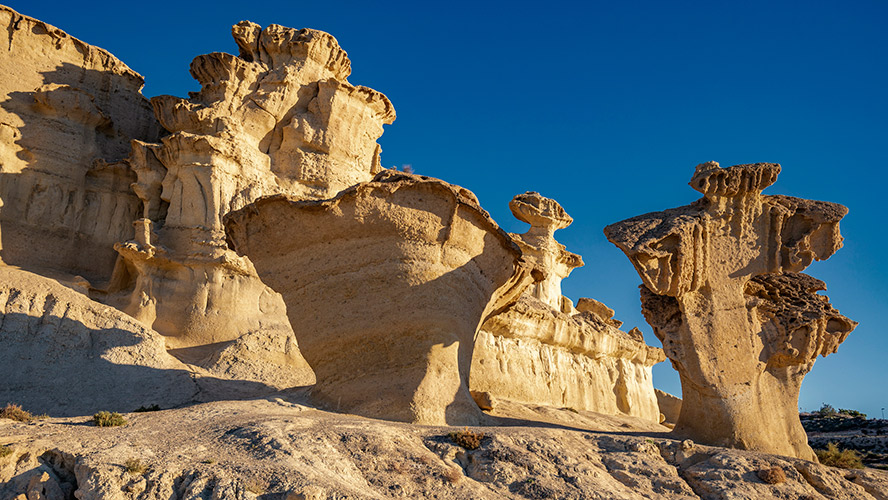 Desierto de Abanilla
Another of Murcia's desert landscapes, but this time on the border with the province of Alicante. The Desierto de Abanilla, or Desierto de Mahoya, is like another landscape out of the Wild West, which you can explore via any of its numerous hiking trails. Not a tree, not a shadow, not a house — nothing but rocky desert in the heart of Murcia.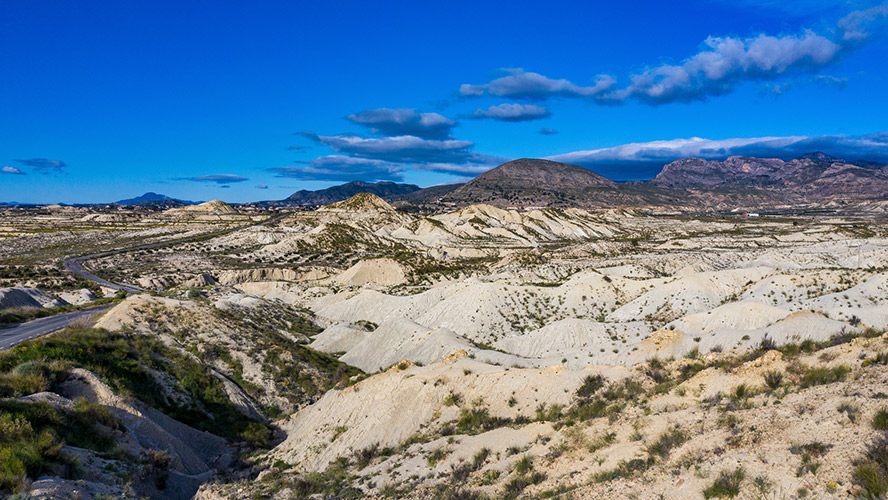 The Mazarrón mines
The town of Mazarrón has been synonymous with mining since Roman times. The most obvious sign of this activity is the reddish tone of the land. The mining heyday of the nineteenth and twentieth centuries is long past, and now visitors can only see the outside of the abandoned mines. Here, huge extraction shafts, structures such as derricks and chutes, and buildings such as furnaces, boiler houses and old powder kegs are to be found.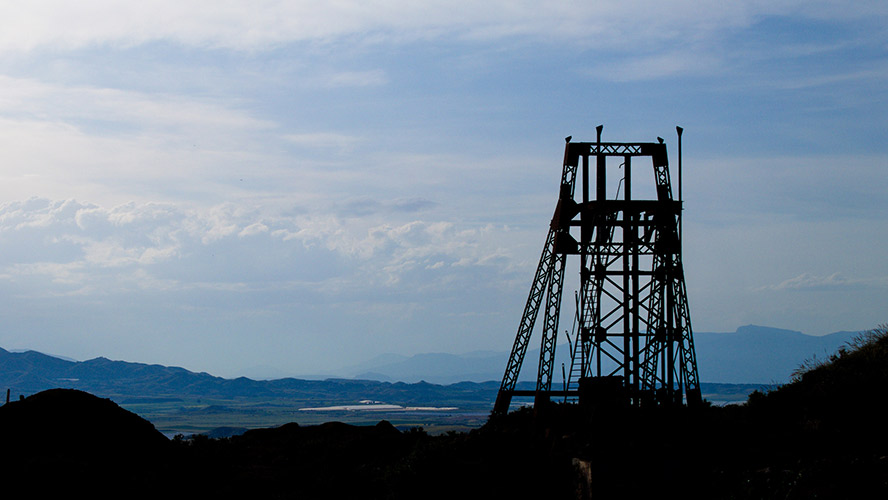 The San Pedro del Pinatar Salt Flats
Las Salinas y Arenales de San Pedro del Pinatar is another of the Region of Murcia's most important protected natural areas. It is a valuable nesting site, as well as an area of huge variety in terms of fauna and flora. You can explore its trails on foot or by bicycle, use the bird observatories, or swim on some of the beaches.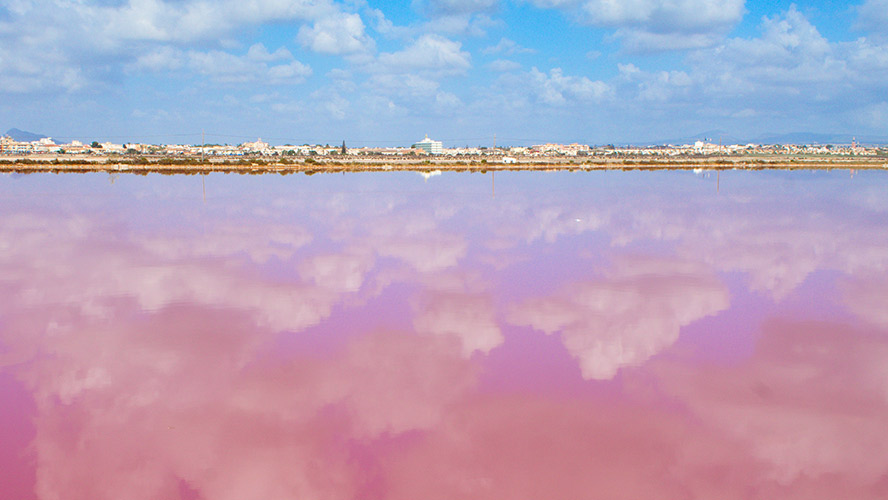 Discover Murcia's coast
Without question, one of the must-see attractions of the province of Murcia is its coast. One of Spain's top Mediterranean tourist destinations, Murcia's coast has something for everyone.
La Manga
Controversial Manga del Mar Menor is one of the best-known spots on the coast of Murcia. This spit of land juts out into the sea for 22 kilometres, its width varying between 100 metres and 1 kilometre, and forms the saltwater lagoon, the Mar Menor, on one side. Although most of this area has suffered from over-development by the tourism industry, there are still corners and activities that can be enjoyed, such as the Cape of Palos, or diving in the marine reserve.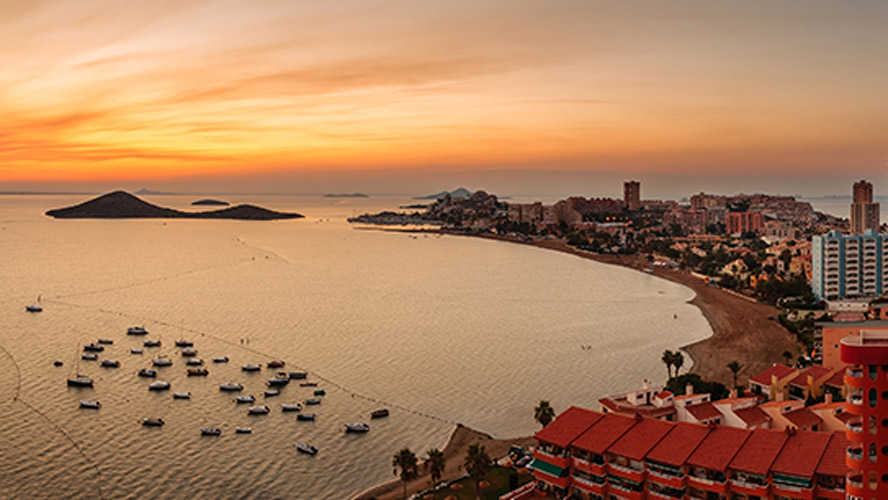 Puntas de Calnegre
The Cabo Cope y Puntas de Calnegre Natural Park, on the Lorca coast, has some of the best beaches in Murcia. This is a practically unspoilt area, with small beaches and few if any buildings. Don't miss beaches such as Percheles, Las Minas, or Puntas de Calnegre itself.
La Llana
To the north of La Manga, and in the heart of the San Pedro de Pinatar salt flat, can be found the beaches of La Llana, Algas, and La Barraca, a stretch of untouched beaches over 3 kilometres in length, ideal for visiting with children or for water sports.
Mazarrón
Although the original centre of Mazarrón lies five kilometres inland, Puerto de Mazarrón is on the shore and is one of the Murcia's main coastal towns. A small, compact town surrounded by beaches, hiking trails, natural scenery, and historical remains, it offers an ideal base in the province.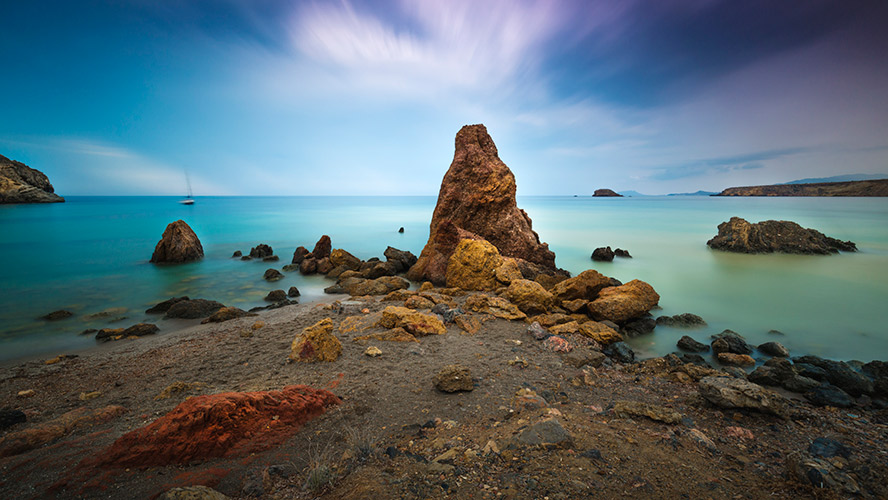 Calas de Bolnuevo
Close to Mazarrón are Las Calas de Bolnuevo, a series of small, unspoilt coves perfect for exploring as a coastal trail. They are also an attractive destination for naturists.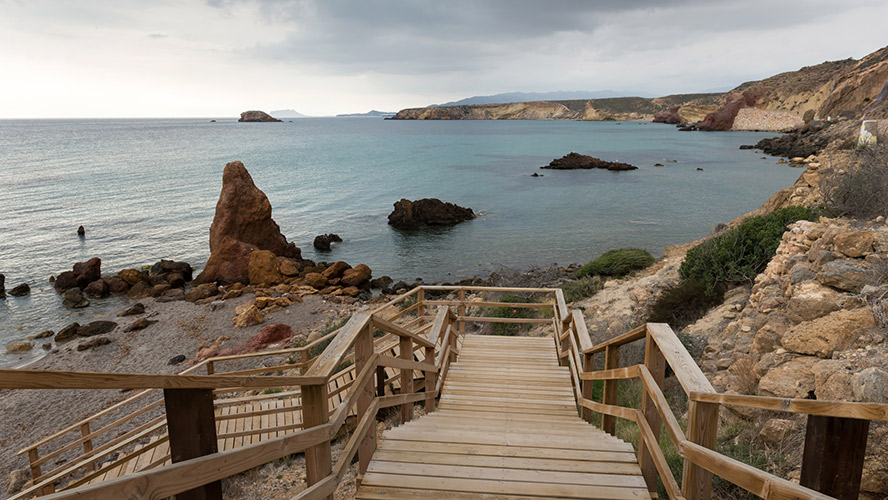 Águilas
On the border with the province of Almería lies Águilas — another small, coastal town with several urban beaches overlooking the beautiful, calm bay, and watched over by a castle perched on the hill, the Cerro de las Águilas.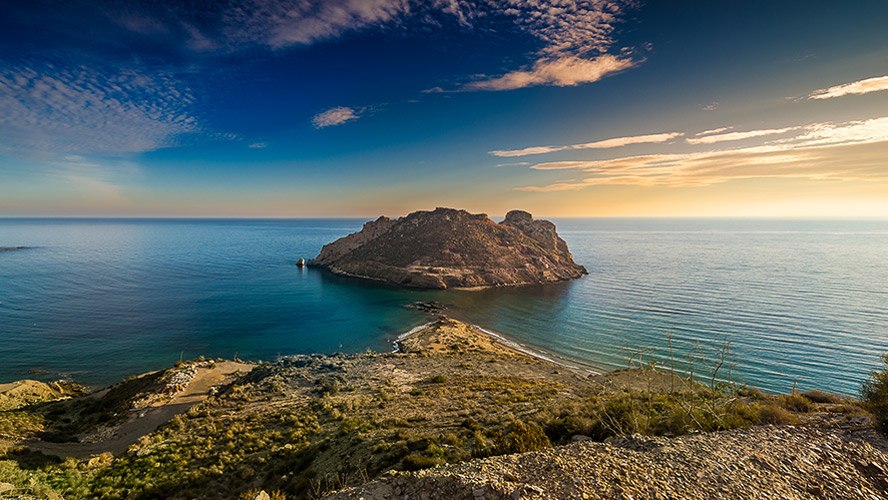 Where to stay in Murcia
Obviously, a place as popular with tourists as the province of Murcia offers endless possibilities for accommodation. We would like to recommend one of the best hotels to be found in the centre of the city of Murcia, a comfortable and convenient base from which you can explore the whole city and its surrounding area.
This is the Occidental Murcia Siete Coronas, an excellent four-star hotel with 156 spacious guest rooms, a restaurant with a terrace, a gymnasium, and facilities for holding any wedding or special event. Come and discover it.
Frequently Asked Questions
What towns should I visit in the province of Murcia?
In Murcia, we highly recommend visiting the towns of Caravaca de la Cruz, Calasparra, Aledo, Mula and Yecla, as well as the cities of Murcia, Cartagena and Lorca.
What natural spots should I visit in Murcia?
Recommended natural spaces in Murcia include the Calblanque Cliffs, the Gebas Gorge, Las Gredas de Bolnuevo, the Desierto de Abanilla, the Mazarrón Mines, and the San Pedro de Pinatar salt flats.
What beaches should I visit in Murcia?
We recommend visits to the beaches of Calnegre, La Llana, Las Calas de Bolnuevo, the Costa de Mazarrón or Águilas.
Related
plans