Chillida Leku:
the legacy of a great artist
Chillida Leku is a museum, but not just any old museum. First of all, because it is so incredibly large. It is spread over 11 hectares of land near Hernani, around 7 kilometres from San Sebastián city centre. Secondly, because its works of art are outdoors. Thirdly, the huge steel and granite sculptures by Eduardo Chillida (1924- 2002) that you will find there merge incredibly well with nature. This place is, without a shadow of a doubt, the land of the most famous and prestigious Basque sculptor of the 20th century.
Chillida Leku was itself conceived as a great work of art where the sculptures could become an integral part of the beech, oak and magnolia-tree landscape, as if they had always been there. There are no less than 40 colossal sculptures spread carefully throughout Chillida Leku gardens, just how the artist himself would have wanted. He did say that 'a sculpture should always stand and be counted; aware of everything that moves around it and brings it to life.'
Eduardo Chillida sculptures: 60-tonne works of art
The largest exterior sculptures are Buscando la luz (Searching for Light), which weighs 27 tonnes and is 9 metres tall, and Lotura XXXII (Knot XXXII), which weighs 60 tonnes. However, there are others, such as Estela V (Stele V) that are under one metre tall.
If you visit Chillida Leku, you can go round and touch the sculptures so that you can get an idea of the different textures. Some of them can even be experienced from inside since they have open spaces that you can step into and enjoy. Of course, you can walk right around the works of art and look at them from all angles. In other words, this museum is an open and welcoming space where visitors can exchange experiences.
Chillida Leku Museum: a refurbished 16th-century country estate home
Zabalga, a 16th-century country estate home, is part of Chillida Leku. It was refurbished by the artist himself and it currently houses an exhibition dedicated to Peine del Viento (Comb of the Wind), one of Chillida's most significant series. You can see 11 out of the 23 sculptures in room 5. The central piece is the monumental Peine del Viento XV sculpture at the end of Ondarreta beach in San Sebastián.
Eduardo Chillida worked on this collection for over 25 years because he had a dream of positioning a sculpture up against the horizon. He didn't give up until he achieved what he had set out to do. In the meantime, he assembled all his pieces of art at his Zabalaga country estate. When he bought the estate, it was practically in ruins and he refurbished it bit by bit with the help of architect Joaquín Montero. The artist himself wrote about the meaning of the space: 'I'm doing it without setting a deadline. I've started the work, but this magnificent country house will not be museum, rather a sign that I am from there. I don't want to reconstruct it. I want to leave it stable and secure, as it is now, and to give it a contemporary structure within: both past and present will be visible.'
Free cancellation
The Zabalaga family coat of arms in Chillida Leku
And so, the artist restored the home whilst retaining the original structure. Now it has been fully restored as if it were a sculpture. The building still retains the wooden truss and original Zabalaga family coat of arms crafted on the north façade.
Whilst Chillida Leku does have an education section, the artist himself did say that he did not believe in teaching art. He said, 'Art can be learnt but it cannot be taught. The desire to understand something one does not understand is incredibly powerful. That desire can achieve anything. This might explain why I respect teaching but believe that teaching can simplify things and I reject that. I believe that the aspects of art that can be taught are not essential. Nobody can teach you what is essential. You have to learn it for yourself.'
Sculptures that merge into woodland
On your visit to Chillida Leku, after passing through the main house, you will come out into the thickly wooded part of the estate where the sculptures become part of nature and are surrounded by the trees on all sides. Chillida himself said, 'One day I dreamt of a utopia: finding a space where my sculptures could rest and where people could walk among them as if walking through the woods.'
Eduardo Chillida's dream came true and Chillida Leku opened on 16 September 2000 following ten years of very hard work. However, the financial crisis and a lack of official financial support meant that on 31 December 2010 its doors closed temporarily. Thankfully, this incredibly interesting place re-opened on 17 April 2019 following a small refurbishment project inside the house and the creation of a café called Lurra run by chef Fede Pacha. So, when holidaying in San Sebastián, don't forget to visit Chillida Leku and enjoy refreshments in Lurra. The café serves local produce and is environmentally friendly.
Information of interest
Getting there:
Chillida Leku is about 7 kilometres from San Sebastián city centre, near Hernani.
By car: Take road GI-21 and, once you've gone past Rekalde roundabout, continue on GI-2132 until you reach Chillida Leku. It will only take you 15 minutes.
Public transport: You can take the G2 Andoain bus route from Okendo. They leave every half an hour and stop right outside Chillida Leku.
Entrance fee:
There are discounts for under-18s and access for children under 8 is free.
Guided tours:
Consult information on the official webpage.
Related
plans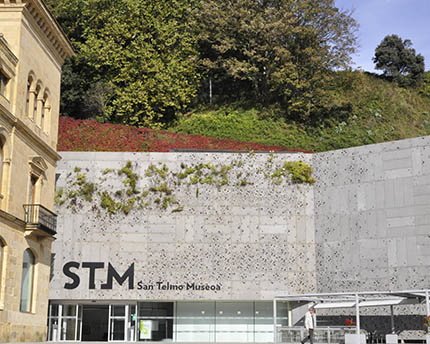 Museums and Art