Arab baths in Seville,
the spas of Al Ándalus
These ancient spas were usually situated close to a mosque and used as part of a ritual to ensure corporal and spiritual purity before prayer. Also known as hammams, they were places for social interaction that encouraged relaxed conversation, just as centuries later spas became popular in Europe during the Victorian era.
The last Arab baths disappeared from Seville in the seventeenth century, but now the relaxing power of water is enjoying a renaissance in our increasingly stressed society. Today, the pleasure of visiting hammams in singularly beautiful buildings is once again possible.
Muhammad wrote that hygiene is a demonstration of faith and Moors washed their whole bodies before entering the mosque, while the hushed atmosphere in the hammam also inspired contemplation before prayer. Men and women were not permitted to use the baths at the same time and therefore took turns so that the water could be enjoyed by both. Today, mixed-bathing is welcomed and a visit to the baths with your partner is one of the most romantic things to do in Seville.
Hammam architecture
Most Arab baths around the world that are still preserved today have the same structure: a series of smallish square rooms with a vaulted ceiling. Small, star-shaped holes are set in the ceiling and let soft natural light into the space to create a bewitching atmosphere. In fact, these holes had a functional purpose: they were designed as vents and prevented condensation in rooms that were often filled with steam. The curved vaults also helped to combat condensation because any steam that wasn't released through the stars condensed into water, running across the vault to the walls and then down to the ground. This prevented water from dripping from the ceiling.
The rooms were constructed from plastered brick while marble, or other types of stone, were used to build the free-standing columns supporting the arches. Walls were decorated with murals based on geometric motifs in a variety of colours.
Thermal baths
In the Islamic world, spas consisted of thermal baths: pools of water at different temperatures that boosted blood circulation, eliminated toxins and toned the body. The changing rooms and latrines were located at the entrance and the hammam was divided into three rooms:
Cold water room (bayt al-wastani): equivalent to a Roman frigidarium, used to improve blood circulation.
Warm water room (bayt al-wastani): just like the Roman tempidarium, this was the main room and largest space where people spent most of their time, chatting and drinking tea.
Hot water room (bayt al-sajun): similar to the Roman caldarium. The high temperatures opened the pores in the skin to give the dermis a deep and thorough clean.
Aire Ancient Baths Sevilla
Arabic tiles, bronze lanterns and low lighting soothe visitors to this sixteenth-century palace-house reconverted into a hammam. Built on the foundations of an ancient first-century Roman thermal bath that was later converted into an Arab bath, its Mudéjar coffered ceilings, vaults and Roman masonry are a journey to the past, right in the heart of the Santa Cruz neighbourhood (internal link).
Aire Ancient Baths are spread across more than 1,200 m2 and include a salt water pool, a jet pool and a hammam with water at different temperatures: warm (36º), hot (40º) and cold (16º). The salt water bath, or floatarium, is in a unique room with a first-century vault; feel your cares drift away as you float on the surface of the water, as though you were floating in the Dead Sea. After your 1 1/2 hour circuit it is time for a spa treatment; choose between a relaxing massage, chocolate therapy, exfoliation, a hydrating facial or aromatherapy. Perhaps the most breathtaking experience is the Water Ritual, a massage in the warm water which lasts 120 minutes and combines two techniques: aquatic therapy with movement through the water and deep massage therapy. Aire Sevilla uses a wide variety of products in its treatments, such as warm Himalayan salt stones or Matarromera red wine from Ribera del Duero. The Ancient Baths provide visitors with anti-slip footwear, towels, toiletries and hair dryers. Long hair should be worn up and visitors must be over 18 years old.
To complete your experience, you can sit on the roof terrace with views of the Giralda and watch the sun go down while enjoying a choice of 30 different types of tea and a selection of Arabic pastries, if you opt for the thermal baths + a massage of 45 minutes or longer.
Calle del Aire, 15
Medina Aljarafe
This city spa is just moments away from Seville and has the different temperature pools typical to the Arab baths set in rooms that recreate the atmosphere of ancient Al Ándalus. Atmospheric candles, lanterns, tiled walls and arches create a serene and soothing ambience. Changing between the warm, cold and hot water temperatures helps to improve blood circulation, keeping you flexible and light. Services available at the centre also include aromatherapy, therapeutic and relaxing massages, wraps, steam baths, seaweed therapy and chocolate therapy. The centre provides visitors with anti-slip slippers and towel hire is available. Long hair must be worn up and visitors must be over 18.
Calle Hernán Cortés, 12. Bormujos. Seville.
Termas de Hispalis
These thermal baths recreate the ancient Roman thermal baths which Arab baths were later based on. The centre has a hydromassage pool, whirlpool bath, frigidarium, footbath, Turkish bath, Roman bath, Scottish shower with essences, mist shower, heated bench and floatarium. The salt water floatation tank is perfect for visitors with back or leg problems and pregnant woman. Circuits can include a relaxing or therapeutic massage, or a body wrap. Visitors must be over 18; younger guests may book private services but this must be arranged in advance. Shower caps are not compulsory but long hair must be worn up. The centre provides towels and slippers.
Calle Santa María la Blanca, 5
Kumaras
This spa is located in Umbrete, a short distance from Seville, and it offers two-hour sessions in its facilities so you can totally unwind. Treatments include the hydrothermal circuit, body hydromassages, sauna, steam baths, mist shower, frigidarium, Roman bath, Scottish shower, Turkish bath, essences shower and whirlpool bath. Teas and fruit juices are also available. The centre is for over-18-year-olds only and visitors may not wear metal accessories inside (e.g. watches, chains, etc.). Towels, toiletries, lockers and hair dryers are provided. Visitors must wear a swimming cap and flip-flops.
Plaza Rafael Escudero, no number. Umbrete. Seville.
Be bewitched by Seville in one of the Arab baths currently open in the city.
Related
plans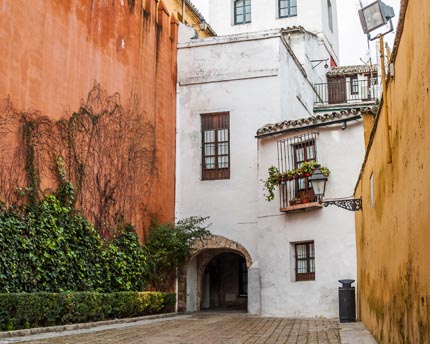 Routes and Walks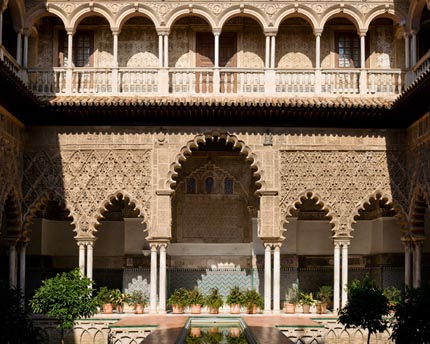 Places of Interest