Punta Cana with friends:
24/7 fun
Punta Cana is a destination with something for everyone. There are countless activities for families, romantic alternatives for couples to experience unforgettable moments, and of course, this is also the perfect place for an epic vacation with friends. Fantastic beaches, delicious food, action and adventure, incredible spots to be explored, and all the parties you could ever want. What more could you ask for?
Plan a trip to Punta Cana with friends and make the most of everything this amazing destination has to offer. Spend a great day at the beach with some relaxation paired with a few hours of kayaking, stand-up paddle surfing, beach volleyball, or any of the countless alternatives within reach. Be sure to check out the many tours available from Punta Cana. And whether it is day or night, the party scene is always open for business because after all, this is the Dominican Republic, one of the liveliest Caribbean destinations.
Days on the beach in Punta Cana
Punta Cana has some of the best beaches in the Caribbean, so be sure to make the most of them. The hotels that form part of Barceló Bávaro Grand Resort (Barceló Bávaro Palace and Barceló Bávaro Beach–Adults Only), as well as Occidental Punta Cana and Occidental Caribe, offer guests miles of gorgeous beaches with white sand and crystal clear water, along with countless ways to enjoy them.
If your group prefers to relax, then bask under the sun or the shade of palm trees, enjoy some food and drinks, and go swimming in the calm sea at Bávaro Beach, El Cortesito Beach and Arena Gorda Beach, three of the best in the Caribbean. You can also relax by the spectacular pools, surrounded by flowers and tropical plants, and order from the best drink service. Forget about the stress of everyday life and work commitments, and instead live in the moment with your travel companions.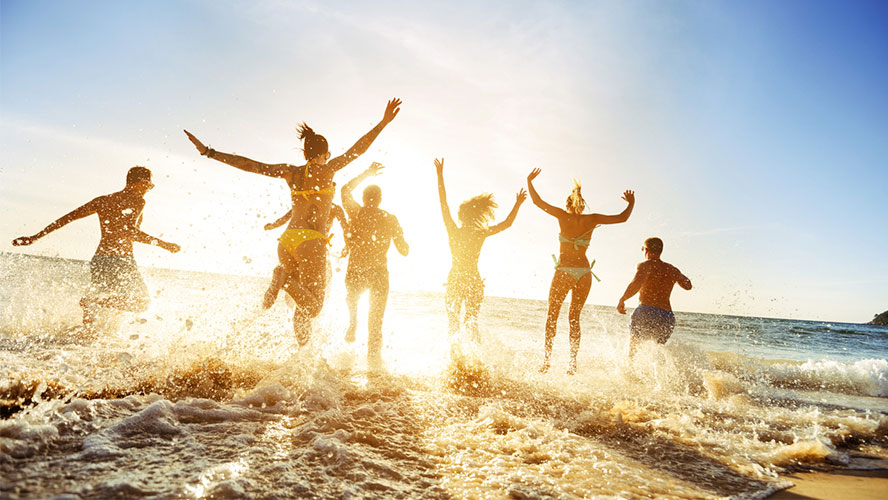 And if they want a bit of adventure and action, then the challenge will be which one to choose. Scuba diving, snorkeling, kayaking, windsurfing, stand-up paddle surfing, dinghy sailing, beach volleyball and soccer, etc. With all of this, on top of the sports facilities inside the hotel, such as tennis, paddle tennis, basketball, baseball, water polo and a gym, then there is nothing stopping them from diving into their favorite sport and giving it their all.
Here's a tip: Punta Cana is also a golfer's paradise. If you already have some experience, then play a round of 18 holes at the magnificent golf course The Lakes (6,655 yards, par 72) designed by P.B. Dye, at Bávaro Beach Resort. You can also sign up for golf lessons and clinics to learn the basics of this fantastic sport or to hone your skills.
The best moments in life take place around a table
Traveling and sharing experiences with friends always includes unforgettable moments around a table. Discover the flavors of traditional Dominican cuisine or try the best international foods at the restaurants located in Occidental Punta Cana, Occidental Caribe and Barceló Bávaro Grand Resort.
What are you in the mood for? Try the best grilled steaks at Las Reses in Occidental Punta Cana. Visit Rincón Criollo at Occidental Caribe and feast on the delicious "classics" of Dominican cuisine. How about some tapas and good wine? Or first-rate pasta? Then make a reservation at La Fuente or La Dolce Vita, two of the eight à la carte restaurants in the Barceló Bávaro Palace. And if your group can't seem to make up its mind, then check out the fantastic buffets, such as Buffet Caribe at Barceló Bávaro Beach–Adults Only, the best solution for different cravings. Everything is within reach, and thanks to the renowned quality of the Barceló Hotel Group's All Inclusive program, you won't have to worry about a thing. Bon appétit!
Be sure to check out the tours
Punta Cana has many options to guarantee the vacation of a lifetime, including a wide array of tours and day trips. Adventure, beaches, sports and nature. Make time to discover all the wonders that await in the Dominican Republic. Here are some examples:
Parties: loads of fun, day and night
It's no secret that Punta Cana is one big party, which is one of the reasons why this Caribbean paradise is such an appealing destination for groups. You can party during the day and also at night, whatever you prefer. 24 hours of guaranteed fun!
For daytime "partiers"…
If you'd like to kick things off under the radiant Caribbean sun, a great option is one of the popular party boats in Punta Cana. Set sail on a fun catamaran for a tour along the coast that usually includes a stop to snorkel at one of the nearby reefs, or to swim with sharks and rays at a marine park, or to spend some time at one of the natural pools (shallow spots). All of this is paired with plenty of music, a great atmosphere and an open bar, of course.
And for nighttime "partiers"…
Punta Cana is synonymous with nightlife, so once the sun goes down, get ready for a night of music, dancing, laughter and, in most instances, open bar. If you're a clubber, then be sure to stop by one of the great party temples in the region, such as Coco Bongo and Imagine. And if you prefer a spectacular Vegas-style evening show, then head over to Bávaro Grand Theater at Barceló Bávaro Grand Resort or to the theater at Occidental Caribe, two excellent stages that feature different performances every evening. Another alternative once the sun goes down is to try your luck at the casino: spin the roulette wheel, roll the dice, and above all, don't get caught bluffing!
Information of interest
With flights to and from almost 30 countries, Punta Cana International Airport (PUJ) is the best gateway into this destination. Additionally, Coral Freeway connects this fantastic destination with other important Dominican landmarks, from Bayahibe and La Romana beaches, to Santo Domingo and its historic Colonial City less than 2.5 hours away.
Related
plans