Solo trips to Madrid:
no time for boredom
Madrid is the perfect city for solo travellers. In a place that is as active and sometimes even frenetic as this, travelling by yourself is the most flexible and practical way to see each and every corner of the city. It's a great way to squeeze the most out of its endless opportunities for leisure, culture and fun.
Madrid locals are generally delighted to welcome travellers (single or otherwise) who visit their city from around the world. For example, while you have a coffee or beer in one of its bars, it's fairly standard to strike up a conversation with someone because social relationships between Madrid residents, and between the locals and people visiting the capital, tend to revolve around the city's bars.
Ideas for a solo trip to Madrid
Visiting Madrid's many museums is one the best ideas for solo travellers. Included among the essential stops are the attractions on what is known as the Triangle of Art: the Museo del Prado, Museo Thyssen-Bornemisza and Museo Nacional Centro de Arte Reina Sofía, to which can now be added the CaixaForum Madrid cultural centre. They all have interesting temporary exhibitions throughout the year.
Madrid is also packed with other excellent exhibition centres: the National Archaeological Museum; the Museo Sorolla (in a building that was once the house of this inspired early twentieth century painter); the Natural Science Museum; and the Real Academia de Bellas Artes de San Fernando, considered to be the second most important art gallery in Spain after the Museo del Prado.
You could also visit any one of the capital's food markets, perfect spots for finding out more about the culinary culture of Madrid and Spain in a warm atmosphere that encourages conversation. Some of the most interesting are San Miguel, San Antón , San Ildefonso and San Fernando markets (in Lavapiés neighbourhood).
And what can we say about the city's parks? These spectacular spaces are wonderful for sharing an endless series of outdoor activities with local residents, such as hiking and bike rides. The city's classic park is El Retiro while its most original and largest, or at least longest, is Madrid Río.
Hiking for solo travellers in Madrid
Hikers know that doing this sport alone, far away from the big cities, isn't a great idea. However, it's quite another thing to enjoy the pleasure of walking through the huge parks in Madrid itself and to explore their many paths. Here are some of the most interesting routes:
Cerro Garabitas: This route leaves from the Lago metro station (line 10), borders the lake in Casa de Campo covering a good part of the park until you reach the hill. Cerro Garabitas hill is 677 m high and this is a fairly straightforward circular route which can be completed in a couple of hours and has some of the best panoramic views of Madrid.
Madrid Río: This new city park is just over 7 km long and runs parallel to the Manzanares river from Puente de los Franceses bridge to just past Matadero. The route is totally flat and the park and its setting have plenty of leisure activities and restaurants.
Circuit around El Retiro park: This park is a genuine green oasis in the centre of Madrid. It gives you the chance to enjoy numerous walks and one of the most interesting is a route around the perimeter that follows a path by the inside of the park railings. It's 4.5 km long and almost entirely flat so it takes about an hour to complete.
Circuit in Parque Juan Carlos I: This park on the outskirts of the city, close to the IFEMA fairgrounds and the airport, is one of the largest in the capital. You can walk a good section of it by following a circular signposted route that is 8.5 km long.
The night is for single people too
Madrid is a city that comes to life at night. Evenings are kind to single travellers and anyone looking to have fun. It's generally easy to make contact with people in bars and nightclubs and there are also places that specialise in welcoming travellers who are single—some are perfect for meeting people in the same situation. Here are some of them:
La Noche Boca Arriba (Salitre, 30): In the multicultural Lavapiés neighbourhood, it's a great bar for having a drink and relaxing on one of its shared vintage sofas and also runs numerous cultural activities: recitals, art exhibitions, film and documentary screenings, etc.
Lola 09 (San Mateo, 28): Heir to Olé Lola, this bar is particularly popular with foreign residents in the city. It's also famous for its language exchange sessions and for being particularly focused on solo travellers who stop by. Enjoy its chill-out vibe, cocktails and interesting food menu.
Pelê-Melê (Plaza de España, 11): It's a restaurant, yes. But it's also a non-stop show with plenty going on between its tables—each one has a retro-style telephone that you can use to call the other tables and get in touch with whoever has caught your eye. It also has male and female body sushi sessions.
Discoteca Velvet (Jacometrezo, 6): The Velvet is always in the spotlight of clubs in the centre of Madrid thanks to its unmistakeably stylish interior decoration and mixing decks. And there's always something original going on, such as singles nights: the perfect opportunity to make friends.
Related
plans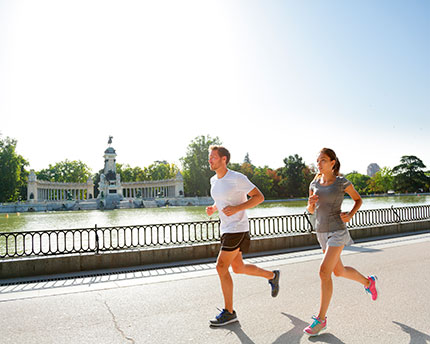 Routes and Walks