Tabernas Desert:
Europe's Wild Wild West
The spectacular lunar landscape of Tabernas Desert is an astounding yet unexpected sight for visitors, especially if you consider that Almeria is the only desert in Europe and one of its most important agricultural hotbeds. A visit to Tabernas evokes a mixture of wonder and awe as you take in the wind-swept crags of chiselled rock, but also a deep respect for the obvious hostility this barren environment presents. Few living things are able to thrive here; this region barely gets any precipitation, less than 250 mm3 of rain per year!  
Tabernas is a desert just those featured in popular spaghetti westerns from the 1960s, 1970s and 1980s. In fact, it is the desert that was features in those films. This iconic setting became a giant film set for countless Hollywood blockbusters
The desert of Almeria
How is that Almeria houses Europe's only desert? The answer lies in the geographical make-up of the region. Tabernas is bounded by three mountain ranges: Filabres, Alhamilla, the Almerian Alpujarra and Sierra Nevada, and these mountains act as a natural shield, stopping the moisture-laden air from sweeping in from the Mediterranean Sea. However, this unique desertscape was actually carved out millions of years ago when it formed the sea bed. Consider Tabernas Desert more like a giant, open-air geology museum, composed of millennium-old deposits that Mother Nature has gently shaped into today's landscape. Don't be surprised to stumble upon plant and animal fossil remains. 
Free cancellation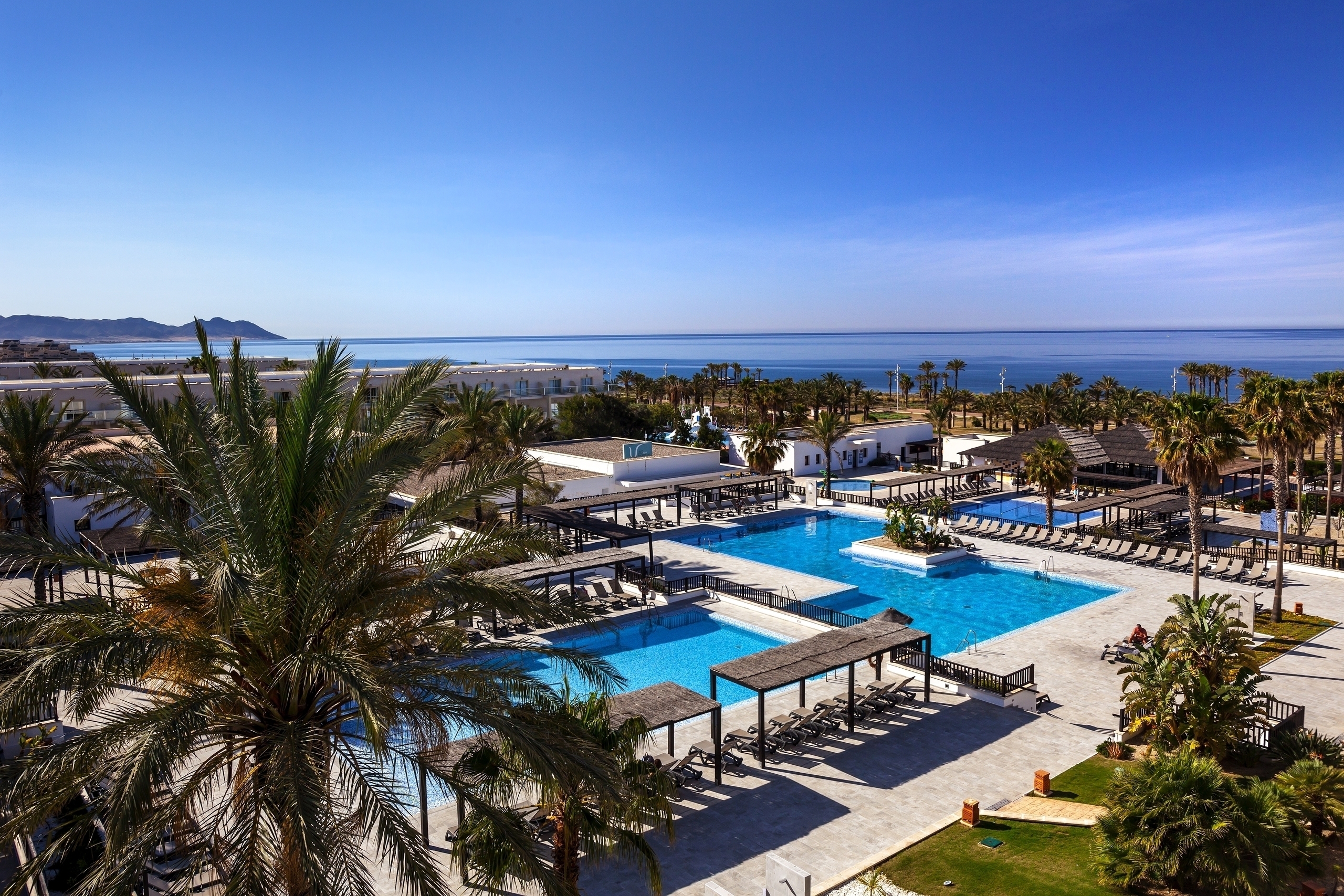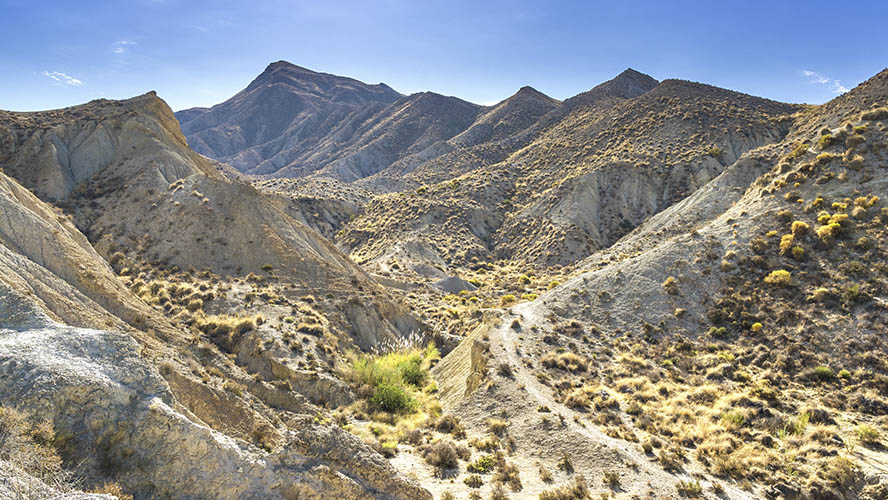 Tabernas is home to several indigenous species and was declared a Special Protected Area due to the presence of several species of birds, including swifts, crag martins, jackdaws, blue back thrushes and the stone curlews. These birds can be spotted around the ravines where they build their nests high up in the crag walls.  
There are also myriad reptile species, especially the red-tailed lizard which whizzes around. If you are lucky, you'll also spot a jewelled lizard or even a ladder snake – best to watch out where you step! Last and not least, this ecosystem is also home to rabbits, foxes, dormice and hedgehogs. 
What to visit in Tabernas Desert
Tabernas may boast an incredibly unique ecosystem and landscape but humankind has left its own imprint. Read on to discover some surprising attractions found in this desert: 
Sorbas

:

This quaint white village sits atop a towering gorge just above the

Afa

River and is located close to the

Yesos

de

Sorbas

Natural Park

and

its dramatic underground gypsum karst formations.

 

Castillo

de Tabernas

:

This 6

th

-century

castle was built when Spain was under

Moorish

rule and is a classic

example of Nasrid architecture. It sits atop a hill, overlooking the

village of Tabernas.

 

Ermita

de San Sebastián

(Tabernas):

This diminutive Gothic-style chapel was built between the 13

th

and 15

th

century over the site of a synagogue.

 

Terrera

Ventura commune

:

This Neolithic archaeological site was discovered by a local Spanish

poet by the name of Modesto García Contreras in the 1920s. Many of

the findings are on display in provincial and national

archaeological museums such as the

Museo

Arqueológico

Nacional de Madrid

and the

Terrera

Ventura

Interpretation

Centre and

provide a unique glimpse at a long-forgotten way of life.

 

Oasys

MiniHollywood

theme park

:

This theme park was the actual film set for numerous 20

t

-century

western movies and is a fun way of visiting a Wild West village. It

also features a water park and a zoo with more than 800 animals from

200 different species. They organise many

activities

for children

.
Oasys
MiniHollywood
: Almeria's very own Wild West village
This Wild West village is the most popular and entertaining part of Oasys MiniHollywood. The village was built in the 1960s to represent a true American western village. It feels so real you feel as if you have been transported to New Mexico. When the film set was built, it was only the building façades that were erected, but as the filming business boomed, entire buildings were constructed.  
This is the ultimate experience to feel like a real-life cowboy or cowgirl as you wander through the town which includes a saloon, a bank, the sheriff's office, a funeral home and the telegraph office. You can also watch a cancan show just like those from 19th century, or a dual in the town square – all performed by stunt artists.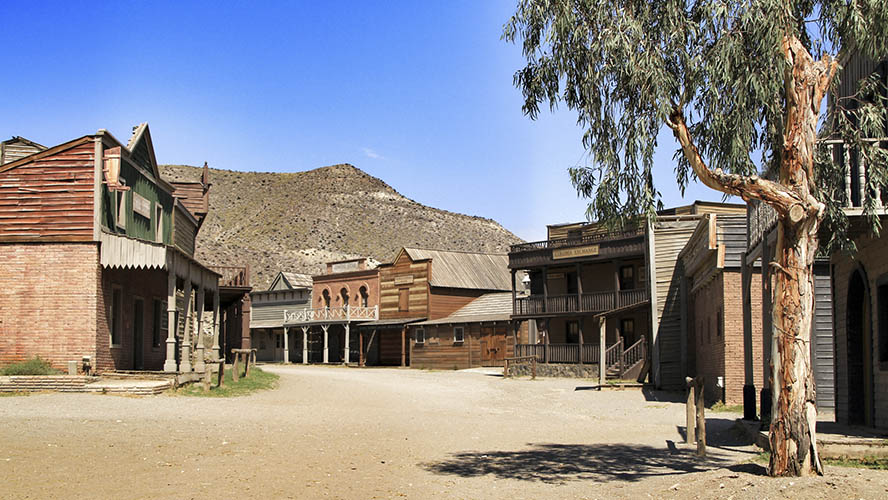 There is also a Film Museum and a Carriage Museum, featuring several objects from the infinite productions filmed here. 
If you've seen 1966 film The Good, the Bad and the Ugly or the 1965 For a Few Dollars More, both starring Client Eastwood and featuring scores by Ennio Morricone, you may recognise the buildings from a few scenes. 
Spaghetti Westerns weren't the only productions filmed in this Wild West Village. Tabernas provided the perfect backdrop for a number of blockbuster hits such as the Lawrence of Arabia (1962), Cleopatra (1963) and Indiana Jones and the Last Crusade (1989).  
Information of interest
How to reach Tabernas Desert:
By car

: Take the A-92 and the N-340a from the city of Almeria to reach the town of Tabernas. The journey takes approximately 30 minutes.

By bus

: The bus operator Alsa operates several buses that depart from the Intermodal Station in Almeria in direction of Tabernas. The journey takes approximately 40 minutes and there are several buses that leave during the day.
Tourist information:
Related
plans