The Forest of Oma, an explosion of colour in the
heart of nature
Omako basoa: a perfect balance between art and nature
The Forest of Oma—or Omako basoa, in Basque—is also known as the painted forest, the enchanted forest or, even, Bosque Ibarrola. Its most widely-used name—Bosque de Oma—is an allusion to the district in which it is located, which is part of the municipal area of Kortezubi.
This original artistic work was completed between 1982 and 1985, when the Basque painter and sculptor Agustín Ibarrola created a total of 47 images using the trunks of trees as canvases. On these, he painted animals, geometric figures, and humans—or partial representations of them, such as eyes and lips. Many of his compositions cannot be properly appreciated by looking at one single tree, but they become meaningful when seen from an overall perspective which includes the trunks located on the periphery. To view the whole scene to its best advantage, it is essential to take note of the signs on the ground, which show visitors where they should stand.
Exploring the Forest of Oma means immersing oneself in an artistic trend which not everyone is familiar with. As with many contemporary art movements, it means abandoning traditional formats: in this case, canvases or boards. Moreover, the Bosque de Ibarrola allows us to soak up the creative genius of the artist out in the open air while taking a pleasant stroll, instead of being shut in by the walls of a museum.
This is a work of art that, for full appreciation, requires an active approach on the part of the viewer, offering him or her the opportunity to enjoy a unique natural setting: the Oma valley. An exploration of Omako basoa reveals a whole host of unexpected artistic creations so that at times, it seems as though the trees themselves are coming to life. Perhaps the dramatist Pedro Víllora took inspiration from this magical scene for his work Electra en Oma.
Agustín Ibarrola, a creator of magical universes
The catalyst for this unique work which blends nature and painting is Agustín Ibarrola, a native of Biscay who began as a self-taught artist. Later on, the Bilbao Town Council and the Regional Council of Biscay awarded him a scholarship to study in Madrid with Daniel Vázquez Díaz, who naturally became an important influence on his subsequent career. If Vázquez Díaz introduced him to Cubism, it was the Basque sculptor Jorge Oteiza who would bring him into contact with the Constructivist movement. Years later in Paris, Ibarrola, along with Oteiza, was to become a member of Equipo 57—a movement of Spanish painters and sculptors who advocated, among other things, socially committed art.
Precisely because of this commitment and its expression through his art, Agustín Ibarrola was imprisoned on more than one occasion. In addition, this Basque artist's creations have occasionally been the subject of controversy because of the potential environmental impact of his works.
However, beyond any considerations of style, movements or trends, Ibarrola is an artist who focuses on panoramas and universes that encourage the viewer to appreciate art from within, and to submerge themselves, immerse themselves in it. This yearning is very clearly expressed in the Forest of Oma, but also in some of Ibarrola's more recognisable works, such as Los cubos de la memoria in Llanes, El Bosque de Tótems at the Príncipe Pío railway station in Madrid and El bosque encantado in Salamanca.
An ideal family day out
If you are travelling to Bilbao with children, you will find that a visit to the Forest of Oma is a brilliant way to enjoy art and nature alongside the youngest members of the family. You can make a 7-kilometre circular tour of the valley, which takes around 2 hours to complete. You do, however, need to add on the time you will spend looking at the various works of art. Although this is a tour suitable for virtually all ages, it does present some problems for people with limited mobility and for pushchairs.
If you are interested in seeing Ibarrola's painted trees, the Santimamiñe Cave is the most important archaeological site in the province and is well worth a visit (located just off the road that leads to the Forest of Oma). The cave's collection of prehistoric paintings (which includes representations of deer, horses and bears) is over 14,000 years old, and was declared a World Heritage Site in 2008.
Information of interest
The Forest of Oma
How to arrive: The same road used to reach the cave of Santimamiñe. From Bilbao, drive towards Guernica, but before you actually reach Guernica, take the BI-2238 towards Playas de Laga/Laida and Lekeito. Less than five minutes before arriving at Guernica, you need to turn off towards the Caves of Santimamiñe. After 5 minutes, you will arrive at the Basondo district. You need to leave your car at the Lezika-Basondo car park, and the Bosque de Oma is a 45-minute walk from there. A good part of this path is downhill.
Exploring the Forest of Oma: It is useful to take with you a map like this one produced by the Biscay Provincial Council, so that you get the most from your walk.
Visiting the Santimamiñe Cave
Visiting times:

From 15 April to 14 October: Monday – Friday, at 10:00 AM, 11:00 AM, 12:00 midday, 1:00 PM, 3:30 PM, 5:00 PM and 5:30 PM.
From 16 October to 14 April: Tuesday – Sunday, at 10:00 AM, 11:00 AM, 12:00 midday and 1:00 PM.

Price: General admission: €6; Groups: €3 per person; and Concessions: €2. Children under 6 years are admitted free of charge.
Related
plans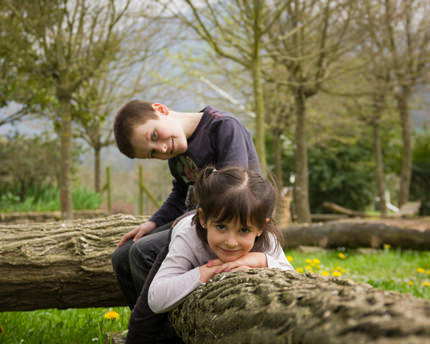 Leisure and Entertainment