What to see in Huesca:
20 must-visit places
It's not easy to sum up a province such as Huesca which boasts amazing contrasts. All we can say is that the dreams of the most adventurous visitors will come true in the region. Nature lovers will find dozens of valleys, mountains, natural parks, canyons and much more, where they can get an adrenaline rush. The region does not only cater for sporty types, however. Those who enjoy a more low-key type of tourism will also find the most beautiful villages that one could imagine.
Discover what to see in Huesca and the best places to visit in this guide, because it is worth being well informed.
HUESCA'S NATURAL AREAS: PURE ADRENALINE
As you climb mountains, explore canyons, walk through valleys and contemplate waterfalls you can find the meaning of life and be at one with nature. Read on for some of Huesca's must-visit places.
Ordesa y Monte Perdido National Park: the heart of the Pyrenees
This natural park, situated in the heart of the Pyrenees, welcomes thousands of avid nature visitors each year and is home to a wealth of routes and experiences. And it is no wonder, since the protected area is also home to one of Huesca's most impressive places. Among others, be sure not to miss the Ordesa valley, which boasts interesting paths leading to places such as the Cola de Caballo waterfall, the striking Añisclo canyon, the Escuaín gorge and La Pineta valley.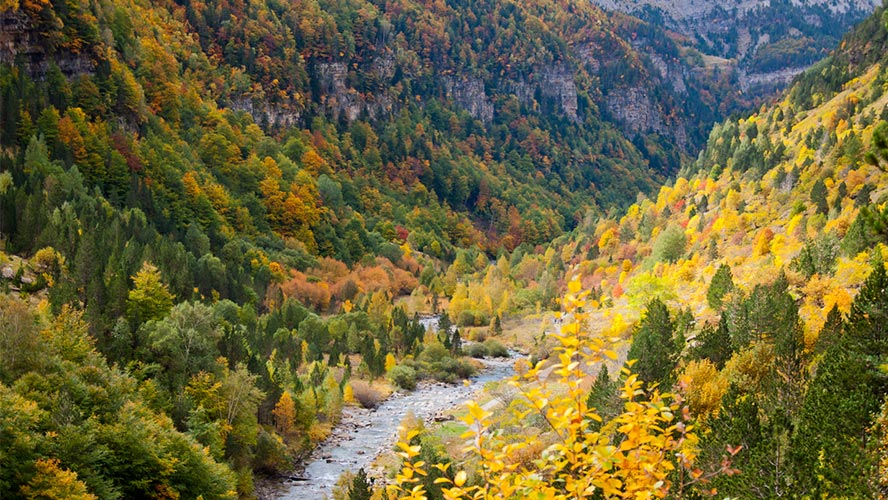 Selva de Oza: hiking amid lakes
This natural area known as Selva de Oza is situated on the border with Navarra and belongs to the Valles Occidentales Natural Park. Now that you've got your bearings, it is worth noting that the area is formed of peaks reaching a height of 2,500 metres, forests and lakes with crystalline water. We recommend doing some routes, such as the one that leads to Ibón de Acherito, a beautiful glacial lake surrounded by mountains.
Muralla de Finestres: a natural wonder
If you haven't seen images of Muralla de Finestres, be prepared to be amazed. This geological limestone formation is situated next to the Canelles reservoir and was created around 100 million years ago. Although it is known as the 'Great Wall of China' of Finestres, we can assure you that its tall, almost straight walls, which run in two parallel lines, are even more impressive than the Asian variety.
The Hecho valley: routes for everyone
Few valleys in Huesca's interior have been able to preserve their traditions quite as much as the Hecho valley, a natural setting that is home to incredible landscapes such as Selva de Oza and Ibón de Acherito. In this corner of Aragon you can set out on hiking routes to places such as the Boca del Infierno ravine, the gorge created by the Aragón Subordán river, and the Aguas Tuertas valley, from where you can walk to the famous Aguas Tuertas dolmen.
The Tena valley: villages and peaks
Peaks of up to 3,000 metres in altitude, lakes and charming villages form the Tena valley, which in addition to being a valley is a region. Spanning 400 km2, scores of nature-related activities can be enjoyed in the area. Depending on your preferences, you can spend the day skiing in Formigal-Panticosa, ride a zip wire from Hoz de Jaca, visit the Lacuniacha wildlife park or hike along one of the many routes that cross the valley.
Añisclo canyon: forged over time
It has taken millions of years to carve out Añisclo canyon, another must-visit place in Huesca. Belonging to the Ordesa y Monte Perdido National Park, it offers active travellers a large number of routes taking in gorges, waterfalls and caves such the Molino de Aso and Moro caves. Be sure to make the most of the day to discover one of the beautiful villages situated in its surrounding area such as Puyarruego, Vió, Nerín and Fanlo.
Posets-Maladeta: astonishing landscapes
The Posets-Maladeta Natural Park is home to places as iconic as Aneto mountain, reaching a height of over 3,000 metres, as well as other peaks that seem to touch the sky. Visitors to this natural area are offered a wide range of options, from simple routes that can be completed together with the family – such as the one that leads to the Aiguallut waterfall – to routes for more experienced hikers. If the latter applies to you, we recommend heading as far as the lakes of Barbarisa and Escarpinosa.
Sierra de Guara: a must-visit natural park
Of all Huesca's natural parks, the Sierra y Cañones de Guara park is a must-visit. Boasting 60 ravines spread out across the whole park, if you are a fan of canyoning, get ready to have the time of your life. The most famous is the Mascun Superior ravine, with its waterfalls and abseiling, which can be descended in about six hours. Other easier places that are just as attractive are the Vadiello reservoir and Fuente de la Tamara, the most beautiful natural pool in the Sierra de Guara.
DISCOVER HUESCA'S MOST BEAUTIFUL VILLAGES
The silhouettes of the stone houses framed between the mountains will leave you captivated from afar, but up close is even better, owing to the intoxicating smell of the chimneys. Exploring hamlets, villages and towns is another great reason to visit this province. Read on to find out where to visit in Huesca.
Ansó: a Pyrenean beauty
Declared a Site of Historical and Artistic Interest, the village of Ansó can be proud of its Pyrenean charm. Its medieval appearance, stone houses and maze of streets – which have retained their traditional essence – have caught the interest of the Most Beautiful Villages in Spain association, to which it belongs. Exploring Ansó is easy. All you have to do is get lost among its cobbled streets, admiring charming places including San Pedro church and the Ethnology museum.
Panticosa: ski and spa
It is said that Panticosa is just a starting point for excursions, skiing at the Formigal-Panticosa ski resort or hiking routes, but the village also boasts a historical quarter – including the beautiful church of La Asunción (sixteenth century) and Concellar bridge – which are well worth a visit. But that is not all, as just eight kilometres away is its famous spa, a collection of buildings from the nineteenth century built on the site of a hot spring. When visiting Panticosa, be sure to stay for a meal as it has some excellent restaurants.
Alquézar: medieval charm
Small, charming and perched on the top of a hill, Alquézar is one of the most beautiful medieval villages in Huesca (and in Spain). With a population of just 300, each year it receives thousands of tourists eager to explore its cobbled streets and have their photo taken at the collegiate church of Santa María la Mayor, on the main square, at San Miguel church, and at the Sonrisa del Viento viewpoint, on the edge of the village, where you can find the best panoramic views. A highly-recommended hike from here is to the walkways high above the Vero river.
Torla: stone and slate
This small village in Huesca province where you can immerse yourself in the peace and quiet is a small miracle at the entrance to the Ordesa y Monte Perdido National Park. With its houses encircling San Salvador church, under the watchful eye of the castle, it is one of those villages that seems to have remained unchanged since the Middle Ages. Wander its streets lined with distinctive stone houses, some with striking coats of arms, until the main square, where you can sample some tasty Pyrenean cuisine at one of its restaurants.
Benasque: complete calm
With a population of barely 2,000, this village is the epicentre of the Posets-Maladeta Natural Park and a great place for a weekend stay. In just two days you can explore its historical quarter at a leisurely pace, admiring the palace of the Counts of Ribagorza, Casa Juste and the church of Santa María la Mayor. What's more, you'll be able to fit in a route through the natural park or through other villages such as Cerler. A trip to Benasque is always a good idea.
Jaca: the capital of La Jacetania
The capital of the Jacetania region boasts a great deal of heritage and a wide range of natural attractions in the surrounding area. First off, we recommend exploring the impressive citadel (or San Pedro castle), which is very well preserved, as well as visiting the cathedral, one of the oldest Romanesque places of worship in Spain. Don't limit yourself to just the town, however, and be sure to also visit San Juan de la Peña monastery and Canfranc station, two of Huesca's must-visit wonders.
Aínsa: the meeting point
Walking through the historical quarter of this medieval village is like stepping back in time. Its traditional architecture has earned it recognition as a Site of Historical and Artistic Interest. Our favourite sights include the castle-fortress of Aínsa, the main square and San María church. Be sure to stay for a meal in Aínsa because it has some excellent restaurants. And, of course, don't miss an excursion through the surrounding area.
OTHER PLACES THAT CANNOT BE MISSED IN HUESCA
When we travel we often look for places that leave a lasting impression on us, places to mark in red on our maps. The five recommendations below are exactly these kinds of places that you must visit in Huesca no matter what, so keep on reading.
Canfranc station: a beautiful farewell
We are not exaggerating when we say that this is the most spectacular station in Spain. Opened in 1928 by Alfonso XIII, the international station has many stories to tell. We recommend taking one of the guided tours organised by the Local Council (you cannot look around by yourself) to learn about its architecture and the 75 doors on each side of its platforms. You will be amazed by the anecdotes told by the guide.
Torreciudad sanctuary: a point of pilgrimage
Just 24 kilometres from Barbastro is this Marian shrine built by Josemaría Escrivá de Balaguer, who founded Opus Dei in 1928. The sanctuary and the rest of the buildings were designed by the architect Heliodoro Dols, who used bricks, a traditional Aragonese feature, in its construction. Inside the church you can see a carved, Romanesque wooden sculpture of the Virgin Mary, dating from the eleventh century, and a lovely alabaster altarpiece made by the Catalan sculptor Joan Mayné. The Torrecuidad sanctuary is part of the Marian route that also takes in places such as the Basilica of El Pilar in Zaragoza and the Basilica in Lourdes, France.
Formigal ski resort
The Aramón-Formigal resort is one of the largest in Spain. This skiing paradise has three main benefits for avid skiers: the fact it is easy to access, the variety of its pistes (there is something for all levels) and the option of enjoying some lively aprés-ski. It has a minimum altitude of 1,510 metres and a maximum of 2,250 metres, in addition to excellent quality snow. A ski pass also includes Panticosa, which means skiers have access to an area spanning a total of 180 kilometres.
Loarre castle: a medieval wonder
At a height of over 1,000 metres, Loarre castle looks spectacular nestled on the top of a rocky outcrop. Its origins date back to the eleventh century when it was built by king Sancho III. The complex also includes walls and a tower, and it is said to be the best-preserved Romanesque-style fortress in the world. On a walk through the castle be sure to look out for San Pedro church, the keep, the cistern and the mural tower. To get there you must head to the Loarre mountains, around 15 kilometres from the town of Loarre.
Montfalcó walkways: vertiginous views
This is the name given to a series of wooden walkways anchored to the rock with steel fastenings, and some dizzying stairways that lead from Noguera Ribagorzana river up to the cliff. The river forms a natural border between Lleida and Huesca. Climbing up to the walkways, which were built in 2013 and 2014, is the perfect match for some canoeing on the river and in Canelles reservoir, and a hike through Mont-Rebei canyon (on the Catalan side). The views from the walkways are incredible, although if you suffer from vertigo, maybe you should think twice before climbing up to them.
En Barceló Experiences puedes continuar tu viaje por los encantos de toda España visitando nuestras completas guías turísticas de otros destinos imprescindibles como Madrid, Cádiz, Asturias, Valencia, Asturias o Granada.
Frequently Asked Questions
¿Qué espacios naturales visitar en Huesca?
El entorno natural de Huesca es, sin lugar a dudas, uno de los más espectaculares de toda España. El Parque Nacional de Ordesa y Monte Perdido, los valles de Hecho y Tena o la Selva de Oza son paraisos bañados en verde imprescindibles.
¿Cuáles son los pueblos más bonitos de Huesca?
Huesca está salpicada de preciosos pueblos enmarcados en paisajes de postal. Ansó, Panticosa, Alquezar o Jaca son algunos de los muchos que debes visitar en tu viaje por la provincia aragonesa.
¿Dónde alojarte en tu visita a Huesca?
El hotel Barceló Monasterio de Boltaña es uno de los mejores hoteles de la provincia y te ofrece todo el confort y calidad de la cadena en un entorno inolvidable.
Related
plans