Calle Ponzano,
Madrid's fashionable food zone
The best thing about Ponzano, the fashionable street loved by Madrid foodies, is that it isn't new. Quite the opposite, in fact. Long before the street became a culinary reference point in the capital, Ponzano was already well-known by locals for its bars. Residents would come here for their daily aperitif or for weekend drinks.
These typical, long-standing bars had an excellent reputation for their high quality set menus and tapas, especially because Calle Ponzano is in the Chamberí neighbourhood, one of the most expensive in the centre of Madrid.
Its traditional establishments have been joined in recent years by a large number of gastrobars and restaurants that have raised the bar of the culinary offering to an incredible level. Together they've transformed the neighbourhood into one of the most attractive and fashionable areas of the city that can be enjoyed at aperitif time or any other moment of the day, every day of the week.
Below are some recommended spots and what you could order:
Taberna Alipio Ramos
A classic Calle Ponzano establishment. This bar opened in 1916 and is the perfect place for a beer, glass of wine or vermouth. Drinks are always served with two tapas that arrive without needing to place an order.
It's famous for its Spanish potato omelette and still serves a set lunchtime menu during the week. One of the house rules is that nothing is previously prepared, everything is cooked to order.
Ponzano, 30.
Claxon bar taberna
The first in Ponzano, not for being the oldest or highest quality (although it's certainly excellent) but rather because it opens the earliest. It's a great spot for a coffee or early aperitif when all the other establishments are still snoozing.
At the bar, highlights include pinchos such as the eight-hour slow-cooked bacon rashers. Other recommendations include cod in tempura and blood sausage and leek in crispy pastry.
Ponzano, 21.
Sala de Despiece
One of the stars of Calle Ponzano. It's normally packed with diners who come to enjoy the extremely fresh produce that's barely altered by cooking, the atmosphere and the concept. The dining process involves placing your order, collecting your cutlery (which is hanging from the ceiling) and sitting at one of the long tables to enjoy the show as dishes are served to customers around the restaurant.
This dynamic and fun restaurant design was the brainchild of OhLab studio who are behind many of the most successful restaurants in recent years.
Ponzano, 11.
La Contraseña
The thoughtful, elegant, intimate and yet classic interior design of this restaurant makes a big impact. People come here for both an aperitif and to enjoy a sit-down lunch or dinner.
The bar and dining room have menus with seasonal products prepared in traditional ways plus some delightful surprises. For example, 63º eggs with Extremadura-style migas crumbs, the squid bao with avocado and lime mayonnaise, home-made scarlet shrimp croquettes and acorn-fed ham with Sardinian bread and tomato.
Ponzano, 6.
El invernadero
Rodrigo de la Calle is behind this restaurant, one of the great Spanish experts at cooking with vegetables. His commitment to produce from the kitchen garden earned him a Michelin star in the 2019 Michelin Guide.
There are three menu options depending on your preferences and appetite: Vegetalia, which is defined as an immersion in the world of 'gastrobotanics'; Verde, suitable for vegans and vegetarians; and Rojo, which includes both meat and vegetable dishes.
Ponzano, 85.
Fide
Fide is one of the bars where they pull the best draft beer in Madrid. And in honour of this beer-drinking tradition, the bar serves traditional tapas and appetisers that don't require much cooking, including Iberian cold meats, food conserved in tins such as cockles, mussels, tuna belly and some boiled fresh sea food. And of course, they also serve salted and pickled anchovies.
Ponzano, 8.
Arima Basque Gastronomy
Arima means 'soul' in Basque and Nagore Irazuegi, the young owner and chef of this restaurant, decided to bring the flavours of her homeland, San Sebastián, to Calle Ponzano. In addition to the interesting food options, Irazuegi has a passion for vermouth and there's a specific menu with 20 varieties of this drink made by different Spanish and international producers. And then there are also the cocktails…
Menu highlights include truffle croquettes, mock boletus risotto, Beasain blood sausage, braised beef cheeks and txangurro (stuffed crab) from San Sebastián.
Ponzano, 51.
El Doble
Another perfect place for a well-pulled draft beer. As the name suggests, here the drinks are double-sized. Accompany your drink with delicious crisps, boiled prawns and slices of ham or cured pork loin.
This establishment retains its appearance of a typical bar and this only enhances its charm by making it more authentic.
Ponzano, 58.
La Gastro Salvaje
This is the most daring establishment belonging to chef Chema Soler who is also behind La Gastro de Chema (and previously La Gastrocroquetería). This restaurant offers a fun fusion between Mexican, Spanish and Asian cuisine in a street food style.
You'll find typical Mexican tacos alongside dishes such as fideuá noodles with a crispy crust, sun-dried tomatoes and cheese cream topped with Bilbao-style wild corvina sea bass tartar or slow-cooked shoulder of lamb with tamarind teriyaki sauce.
Ponzano, 93.
Information of interest
How to arrive
By metro: Iglesia and Ríos Rosas stations (Line 1), Cuatro Caminos (Lines 1, 2 and 6) and Alonso Cano (Line 7).
By bus: routes 3, 12, 37 and 149.
By train: Cercanías (Nuevos Ministerios station).
Related
plans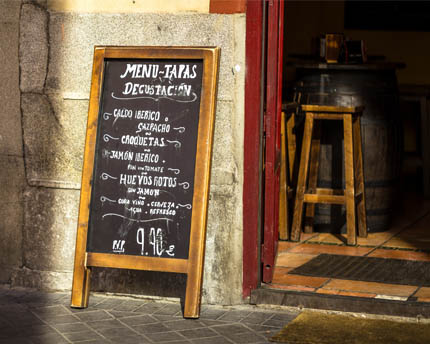 Food and Drinks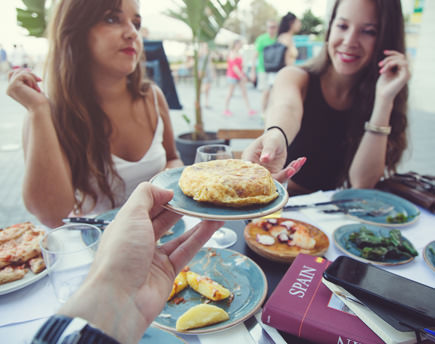 Places of Interest