Beaches in Málaga,
a refreshing trip along the Costa del Sol
The Costa del Sol, that vast stretch of Andalusian coastline frequently associated with the coast of Málaga, is well known for a few iconic things: spit-roasted sardines, purple and green flag, perfumed jasmine bouquets called biznagas, and freshly-caught anchovies—which also doubles as a nickname for people of Málaga. But an often overlooked symbol of this coast that is taken for granted is hidden in its fabulous beaches: its Blue Flag swimming areas. Blue Flags are awarded to areas that meet high standards in quality, equipment and sustainability, and are the norm and not the exception along the coast of Málaga, which has had more than twenty-five of them waving in certain summers. This article will give you an outline of the best beaches in Málaga, so that choosing between the many on offer this summer is a little bit easier.
The best beaches in Málaga city
The city of Málaga has approximately 14 kilometres of beaches, most of them with beautiful seafront promenades that you can walk along and traditional beach bars that serve delicious sardines on a spit. Given that it is the capital of the region, and because of the easy access that its coast enjoys, the beaches in Málaga are very popular and frequently visited by tourists.
This is the flagship beach in the city of Málaga. Always full of visitors, it boasts more than one kilometre of dark sand and an impressive option of beach leisure equipment available (rental of sun beds and umbrellas, pedal boats, children's playground, etc.).
Embedded in one of the oldest and most traditional fishing districts of Málaga, Pedregalejo is another example of a very busy beach with excellent services. Its seaside promenade—the oldest in the city—and its numerous restaurants specialised in fish and seafood stand out. Interestingly, it is known for the 'El Melillero wave': a sudden rise in tide that occurs every morning which is caused by the high-speed ferry boat that connects Málaga with Melilla.
You can also find bathing areas with lots of charm and little traffic in the city of Málaga. The Nuestra Señora del Carmen Beach-Spa, popularly known as Baños del Carmen has approximately 550 metres of impressive sand with views of the bay of Málaga, and offers the opportunity to enjoy a spa whose opening dates back to 1918.
Playa del Peñón del Cuervo
Located on the eastern outskirts of Málaga. Embedded in the shore, thus dividing the beach in two, the Peñón del Cuervo rock is another beautiful corner of this area. A legendary place for concerts and moragas—traditional night-time parties around bonfires, with sardines on a spit—the beach is also a protected area as it is home to the limonium malacitanum, a plant in danger of extinction.
The best beaches on the western Costa del Sol
If we take the car and head west along the coast of Málaga, we will enter the western Costa del Sol or Poniente: a coastline dotted with famous names such as Torremolinos, Fuengirola, Marbella and Estepona.
This beach is located in Estepona, precisely, and is one of the highest-rated beaches in this area. It is a semi-urban beach that has dark sand and shallow waters, making it ideal for families with small children. This 700-metre-long beach with a predominantly international atmosphere and with concerts every weekend, can boast of having received the distinguished Blue Flag on several occasions.
Not far from the city of Málaga, in the municipality of Fuengirola, lies another well-known beach: El Castillo-Ejido. Located at the foot of the Sohail Castle, a military construction built by the Almoravids in the twelfth century, this beach is situated far from the city centre, so it receives relatively few people. In addition, given that it is located at the mouth of the Fuengirola river, there are many sporting activities nearby, such as zip lines or boat rides.
Precisely halfway between the two previous municipalities lies the city of Marbella, where we find one of the most heterodox beaches: Cabopino. Visited by both local and foreign families (and some nudists), it is also famous for being one of the few surfer spots in the province of Málaga. There is also a large camping site nearby, a marina with good food service, and a beautiful mobile dune system catalogued as a Natural Monument since 2001. The Torre de los Ladrones [Tower of the Thieves], a watchtower of Moorish origin declared an Asset of Cultural Interest, can also be found here, which serves as a perfect excuse to take a short walk around the area.
The best beaches on the eastern Costa del Sol
If, on the other hand, we decide to head east of the capital of the region, towards the so-called Levante, then we will come across some municipalities whose names are less familiar, but whose coves are well worth visiting. Some say, in fact, that it is on this side of the Costa del Sol that you can rediscover Málaga, through charming villages and somewhat quieter beaches.
The town of Nerja, very close to the border with Granada, boasts several of these hidden gems. Playa de Maro—also known as Cala de Maro—with its translucent waters and its surrounding ravines, was once chosen as the best beach in Andalusia. This small, unspoilt beach is located in the natural park of Paraje Natural Acantilados de Maro-Cerro Gordo, a protected area of steep cliffs and coves that are difficult to access. If you look up, you can also see impressive cultivation terraces along the ravines. Given its protected status, and therefore, the abundance of fish, the beach is also perfect for water sports such as snorkelling, scuba diving or kayaking.
Playa de Burriana and Playa de Las Alberquillas
Other beaches worth visiting in the same municipality are Playa de Burriana, which is more crowded than Playa de Maro, and Playa de Las Alberquillas, a mostly nudist beach.
Related
plans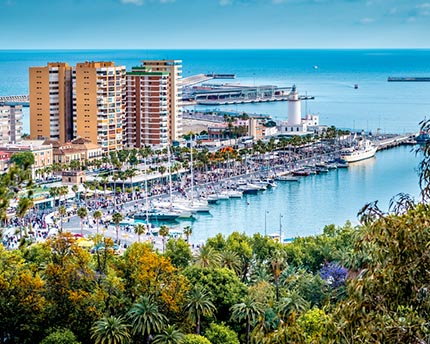 Places of Interest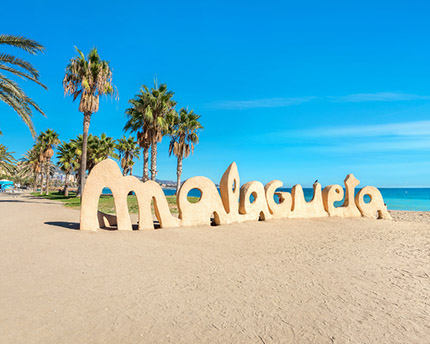 Sea and Beaches