Málaga with friends:
a guaranteed success
Many tourists come to Málaga province and leave without even having seen its capital, which is often justifiably eclipsed by the impressive and hugely famous Costa del Sol. However, this Andalusian province has everything you need to enjoy a fantastic trip with friends and it's well worth visiting the length and breadth of it.
In addition to its coastline—parts of which are extremely popular with tourists while others are unspoilt and secluded—Málaga province has endless natural parks where you can explore an unusual landscape, resulting from the fact that here Mediterranean forests grow in an almost tropical climate. Málaga city, in turn, offers endless opportunities in terms of leisure, gastronomy and culture with an increasing number of alternative spaces and a seemingly endless list of tapas bars. Four ideas stand out among this sea of possibilities so that your trip with friends takes in the very best of Málaga.
Scuba dive by the stunning Maro seabed
Although the so-called Costa del Sol Occidental—the part that extends west of Málaga—tends to be more popular among summer holidaymakers, don't forget to visit the opposite stretch of coastline running towards Granada province. This area has seen less urban development and it's a region of unspoilt landscapes such as those in the Maro-Cerro Gordo Natural Park.
Charming village Maro, just three kilometres from Nerja, is at its heart and it makes an excellent base for a day of scuba diving with friends. Arrecife Club de Buceo (+34 952 255 214) and Buceo-natura (+34 958 82 74 19) offer diving trips in this outstanding setting with professional guides. If you don't have any previous experience but are still keen to discover what it's like to breathe under water, you can try scuba diving for the very first time with a theory class included.
Your group will be looking forward to the moment you all plunge into the sea and once you're underwater, you'll enjoy a stunning route that never takes you too deep. You'll swim past caves and over the craggy seabed where you can spot all kinds of marine species such as the loggerhead sea turtle, orange Astroides coral or the astonishing sunfish. They'll be plenty of time to enjoy the surrounding beaches and landscapes after your first underwater adventure—there are several spectacular waterfalls in this area, for example.
Two tapas recommendations it would be a crime to miss
The ultimate classic plan, especially in Andalusia: going out for tapas is one of those things you really should do wherever you go. After a busy day out, there's nothing better than a refreshing shower, putting on some cool clothes and heading out to have your head turned by the city's most appetizing tapas bars. In fact, there are so many to choose between in Málaga, we feel it's our duty to recommend at least a few:
Atarazanas market, right in the heart of Málaga. Rather than a bar, it's actually a whole area of bars which makes the perfect stop for a number of reasons. First, visitors can experience a living slice of the city's history because this is where an impressive shipyard once stood in Nasrid times. All that now remains of this Moorish civilization is the marble gateway and the name of the market itself: 'Atarazanas' means shipyard in Spanish, or literally "place where ships are repaired" in Arabic.
The more than twenty stands of fresh produce that you can come and admire are the second big attraction of the market. Neighbouring bars such as Café Bar Mercado Atarazanas (Calle Atarazanas, 10) and Bar El Yerno (Plaza Arriola, 12) use food bought in the market in their dishes. The former has made a name for itself with its monkfish and prawn skewers, battered squid and paella tapas, while the latter serves a variety of crispy fried fish and seafood, prepared right in front of you. Special mention should also be made of its fried anchovies with lemon, scallops, razor clams and fried octopus.
Our second recommendation for eating out doesn't even require you to leave the historic centre because it's just a few metres away from the Picasso Museum. Bodega Bar El Pimpi (Calle Granada, 62) is almost as famous as the museum itself and often features on must-do lists for visitors to Málaga. It opened in 1971 and was named after a traditional type of local character once found in Málaga who would offer his services as a guide to overseas travellers arriving at the city's port.
Its Regionalist-style rooms and wine cellars have been visited by countless celebrities including the Picasso family, the Duchess of Alba, Antonio Gala, Paco Rabal and Antonio Banderas (who currently co-owns the restaurant). With all these intriguing features, all that's left to say is that its tapas and local wines put the icing on this typically Málaga-style cake.
Try craft beers brewed in Málaga
Beer tastes best on a full stomach, and with friends, of course. So another fun idea for your trip to Málaga is exploring its craft beer bars and enjoying being out and about in the city streets surrounded by locals. In terms of drinks, Málaga is mostly famous for its sweet wine but in recent years the craft-beer phenomenon has also taken off and hasn't looked back.
Our first recommendation has a name that leaves no place for doubt: La Fábrica [the Factory]. In the heart of the Soho neighbourhood—the centre of cultural street-life in Málaga—this industrially-designed brewery offers visitors seven different types of beer and all are completely artisan. The bar often puts on live music concerts in its 1,200 m2 interior.
Málaga has several other spots scattered across the city where you can try locally-brewed beer. The Rincón del Cervecero (Calle Casas de Campos, 5) is one such place. Also in Soho neighbourhood, it's so passionate about craft beer that it even sells all the kit you need to brew it yourself at home.
Central Beers (Calle Cárcer, 6) has a more stylish look than the previous bar and offers 15 types of draught beer and a simple but satisfying menu featuring hamburgers and salads.
Finally, behind its unassuming shop/bar façade, La Botica de la Cerveza (Calle Victoria, 13) is one of the best places to learn in depth about the history of beer while drinking some at the same time. Draught or bottled, this temple to the amber nectar is home to around 300 different beers and also runs customised tasting sessions (on request) in a relaxed and friendly atmosphere.
Concerts and spit-roasted sardines in Sonora Beach
Perhaps you've considered staying in a coastal town other than Málaga city (and if you haven't, you really should). Head past Torremolinos, Fuengirola and Marbella to Estepona, which has one of the most beautiful old towns in Andalusia and boasts some captivating views thanks to its proximity to the Sierra de Grazalema mountain range.
Sonora Beach is a unique Estepona beach bar where Bohemian vibes meet funky rhythms and there are summer concerts almost daily. The bar opens from 11:30 AM to 9:00 PM every day and delicious spit-roasted sardines for lunch or a sunset mojito are both perfect excuses for a visit.
Related
plans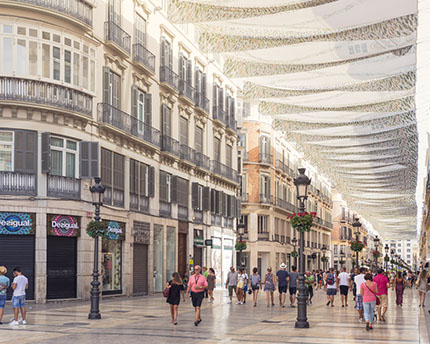 Places of Interest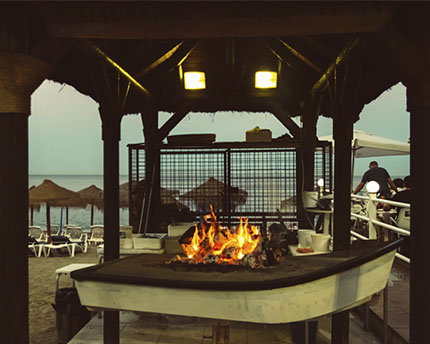 Food and Drinks