The most typical tapas in Málaga, and
where to enjoy them
Málaga's tapas are mostly just mini versions of the region's typical food recipes. Given that, it's not hard to guess that the most popular tapa in the city's bars is boquerones fritos (fried anchovies).
But other sea creatures also make an appearance on the list of favourites, including different species of squid (calamares and calamaritos) and cuttlefish (choquitos or puntillitas), red mullet (salmonetes) and dogfish (cazón).
In terms of seafood, tapas based on gambas al ajillo (garlic prawns) and pipirrana are very common in Málaga. The latter is a kind of seafood medley (mostly octopus and prawns) with plenty of tomato, onion and green and red pepper, all dressed with extra virgin olive oil.
On Málaga's tapas bars, along with ajoblanco (a cold almond soup) and the porra antequerana, (another cold soup, not dissimilar to gazpacho) the tortilla de patata (Spanish omelette) also takes pride of place. This is, in fact, a tapa you'll find served up on bars all over Spain.
And, last but not least is a true delicacy: albóndigas (meatballs of meat or fish) in a Málaga almond sauce.
Where to go out for tapas in Málaga
If you had to pick one street for tapas in Málaga, it would have to be Calle Moreno Monroy. This street is only 60 metres long, but it is home to some of the city's best restaurants. Depending on the bar you opt for, you can enjoy everything from classic tapas to more creative options. Here are a few great choices:
El Chinitas (Moreno Monroy, 4): This place is a total classic, mostly due to its fried fish. But you should also

give the croquetas de pringá (croquettes made from the mashed up leftovers from a stew) a try. And its ham is legendary.

La Taberna de Monroy (Moreno Monroy, 3-6): This is a tavern, with a wine bar a few doors down. The philosophy of the kitchens here is to explore new textures, presentations and flavours. For example, try the smoked salmon and pesto cannelloni, or the homemade hummus from La Axarquía.
KGB (Fresca, 12): Turning the corner from Calle Moreno Monroy, you'll come to this tavern. The name itself (Kuartel Gastronomic Bar) is a clue to how committed this bar is to innovation and breaking new ground. That shines through in its seductive tapas, like the shark tataki, or the black pasta salad with scallops.
Wendy Gamba (Fresca, 10): The owners of KGB also own this place, which is perfect for a vermouth or a well-pulled beer, accompanied by a tapa of ensaladilla rusa (potato salad) or a skewer of suckling lamb.
El Pimpi, a Málaga institution
If Málaga has a cathedral of tapas, it's El Pimpi. This is a tavern with a generous glug of history, even more wine and, of course, a great variety of tapas. In 2017, the actor Antonio Banderas, no less, bought himself a slice of this company.
Although this establishment opened its doors in 1971, the building dates from the eighteenth century. It was one of the best Málaga wine cellars in the whole province. In fact, it's one of the best places for sampling different varieties of this type of wine.
When it comes to food, the tapas are served in the traditional cellar area, amongst the wooden barrels, and throughout the different courtyards and rooms that this space is divided into.
The most popular tapas here are, of course, fried fish and anchovies. But there are also other alternatives that are no less noteworthy, such as the potato salad or the roasted pepper salad.
A tip: have a nose at the signatures and messages left on the wooden barrels, written in chalk by the many famous people that have paid this place a visit.
Tapas on Málaga's terraces
One of the biggest advantages of Málaga when it comes to going out for tapas is that you can sit outside practically all year round. The climate that the city enjoys almost all year means there are plenty of terraces here. Many of them have got views and are in the same areas as Málaga's most important tourist attractions. These are a few good examples:
Nacalú (Bolsa, 11): This is an unpretentious place with a pleasant terrace and very authentic tapas. For example, try the chicken lagrimitas, the tuna, the potato salad or the chicken and mango croquettes.
Vino Mío (Plaza de Jerónimo Cuervo, 2): Although this place is more about sit down meals, they also offer the option of sampling their contemporary cuisine with international influences in tapas format.
El Refectorium (Paseo de la Sierra, 36): From their terraces you can enjoy one of the best panoramic views of the Bay of Málaga. When it comes to the food, people come here to try seasonal fish, like the bluefin tuna from Barbate, or prawns from Garrucha.
Óleo Restaurante (Alemania, no number): This temple of gastronomy, with a pleasant terrace, is located in the CAC or Centro de Arte Moderno de Málaga [Málaga Centre for Contemporary Art]. They serve regional tapas with touches of creativity. There's also a sushi bar.
Cheap tapas in Málaga
In general, going out for tapas in Málaga is quite affordable. It's rare that the bill for two beers and their corresponding tapas adds up to much over six euros. But there are, of course, always exceptions. To avoid nasty surprises, these are a few bars and restaurants with tapas at great prices:
La Tranca (Carretería, 92): It is a traditional tavern, with a wooden bar and tiled walls. This is the perfect spot for trying empanadas (turnovers), assorted tortillas (omelettes), shrimp skewers, or Almagro cheese.
Bodegas Quitapenas (Sánchez Pastor, 2): A Málaga classic that dates back to 1880. Apart from their varieties of local wine, it's worth trying tapas such as cuttlefish and fried aubergine.
El Tapeo del Colilla (Antonio Chacón, 11): Here they serve the tapas you'll find in any self-respecting Málaga bar, with great variety and quality. Make sure you check out the selection of fried fish.
Cortijo de Pepe (Plaza de la Merced, 2): In one of Málaga's most iconic spots, this is another of those traditional bars serving up local cuisine. For example, try their tuna in sauce, their barbecued octopus and their garlic cod.
El Tapeo de Cervantes (Cárcer, 8): Creative tapas in an extremely cosy atmosphere. The lemon-marinated chicken skewer with basmati rice comes highly recommended, as do their homemade croquettes with pineapple jam.
Related
plans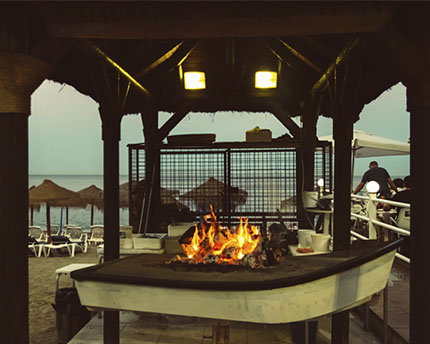 Food and Drinks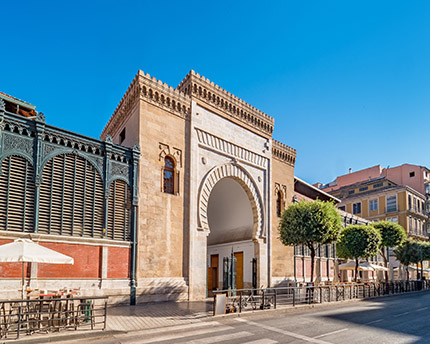 Places of Interest