Majorca hides many secrets. They go from a hidden cove to the salt flats that fascinated the Romans so much. There is also a viewpoint with views only for the chosen. There are also tiny villages which, because of their small size, do not have a town hall and are not promoted. There is a hidden Majorca waiting to be explored. That is why we have mapped out a route for you so that you can explore the island's most unknown areas. 
For example, we have chosen a hidden cove on the coast of the Tramuntana mountain range that will most definitely fascinate you. It is only 80 metres long, but the beauty of the surrounding area will take your breath away. Llucalcari beach is another destination worth exploring. Access to it is not easy but the rewards are worth the effort. Ses Salines, as its name suggests, is a place where salt has forged the identity of this beautiful town on the south coast of Majorca. We also invite you to visit Colonia Sant Jordi, a lively resort that was once a small fishing village. You can also visit the medieval Santanyi. We even want you to enjoy a good panoramic view from the Sa Foradada viewpoint and do not leave the island without visiting Sa Calobra and Banyalbufar cove.
Port des Canonge
This incredible cove is located in a fishing port hidden between mountains and pine forests, on the coast of the Tramuntana mountain range. It is barely 80 metres long and 10 metres wide, but the surrounding rocks and cliffs add a reddish hue that contrasts with the translucent blue of the water. Next to this cove there is a small housing development that belongs to the Banyalbufar municipality.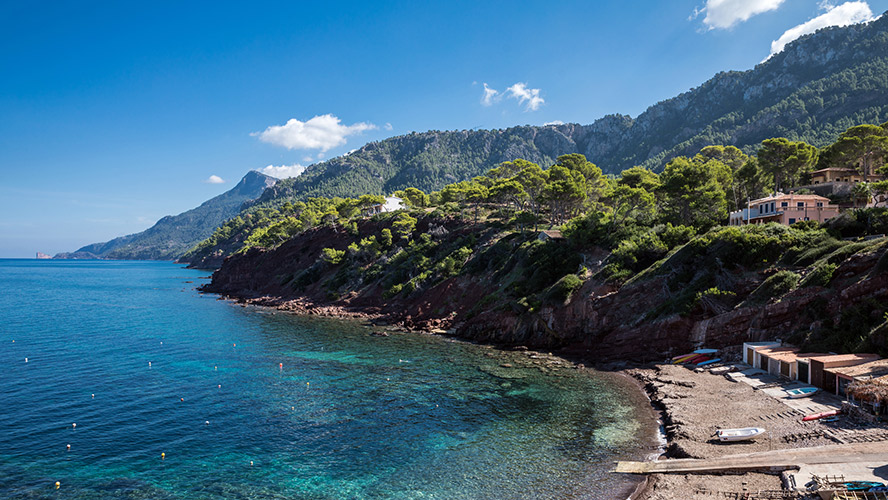 Llucalcari beach
Also known by the name of Es Canyeret, Llucalcari beach is a very special hidden place in the north of the island. This small cove is very popular with nudists and mud bathers alike. Located between the towns of Deià and Sóller, it is right next to the village of Llucalcari, hence its name. In reality, it is a hamlet since it does not have its own town hall and belongs administratively to the Deià municipality, only 2 kilometres away. 
Majorca Experiences
Sea Caving Adventure (from Playa de Palma)
from

75€
There are barely 15 houses in its territory, but there is an 18th century chapel dedicated to the Assumption of the Virgin. Its spectacular beach, some 50 metres long and 22 metres wide, is less than a kilometre away. Nestled between rocks and sheltered from the wind, it is a very special place for those seeking privacy and silence on the island.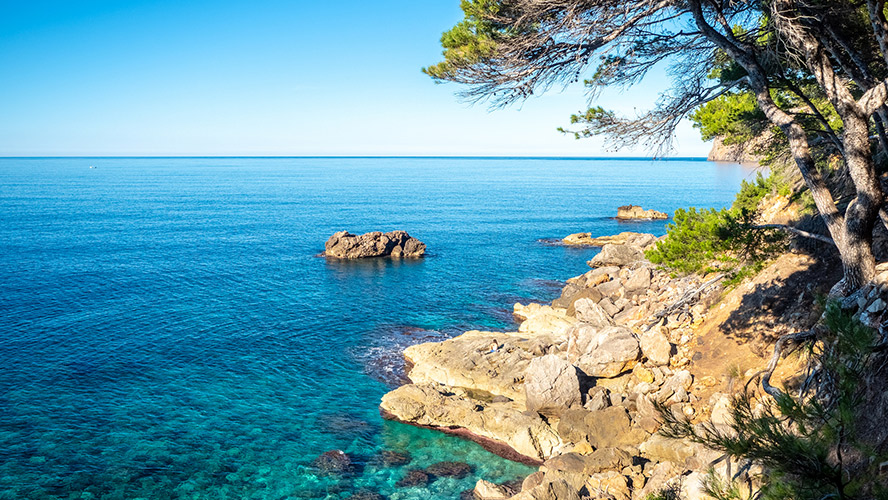 Ses Salines
On the south coast of Majorca, you will find this beautiful place which is only a stone's throw away from Santanyi, Campos and Felanitx. It owes its name to the numerous salt flats along its coastline. It is of course famous for its salt production, but it is also known for its honey. This area is ideal for hiking since there are numerous routes for walkers to enjoy.
Majorca Experiences
Salt Marshes & Southern Cliffs of Mallorca
from

110€
What can be seen around Ses Salines? Saint Bartholomew's church, the Botanicactus botanical garden, the Ets Antigors Talaiotic settlement, Cape Salinas and, if you have time, the Cabrera National Park.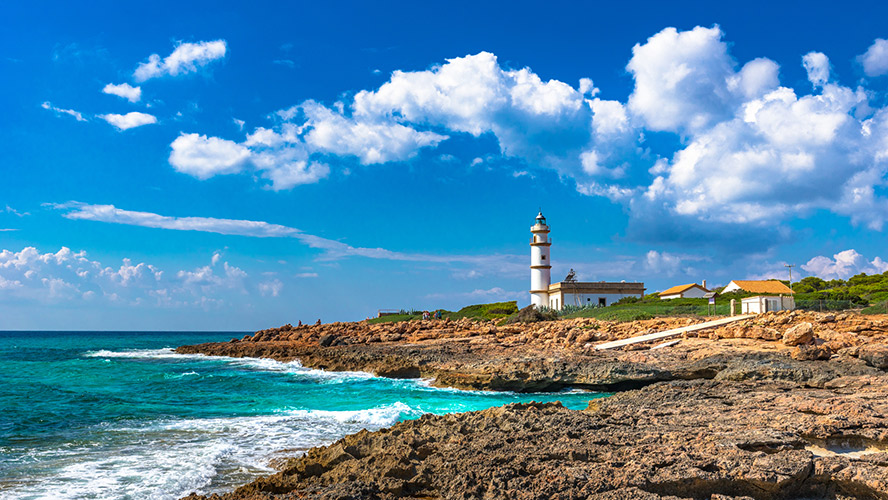 Colonia Sant Jordi
Near Ses Salines and very close to Es Trenc, you will find this lively seaside resort known as Colonia Sant Jordi. Formerly a small traditional fishing village, today it is a destination for numerous athletes and families ready to enjoy active tourism. It is said that Colonia Sant Jordi has been inhabited since the Bronze Age and that the Romans valued it for the quality of its salt flats. There you will also find the only hot springs on the island. It also has several beaches that are well worth visiting such as the busy Es Port beach and the coves of Es Caragol, Es Carbó and Ses Roquetes, which have calm and translucent waters.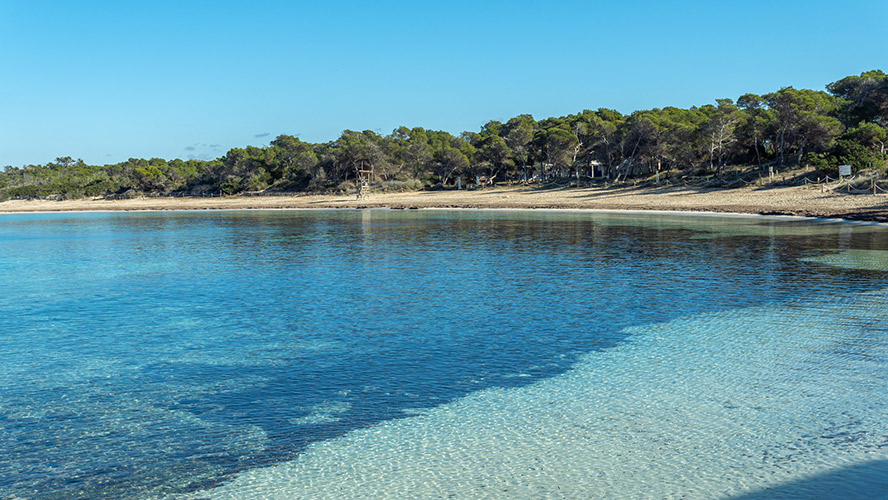 Santanyi
This small charming village in Majorca is located in the south-east of the island and one of its singularities is the medieval buildings (also modern) made with the golden sandstone from the neighbouring quarries. This village was already documented in 1236 under the name of Sancti Aini until 1300, when it received the title of town. The old town of Santanyi is partially protected by the old medieval wall and the 16th century Porta Murada gate tower.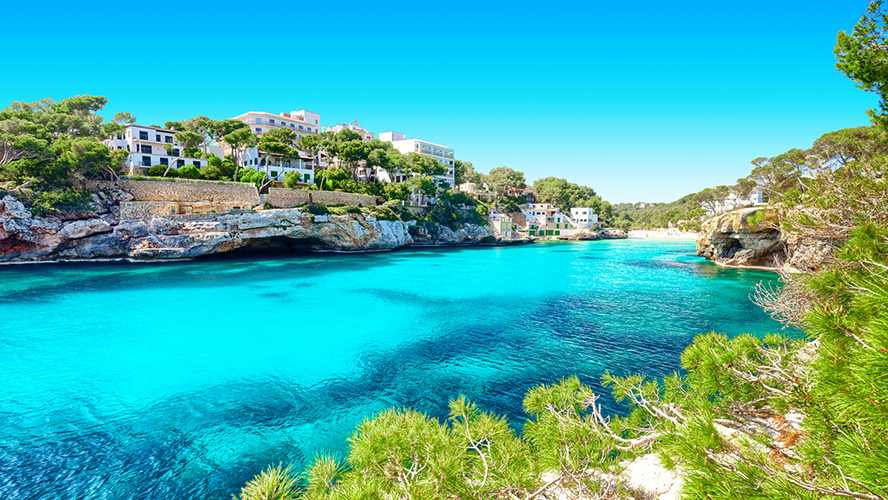 Sa Calobra
This is the name given to two beautiful beaches in the north-west of Majorca that are guarded by gigantic cliffs and divided by the unique Torrent de Pareis canyon. Sa Calobra is not easy to reach, but the scenery is so beautiful that increasingly more intrepid visitors want to explore this area, especially in the summer. The waters of Sa Calobra could not be more transparent and calm. They are an ideal destination to enjoy the calm and beauty of the surrounding area.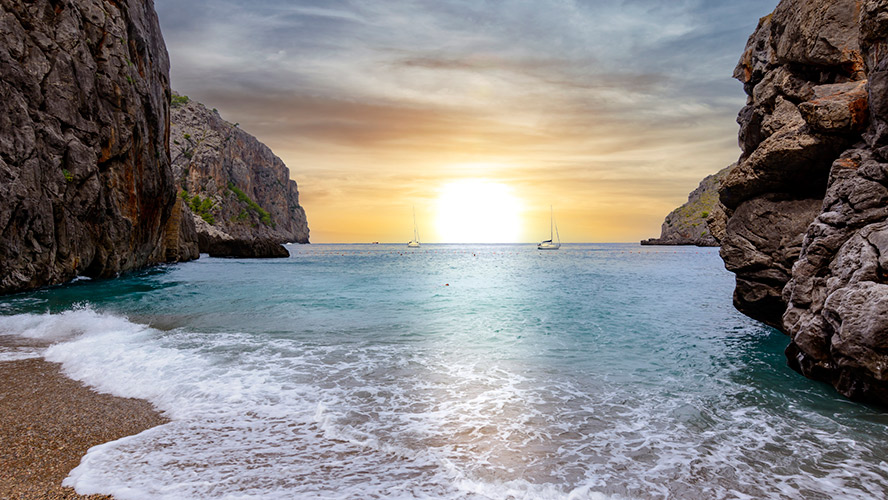 Sa Foradada viewpoint
From the Sa Foradada viewpoint, you will have a very extensive view of Majorca from the west coast of the island. It is the perfect place to discover the area's whimsical geological formation. It is just a stone's throw from the town of Deià, next to the Son Marroig country estate. It is a very unique terrace that overlooks all the beautiful landscapes that have been declared a World Heritage Site by UNESCO.
Banyalbufar cove
About 15 kilometres from Valldemossa, surrounded by dizzying cliffs, this cove shares its name with the nearest village. It is a long, narrow cove whose waters are completely translucent. Access to the beach is usually closed in the winter due to the danger of landslides. Moreover, it is not easy to reach the shore, so occupancy levels are often low.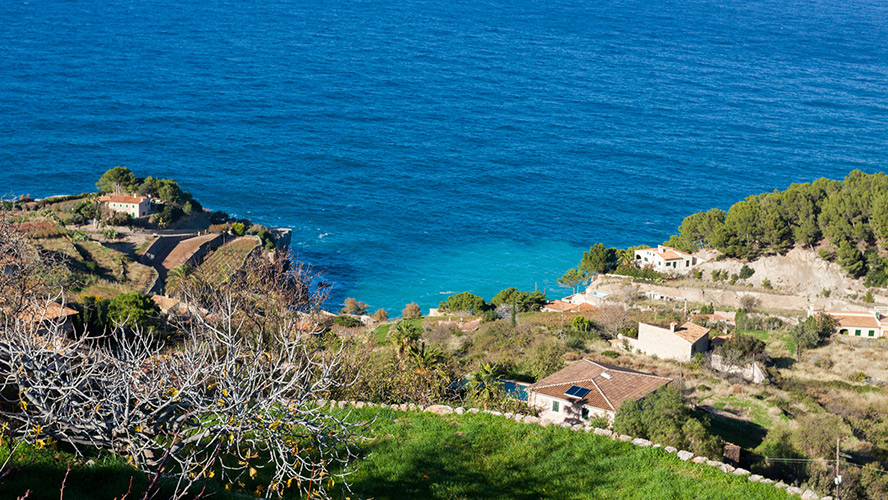 Where to stay in Majorca
The best accommodation options in Majorca, due to their excellent services and good value for money, are the hotels Barceló Illetas Albatros-Adults Only, Occidental Playa de Palma, Occidental Cala Viñas and Barceló Aguamarina.
The Barceló Illetas Albatros-Adults Only is an exclusive hotel where you can enjoy the Mediterranean with a privileged view and only 15 minutes from the centre of Palma de Mallorca. It has an elegant pool area, Balinese beds, hot tubs and a cove with private access.
The Occidental Playa de Palma has a privileged location, just 200 metres from the popular Arenal beach. It is an ideal hotel for those who enjoy sports such as diving, hiking or golf and for those who want to have a quiet holiday. Its construction respects the typical Majorcan style.
The Occidental Cala Viñas has direct access to Cala Viñas beach. It is in one of the most beautiful spots in Majorca and is a hotel designed for families and couples since it provides an extensive entertainment schedule throughout the day. The rooms also provide maximum comfort. It has two swimming pools for adults and two for children with slides, an outdoor whirlpool bath, a U-spa with water circuit and a broad range of treatments and massages, a fitness centre and a small supermarket.
Finally, the four-star Barceló Aguamarina is located right on the beach in the town of Cala d'Or. The hotel has 17 bright rooms fully equipped to guarantee maximum comfort. Most have sea views and they have a terrace or balcony. 
Frequently Asked Questions
Which little-known places are worth visiting in Majorca?
Some of the secret places in Majorca are the Colonia Sant Jordi resort and the Sa Foradada viewpoint.
Which hidden villages should I visit in Majorca?
Some of the hidden villages in Majorca are Llucalcari, Ses Salines and Santanyi.
Which off-the-beaten-path coves in Majorca should I visit?
Some of the off-the-beaten-path coves are Sa Calobra, Llucalcari, Port des Canonge and Banyalbufar.
Related
plans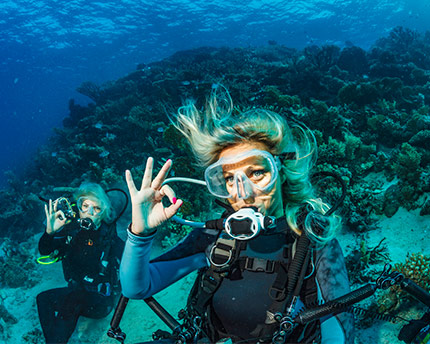 Leisure and Entertainment