Family holidays
in San Sebastián
Family holidays are real adventures and they can be particularly rewarding if you plan in advance and select an itinerary that's right for you. Some cities adapt really well to children's needs, making holidays there a wonderful experience.
Family holidays in San Sebastián are a one-in-a-million experience because the countryside, beaches, parks and excellent food mean that it has everything you could possibly need.
What to do on a family holiday in San Sebastián
Travelling with children may seem like hard work, but San Sebastián is the perfect place for a successful family holiday. There are endless things to see and do and, since many of the attractions have been designed specifically for family fun, you will find something to keep everyone entertained. Here are just some of the best ways to explore the city.
San Sebastián Aquarium
San Sebastián Aquarium is almost a hundred years old and it attracts over 300,000 visitors a year, making it San Sebastián's top family tourist attraction. In this huge aquarium, your children will be amazed as they spy characters from Nemo swimming by. No doubt they will be eager to get stuck right into learning about the marine world – and what better way to do so than walking through the 360º underwater glass tunnel surrounded by sharks and manta rays? And will you be brave enough to touch some of the fish in the natural-habitat touch tanks?
Free cancellation
Albaola Factory
Albaola is a typical Basque boat factory where you can observe how boats used to be made. It is located in the Ondartxo shipyard in Pasaia and offers a wide range of activities aimed mainly at younger visitors so that they can get to know more about maritime history. A fascinating experience for sea-lovers.
Eureka Science Museum
When you think about planning a family holiday in San Sebastián, beaches and parks undoubtedly come to mind. However, the area also boasts a wide range of leisure activities designed to broaden your mind, including the Eureka Science Museum which is suitable for all the family. As you walk through different ecosystems and admire the animals that inhabit them, including snakes, desert lizards and marine life, you learn about the importance of caring for and protecting these valuable ecosystems.
And if your children like a bit of hands-on science, they will love lying on a bed of over 10,000 nails and watching their hair stand on end in the famous Electricity Show. You can also see a Formula 1 car, the Orion spacecraft, a Maxflight flight simulator and even step inside the solar system. It makes for a great day out for inquisitive minds.
Family meals in San Sebastián
Now you know what you are going to do, it's time to decide where to eat. If you intend to take a pushchair with you, or if you're a large group, be sure to look for a sizeable place. If there's a terrace, even better, because it will keep even the liveliest children happy.
Here are some of our recommendations for child-friendly restaurants with a varied menu.
El Bully is located in a green and tranquil part of the city. The restaurant has been going for over 15 years and guests can choose from a wide range of dishes to suit all tastes and budgets. It has a large, stunning terrace where your children can enjoy the outdoors whilst you relax over after-dinner drinks.
Importantly, it caters for gluten intolerances, so Celiac disease does not have to be an issue in this restaurant.
Araeta has been totally renovated and you will simply love the interior design. This restaurant has spacious dining rooms and an outdoor play area that your children will adore. Adults will also enjoy the opportunity to taste the restaurant's fantastic homemade cider.
This well-known and busy restaurant in San Sebastián has a variety of dishes made using traditional local produce. It serves up a surprising mix of traditional recipes and innovative cooking which makes eating there a very special experience.
The restaurant also has plenty of room for children and there is a private space upstairs where you can leave pushchairs and let your children run around without disturbing other guests.
Monte Igueldo Amusement Park
A visit to the legendary Monte Igueldo Amusement Park is a must on any family holiday in San Sebastián. The rides are old but they still do a fine job of keeping children and adults entertained.
A ride on the funicular railway with views down over San Sebastián is an added bonus.
Ekogunea children's play area
Still undecided? Want to expand your options? If you love ecology and want your children to understand the importance of caring for the planet, a visit to Ekogunea is a must. The recreational centre organises workshops for children aged 0 to 12, as well as adults, so you can learn all about nature.
As you can see, San Sebastián is an all-round great destination for a family holiday. There are plenty of public and private activities to keep even the tiniest family members interested, and you simply cannot miss the fantastic beaches such as La Concha. The great outdoors, outings, and lots and lots of family fun will surely make this a holiday to remember.
Related
plans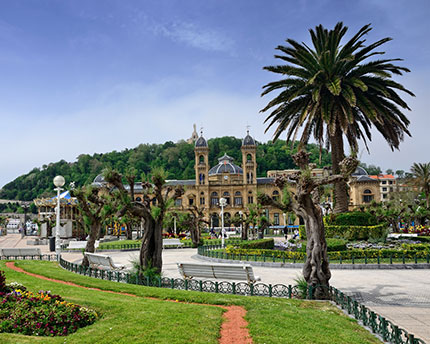 Places of Interest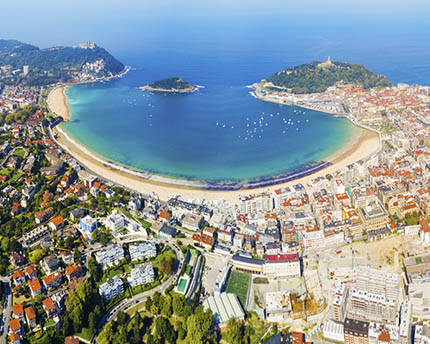 Sea and Beaches