Duration
20 minutes to 2 hours
Rating
Language
English, Spanish
Time of year
August, Autumn, Spring, Summer
More info
Custom experience (minimal group: 1 personas)
Maximum group: 2 personas
Not suitable for people with reduced mobility
Recommended for: Couples, Groups, Solo travellers
Ride the Mediterranean
Come feel the rush of racing over waves along the coast of Barcelona! We've got your Jet Ski waiting for you!
Nothing beats the adrenaline rush as you rev up the Jet Ski and shoot off into the horizon. Come ride the latest models for the ultimate exhilaration!
With or without experience, we'll make sure you get to experience the thrill of jet skiing. You can ride alone or in tandem, with a driver or without, for a short ride or for the entire day – we'll cater an experience to match your expectations
Everything you need to know
If you do not hold a boating license, you can still ride a Jet Ski with an instructor. The other option is to ride with a friend who holds a boating license. There is simply no better way to discover the Barcelona coastline.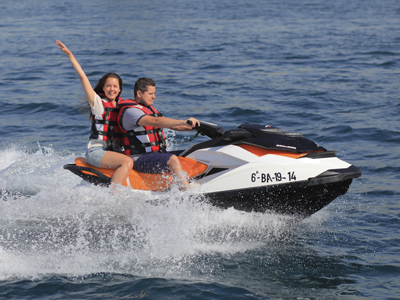 Useful information
Minors can only hire a Jet Ski with parental consent.
If riding with your mobile phone or camera, make sure they are secured in safe place, you wouldn't want them to fall in the water. The Jet Skis come equipped with a Go-Pro adaptor which can be easily connected to your device. If your device doesn't support Go-Pro, we offer a Go-Pro service.
Experience open to individuals with reduced mobility if accompanied by an escort (prior reservation required).
Recommended for: couples, groups of friends, families, solo travellers, celebrations, and corporate events and team building activities.
Age: +16
Wetsuit: Yes
Changing room: Yes
Shower: Yes
Cloakroom: Yes
Prices
1 person (20 minutes): €60
2 people (20 minutes): €65
2 people (30 minutes): €100
2 people (60 minutes): €180
2 people (120 minutes): €300
Location
The Port Olímpic Marina is located east of the Port of Barcelona. It is easily accessible by bus and metro (Line L4, get off at Ciutadella Vila Olímpica). From there, it will take you approximately 6 minutes to reach the Marina on foot.