Tabakalera:
from tobacco factory to cultural icon
The clue is in the name. The Tabakalera International Centre for Contemporary Culture building in San Sebastián used to be a tobacco factory. In fact, it was a factory for 90 years, from 1913 to 2003. It was built on one of San Sebastián's largest plots of land and boasted four large central patios. However, following to a vast and costly remodelling project, the building has become a major agent at the forefront of international culture.
In September 2015, Tabakalera became the International Centre for Contemporary Culture. It was established in order to promote cultural creativity in all its realms and to host a programme of public activities. It has become an emblematic spot in San Sebastián and it is well worth a visit. At the very least, take the opportunity to visit this unique building on your trip to San Sebastián. Take a ride up to the terrace and prism on the fifth floor and enjoy the spectacular views. You can also go on free guided tours of both the exhibitions and the building itself. Keep in mind that you do need to sign up on-line in advance.
Tabakalera in San Sebastián: the facilities and the programme
The International Centre for Contemporary Culture organises a varied programme of activities including:
Free cancellation
 Exhibitions. These are the most well-known and popular of all the activities. Enjoy the contemporary on show.
 Film. The programme tends to favour contemporary films that are not shown in conventional cinemas. From Wednesday to Sunday, you can watch films by Andréi Tarkovski, Lucrecia Martel and Charles Burnett, for example. Since 2016, it has been the location for the Zabaltegi-Tabakalera section of San Sebastián International Film Festival, the most open segment of the entire event.
 Space rental for artistic projects and in support of the creative and cultural arts. There are also scheduled international residential artistic and research courses.
Mediation projects. These projects aim to promote relationships between the cultural programme of activities at Tabakalera and a number of social agents. For example, the Archiveras Project involving female ex-factory workers.
 Ubik creation library. This library specialises in contemporary culture and it is open to the public.
Kamaleoiak Gara! art workshop. One Saturday a month, there are workshops for families so that even the youngest members of your family can get a feel for art whilst you all have some fun.
The 0-6 Bizi! project. This project is also designed for families but it is predominantly aimed at children aged 0 to 6 years. The objective is to get young children's creative juices flowing.
The Harrotu ileak project. The purpose of this project is to encourage young people to think about ways of using and occupying public spaces.
Film workshops. Once a month, there is a workshop about film and technical aspects of cinema following an audio-visual projection that is suitable for all ages (animation, experimental cinema, short films and so on).
A workshop with artists. One Saturday a month, there are activities run by artists, performers, musicians, dancers, film producers, narrators and so on. They are suitable for all ages.
Eikar-Ekin. This programme is designed by the education sector in and around San Sebastián in conjunction with the mediation team at Tabakalera.
The teaching staff programme. In these meetings, teaching staff and the Tabakalera mediation team share information and experiences. There are three seminars held throughout the course of the school year.
Group workshops. These workshops cover matters related to the building, the exhibitions, the laboratories and film.
Other institutions and projects
In addition to this very busy schedule, there are also other institutions and projects located in the building and they give added value to the global programme of activities. They include Vasco Etxepare, Filmoteca Vasca, Fundación Kutxa, Elías Querejeta Zine Eskola and Zineuskadi.
A one-hundred-year-old building
The original building where the centre for culture now stands opened in 1913 as Tabakalera, the state tobacco factory. It was incredibly large. In fact, it was one of the largest buildings in San Sebastián. Nowadays, it is even bigger.
The former Tabakalera building is in Egia neighbourhood, between Cristina Enea park, a splendid 14th-century manor park, the bus station and the train station. It had its heyday in the 1920s when machine production of cigarettes and cigars began. It prospered so much that, at one point, there were over one thousand people working there. Most of them were women. It remained that way until 2003 when tobacco manufacture in Spain was privatised. The new company (Altadis) closed eight of its factories, including the one in San Sebastián.
Tabakalera's new owners
When the factory closed, the Local Council in San Sebastián, the Local Government in Gipuzkoa and the Government of the Basque Country purchased the building and turned it into a vast international centre for contemporary culture.
Architects Jon and Naiara Montero won the international competition to adapt the building to its new purpose. One of the conditions was that the façade should not change so as to retain the essence of the building. The project started in April 2011 and concluded in September 2015.
On the ground floor of Tabakalera, in Plaza Néstor Basterretxea, there is a cafeteria called Taba. It's a perfect place to have breakfast, snacks, pintxos or dinner. Their pizzas are delicious. By the way, here's an interesting bit of information: there is even a four-star hotel inside the Tabakalera building. It's called One Shot Tabakalera House and it has 42 rooms. In other words, it's a hotel inside a museum.
Information of interest
Getting there:
On foot. Tabakalera is in Egia neighbourhood, just a 10-minute walk from the city centre. It is right next to the train station and the new bus station.
Entrance fee:
Related
plans
Places of Interest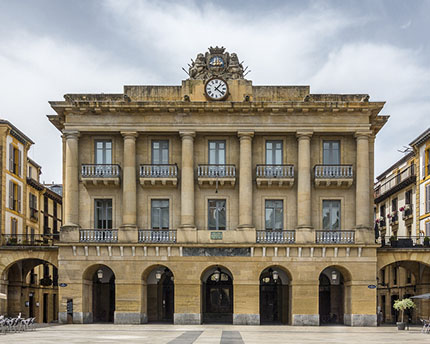 Places of Interest