The best beaches
on the Valencian Coast
Statistics show that the most sought-after beaches by domestic tourists are Valencia Autonomous Region beaches. To the delight of beach-lovers and those who appreciate tranquil waters, the region has miles and miles of fine golden sand. In addition, the Valencia Autonomous Region sun shines for more than 300 days a year, and the region's average temperature is around 15 degrees Celsius. So don't forget to pack your swimsuit. We are going to relax, and to dive into one of the hundreds of beaches the Valencian Coast offers. The Levant beaches are a spectacular natural treasure.
The best beaches in Valencia
Let's start by sketching a route through the best Valencian beaches. Let us take you on a detailed tour of the coast, stopping at the most iconic and unique beaches, and there are many, from the Costa Blanca to the Costa dels Tarongers. All have excellent services and many are located next to towns that offer accommodation, restaurants, beach bars, entertainment and other leisure activities.
Albir and Tamarit, unique beaches
The Valencian Coast has so many beaches that even the capital city of the region has its own, the Platja de la Malva-rosa, so renowned it is mentioned in historical literature, such as novels written by Vicente Blasco Ibáñez and Manuel Vicent. Sorolla also immortalised the Valencian Coast in his canvases. This mythical beach owes its name to a gardener, Felix Robillard, who worked in the Valencian Botanical Garden, as he planted a very popular geranium called malva rosa [pink mallow] in a farm near this beach.
Free cancellation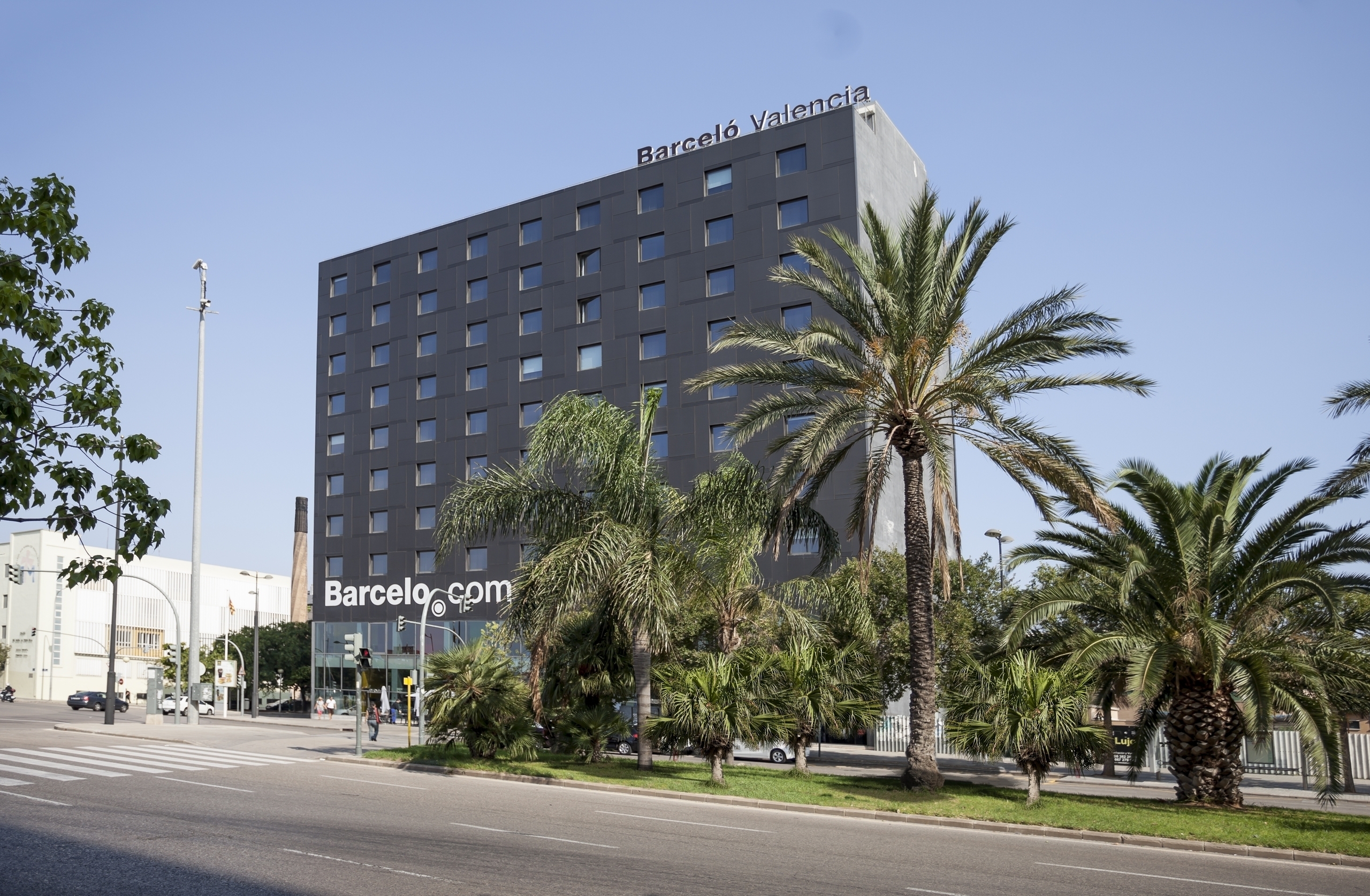 The Malva-rosa beach will be our starting point to explore the Valencian Coast. From there we will head towards Albir beach, in the municipality of L'Alfàs del Pi (Alicante), a unique stone beach that is 500 metres long, has the distinctive 'blue flag' and is surrounded by small coves with transparent waters. Then we will move on to the spectacular Tamarit beach, next to Santa Pola (Alicante), which takes its name from the neighbouring Torre Tamarit tower, whose silhouette stands out in the Las Salinas Natural Park, an area of great beauty inhabited by flamingos and cormorants.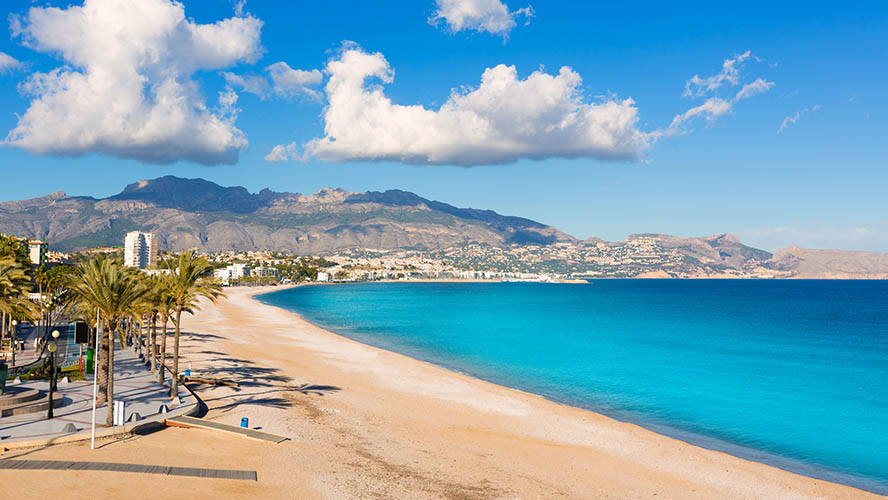 Beaches in Xàbia and Moraira
Granadella and Cala Ambolo beaches in Xàbia (Alicante), and El Portet in Moraira (Alicante), can't be missed. The first, because it is a beautiful gravel and rock cove which is perfect for scuba diving because of its crystal-clear waters. Cala Ambolo, because it is a secluded beach with translucent water that is difficult to access. It is so spectacular that it is ranked as one of the top 50 best beaches in Europe. And El Portet, due to its unique shell shape and because it is ideal for scuba diving and kayaking.
Another excellent option within the Valencian Coast is the Racó de Mar beach, in Canet d'En Berenguer, next to Sagunto, where you can take dinghy sailing and windsurfing courses during the summer. In addition, it is considered one of the nine best beaches in the Valencia Autonomous Region due to its accessibility and because of its golden sand and transparent waters.
There are many more sandy beach options, but we will end this tour with three other unique places. We will give you a choice of three. One: The Terranova Beach, in Oliva (Valencia). It is punctuated by natural dunes and is one of the few unspoilt beaches that exist in the Mediterranean. Two: L'Horta-Mutxavista beach, in El Campello (Alicante)—immense and sandy. And three: L'Auhir, in Gandia (Valencia), with an average width of 120 metres, which also offers spots for nudism, being located further away from more tourist and busier areas.
The Valencian Coast and its towns
But Valencia is not only beaches, as it has a wide range of urban centres that deserve to be included in this catalogue of the most beautiful villages in Spain. In fact, some are included in that list, such as Peníscola, a medieval city in which its Templar castle, which literally sneaks into the sea, is extremely prominent. You will be surprised by its historic centre and the whimsical layout of its streets.
Altea also deserves an award of honour for its charm and beauty. Its name is associated with dream beaches, but it was its spectacular and unique old town that enchanted the authors Vicente Blasco Ibáñez and Rafael Alberti. It has six kilometres of coastline, along which there are fine sand beaches, coves and cliffs.
And what about the thousand and one things to do in Dénia? Tourist activities in this town on the coast of Valencia are many, so don't forget to climb up to the castle and visit the Archaeological Museum, which attest to the town's long history, treasured by the municipality. As a curiosity, you should visit the Toy Museum, where you will learn about the toy industry's importance in the town.
Music and beaches in Benicàssim
If you like music, make a beeline for Benicàssim, whose name is inextricably linked to its summer festivals, especially the FIB, which brings together hundreds of young people from all over Europe every year. The city has been making a living from tourism for more than a century, most probably because of its spectacular beaches, wide range of leisure activities and proximity to the Serra del Desert de les Palmes Natural Park, which has many magnificent spaces.
Santa Pola also has many attractions for the visitor. In addition to its beaches and coves, it boasts the neighbouring island of Tabarca—the only inhabited island of the Valencia Autonomous Region—which is reached by boat-taxi; a sixteenth-century castle-fortress; the Museum of the Sea; wetlands known as Las Salinas and El Faro lighthouse which allows visitors to contemplate privileged views over the bay.
Still within the Valencian Coast, we have Moraira, with its monumental historic centre and its peculiar castle, its famous wines and its unique fish auction; Alcossebre, with its spectacular fine-sand beaches and interesting buildings such as the Santa Lucía Hermitage, the eighteenth-century salt warehouse, now converted into a nightclub, and its fifteenth-century Capicorb tower; and, finally, Xàbia, which still retains its old medieval layout and charm, dotted with white houses. And if we walk up Princep d'Asturies avenue, we can see the old medieval walls.
In short, the Valencian Coast hides many treasures and attractions, including its beaches and uniquely beautiful small towns.
Related
plans