Where to eat in Istanbul, in
Europe, Asia, and by the Bosphorus
There are so many places to eat in Istanbul that it would be impossible to list them all here. What we can do, however, is give you some of the key details about the best restaurants, street stalls, and markets where you can enjoy all kinds of food.
Starting with the fact that Istanbul is a place where you can eat at any time of the day or night. At every turn in this magnificent city, hundreds of fast-food places (Turkish-style), as well as more laid-back restaurants, spring up along the way.
What to eat in Istanbul
Kebabs, dürüm, and lahmacun (link to Typical Turkish food) aside, a typical Turkish meal always starts with mezze. Appetisers such as types of salads, with cooked vegetables, dried fruits and nuts… It continues with grilled meats (Turkish cooks have truly mastered this technique) or with fish from the neighbouring Black Sea and Marmara. These are also usually cooked over coals.
Last but not least, Turkish sweets and baklavas are a must. Baklavas are typical desserts made with filo pastry, pieces of dried fruit and honey and are perfect alongside a Turkish coffee or tea.
Where to eat in Istanbul
There are plenty of places to eat in Istanbul. Above all in the city's tourist areas, but also those areas that are most popular and used for travel between Europe and Asia.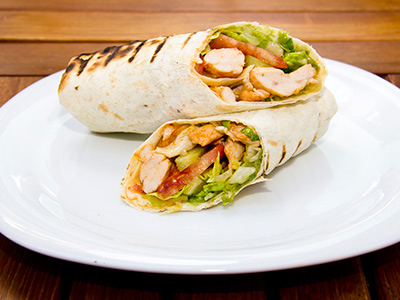 Of course, the main area is the area around Sultanahmet, where the most spectacular monuments are found, with Hagia Sofía (internal link) at the top. Between this huge esplanade, the Topkapi Palace (internal link) and the hill that slopes down to the sea, there is a large number of charming restaurants and accommodation where you can enjoy the best of Turkish and international cuisine.
Another area to eat in Istanbul, with a large number of restaurants, is the Galata Bridge (internal link). That said, this is an area that's very popular with tourists, so be sure to check your bill before you pay.
Around Taksim Square (internal link) and Istiklal Caddesi (internal link) there are also many restaurants and street food stalls, and most of them are popular with the locals. This is definitely a guarantee of quality and authenticity.
Lastly, in the Kadiköy area, beyond the Maiden's Tower (internal link) on the Asian side of the city there's a busy market (internal link: what to buy), flanked by Turkish restaurants and eateries.
Restaurants to eat at in Istanbul
Among the best places to eat in Istanbul, the restaurants at the Barceló Istanbul Hotel (Kocatepe Mahallesi Abdulhak Hamit Cad., no 25), next to Taksim Square, come highly recommended. These are:
B-Heaven: it occupies the top floor of the hotel and is a great place to dine on Turkish tapas or classics such as salads and Angus burgers. Afterwards you can enjoy a cocktail with a view in a lovely atmosphere. It's also open to those not staying at the hotel.
Champs Sport Bar (Barceló Istanbul Hotel): this is the ideal place for a quick snack dinner, enjoying some of the best sporting events in the world on the TV screens. There's international music as well.
B-Lounge: in the lower part of this hotel next to the reception, you'll find this space, where you can have a mid-morning or afternoon tea or coffee alongside their select Turkish patisserie.
Istanbul's sophisticated restaurants
There are many places to eat in Istanbul in a sophisticated manner and with exceptional table service. In fact, in recent years, chefs influenced by both the best of Turkish traditions and the latest international trends have been opening restaurants of the highest standard. Here are some of them:
Neolokal (Salt Galata, Bankalar Avenue, Karaköy): on his own merits, chef Maksut Askar has become the standard-bearer of the new Turkish cuisine. He serves it with creativity and truly impressive flavours in a glass restaurant, overlooking the Bosphorus and the Golden Horn, which crowns what was once the headquarters of a financial institution.
Nicole (Tomtom Kaptan Sk. no 18): modern Mediterranean cuisine with a focus on seasonal produce. In fact, the menu changes every six weeks to adapt to the market. The wine list, which is exclusively Turkish, is very interesting.
Sardunya Karaköy (Meclis-i Mebusan Cad., no. 22): the pleasure of enjoying the fine cuisine served in this restaurant is as great as enjoying it at its tables with stunning views, which almost seem to float above the waters of the Bosphorus. This is the realm of the magnificent chef Çigdem Coskun.
Eating cheaply in Istanbul
Finding good value places to eat in Istanbul is easy enough. In fact, it's not an expensive city, at least when it comes to food. You can easily leave a table at any of its restaurants more than satisfied for under 15 euros. Take these, for example:
Istanbul Kebab Café & Restaurant (Divanyolu Cad., Biçki Yurdu Sk. no. 5): its grill, always crammed with a variety of meats, is a real spectacle. The portions are also very generous.
Lotoz Lounge & Hookah (Vidinli Tevfik Pasa Cad. no. 14): a restaurant with a view (its glass terrace occupies the rooftop of the building in which it is located), serving Turkish cuisine as well as some international dishes.
Sirin Kofte (Muradiye Cad. Vezir Cizmazi Sok no. 5): a small place with a terrace that's always crowded with locals. There must be a reason for this. Of course, the prices are very reasonable and the portions very generous.
Rose Garden Mezze (Sehit Mehment Pasha Sokak no. 5): away from the noise of the city, in a pleasant inner courtyard, this is the place to try typical Turkish cuisine at very reasonable prices.
Street food in Istanbul
You can (and should) eat on the street in Istanbul, of course. In fact, it's one of the best ways to blend in and get a taste of life in the city. Most of its inhabitants, especially during breaks in their working day, tend to eat in this way at the thousands of stalls scattered throughout the city. Stalls where you can enjoy recipes such as the following:
Döner kebab: the most famous Turkish recipe needs little introduction. A good place to try it is at the stalls in the Beyoğlu
Gözleme: the Turkish equivalent of the cheese sandwich, in this case in a thin wrap, which can also be filled with spinach. The ones served next to Uskudar harbour on the Asian side of the city are very good indeed.
Balik: These are typical fish sandwiches eaten by the locals at any time of the day. The best known stalls are around the Golden Horn (internal link).
Ice cream: You need to have patience and a sense of humour to buy an ice cream (dondurma) in Istanbul. The ice cream makers play tricks on their customers. It's worth ordering one, if only for the fun of this ritual.
Related
plans