Shopping in Cádiz,
from street markets to shopping centres
Going shopping in Cádiz is a real treat for the senses. A wide range of shops, the aromas from its food markets and friendly shop owners all contribute to a great and easy experience. There's something for everyone, from shopping centres to small local shops: hand-crafted goods, home decoration, furniture, fashion, souvenirs, leather goods, books, music and even the odd bazaar where you can track down original gifts. In general, shops open from 10:00 AM to 2:00 PM and from 5:00 PM to 8:00 PM.
They only open in the morning on Saturdays and are normally closed on Sunday so that shop workers can rest with their families and have fun with friends.
Open-air shopping in Cádiz centre
The city's old town is like an open-air shopping mall; its streets are lined with endless shops and stores of every kind: shoes, cosmetics, clothes, toys, handicrafts, etc. The best place to start your route along its cobbled streets is in Plaza San Juan de Dios, next to the Town Hall. Practically all the streets run into or start from this square, depending on how you look at it. If you're searching for the typical "Someone went to Cádiz and all I got was this lousy T-shirt" gift this is your place but you'll also find postcards, key rings, baseball hats, baskets and souvenirs of every kind.
The main shopping streets in the historic quarter are Calle Ancha and Calle Columela. The former is the heart of the city; it starts in Plaza de San Antonio and runs in a straight line before ending at Calle Novena (also a great shopping spot) and Calle José del Toro. This was the first street to be pedestrianised so it became a favourite location for the most exclusive shops. Buildings here are residential in style with elegant façades and marble entrances.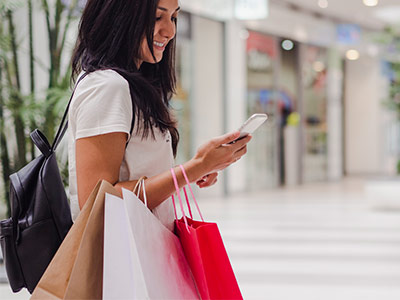 In turn, Calle Columela, was originally populated by numerous small family businesses and long-standing bars that were a meeting point for family and friends. Today it's dominated by the best-known fashion franchises such as Mango, H&M, Stradivarius, Pull&Bear, etc. The shops on Calle Compañía, located between Plaza de las Flores and Plaza de la Catedral, have a more hippy vibe and you'll also find hand-crafted leather goods here. Don't forget to talk a stroll along Calle San Francisco to Plaza de Mina, where you can soak up the city's history as well as hit the shops.
You could idly wander through Cádiz's streets, letting yourself be guided along by the different products you spy in the shop windows and the friendly smiles of the salespeople, or you could head straight to Galería Artesanal del Pópulo Cádiz, a store comprising seven workshops where every kind of product is carefully crafted by hand. However, if wine is more your thing, drop in on Magerit, a wine merchant which has two special sections: sherries & brandies, and wines from Cádiz province.
Finally, don't forget to pay a visit to Cádiz's weekly open-air street market. It is worth visiting to experience its atmosphere and to discover the products on sale.
A 24-carat experience Gordillo Jeweller's
Sometimes shopping is so much more than just buying a new accessory – the full experience begins the moment leave the hotel. For this fantastic experience, a chauffeur will collect you at the hotel and take you to Gordillo Jeweller's (San Francisco, 33), where an expert sales team will be waiting to advise you on choosing a unique piece of jewellery or watch to forever remind you of your time in Cádiz. While you browse and make your selection of ring, necklace, etc. you will be served a delicious aperitif and appetiser, as these decisions can never be rushed, and this establishment follows a #slowjewellery philosophy. We are sure you will fall in love with our pieces by Lempicka, Meraki, Pomellato, Rolex and the #Gordilloway, among many other things. Are you ready for the ultimate shopping experience?
Cádiz Experiences
Personal shopper at Gordillo Joyeros
from

140€
The best shopping centres in Cádiz
Shopping centres are the perfect option when you need to do some quick shopping during your holiday. You can find all kinds of shops in an enclosed shopping area, enjoy the facilities and, if you're travelling with children, keep them entertained for a while.
One thing to remember is that there can be up to eight public holidays a year, so make sure you check the calendar before you visit to ensure the centre is open.
Centro comercial Bahía Sur
This shopping centre has several restaurants (around 13), approximately 80 shops and a Carrefour supermarket—a cinema is also being planned. Another plus is that it affords spectacular views out over Cádiz bay. Opening times are Monday to Saturday from 10:00 AM to 10:00 PM.
Centro comercial El Paseo
This enormous shopping centre has countless services. It's located in El Puerto de Santa María and boasts 100 shops, numerous restaurants, a Carrefour supermarket and a free leisure zone for children. Opening times are Monday to Saturday from 10:00 AM to 10:00 PM. The kids' zone opens on Fridays from 5:00 PM to 9:00 PM and on Saturdays from 12:00 PM to 2:00 PM and from 4:00 PM to 9:00 PM.
Centro comercial Las Dunas de Sanlúcar
The best thing about this area is that it's home to some stunning beaches which are great spots for spending the day. And before or after taking a dip and relaxing on the seashore, you could drop into the Las Dunas shopping centre to do some shopping. If you're travelling here from Chipiona or Rota, there is a free bus in summer. Opening times are Monday to Saturday from 10:00 AM to 10:00 PM.
Centro comercial Luz Shopping
This is a large shopping centre in Jerez de la Frontera. It has a central area with small shops and free Wi-Fi; there is a second area around it with larger chains such as IKEA and KFC, two supermarkets (Alcampo and Día Maxi) and an outlet zone. Opening times are Monday to Saturday from 10:00 AM to 10:00 PM (Alcampo opens at 9:00 AM).
Centro comercial Parque Bahía Mar
This shopping centre has 14 cinema screens where you can enjoy the latest releases, as well as countless shops and restaurants. A particular highlight is its range of leisure activities: a soft play area for smaller children, bowling alley, video arcade and even an escape room where your mind is put to the test during a 60-minute challenge. It opens from 8:30 AM to 12:00 AM.
Whether you explore the city's streets or wander around its huge shopping centres, make the most of your trip to Cádiz to recharge your batteries and do some shopping. You'll discover another side to the city and have the chance to enjoy the area's most typical products.
Related
plans